Getting Started with Email Marketing: Step‐by‐Step . . .
Tampa, FL
Bummer! Sales have ended.
Unfortunately, tickets for this event are no longer on sale.
Event Details
Getting Started with Email Marketing: Step‐by‐Step Email Marketing Best Practices ‐ How It's Done by the Pros

Presented by Ken Countess, Managing Director
This powerful, interactive workshop saves time and increases productivity by allowing quick and easy mastery of the entire Constant Contact Email Marketing system.

We will do live demonstrations, geared for beginners of email marketing.  More experienced users will find this a helpful review, a way to sharpen your skills and also an opportunity to ask questions.  We'll provide tips and techniques and guide you through the tools and features of the system.

You'll learn how to:
• set up account options
• add signup boxes to your website and emails
• load a list
• build a campaign, and
• brand an email to match websites and logos.

We will also go over text editing and how to work with graphics and colors to give your emails a polished, professional look.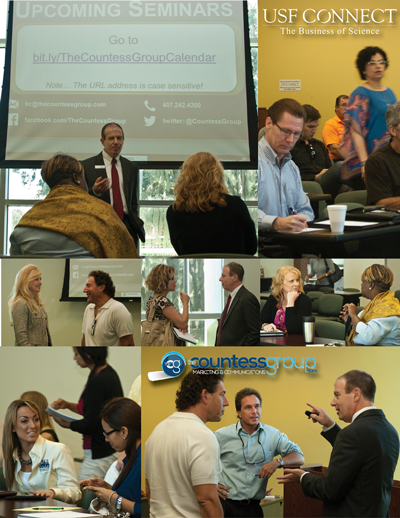 If the event is closed for registration and you would still like to attend please contact Ileana Ebanks (ileanaebanks@usf.edu) or Meagan Eng (Meaganeng@usf.edu) for more information.
USF is an Equal Opportunity/ Equal Access/ Affirmative Action Institution. Please notify USF CONNECT, 3802 Spectrum Blvd., Suite 100, Tampa, FL, 33612, call 813-974-1082, or email Wendy Plant at wplant@usf.edu, a minimum of five (5) working days in advance, if an accommodation for a disability is required.
Disclaimer: The University of South Florida and USF Research Foundation, Inc. are committed to the free exchange of ideas, reasoned debate and intellectual dialogue. Speakers and scholars with a diversity of opinions, perspectives and professional experiences are invited to the campus to provide the community with important or differing points of view, some of which may be deemed controversial. The views, opinions and conclusions of those invited to speak on the campus do not necessarily reflect the views of the university administration or any other segment of the university community. Nor are those invited to speak on campus necessarily authorized agents or representatives of the University or Research Foundation. The use of University or Research Foundation facilities for an event or presentation does not constitute an endorsement by the University or Research Foundation of the views, opinions and conclusions of those invited to speak.