{FSC SWAPPERS: TROY} MARCH 2012 FOOD SWAP

Sunday, March 18, 2012 from 4:00 PM to 6:00 PM (EDT)
Event Details
{PLEASE READ}
NEW DETAILS FOR SWAPS AT OAKWOOD COMMUNITY CENTER

1) PLEASE do not show up before 4pm. Swap item set-up time is scheduled into the swap from 4-4:50pm. That said, we need ALL swap items on the table by 4:50pm.
2) IMPORTANT PARKING DIRECTIONS: Parking Lot behind church fits 10 cars (take SECOND LEFT on 9th street once off Route 7/Bridge) or you can park in the firehouse/office building parking lot across the street from church on 10th street (THIRD LEFT if coming from Route 7/787/87) or on the street: 9th, Rensselear or 10th Street.
3) The entranance to the swap is on the side of the building facing Hoosick Street- there is a light above door.
4) We are being charged to use this space. We kindly request a $2 donation per swapper. Again, this is only a request and not mandatory. Thank you for your understanding. This money also goes to our photocopying & 'drink table' offerings.

5) We will now have coloring pages & crayons for kiddos who need to attend. Again, please watch them around the swap tables as there many be infused-items being swapped. Please watch your child with the crafts as we don't want any wall drawings :)

and lastly,
5) Since we can now call Oakwood Comunity Center our home, we can try some new additions. For March we will try our hand at having a side-swap of cooking/homesteading/DIY magazine and cookbook swap. We will set up tables near the "living room" portion of the room for a CASUAL & unrestricted swap of lightly used reading materials. Again, this is casual and could be done during the "set up" period and conclude after the swap. Let's see how it goes!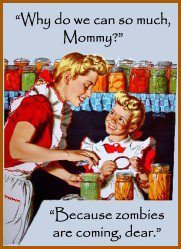 PLEASE READ CAREFULLY: TICKET POLICY

By "purchasing" a free ticket you agree to the following:

1) Contacting From Scratch Club at fromscratchclub@gmail.com if you can not attend so that we can give your ticket to the next swapper on the waitlist.

2) Bringing appropriate "to go" containers for all swap items.

3) I will bring nothing that has been canned in 2010.

ALL items from the 2011 canning season are welcome.

+++

Below please find information on how the swap works, what to bring, ect:
The Swap
Our food swap is a place where you can trade an item you made for another item that someone else made: items are swapped 1-for-1.
 You bring as many or as little items as you'd like to trade; you can bring 6 of one good (6 loaves of bread) or 6 different items (1 jar of blueberry jam, 1 loaf of bread, 1 jar of vanilla extract, 1 tomato transplant, 1 jar of granola. 2 pints of pickled beets). Just remember that items are swapped 1-for-1.
You will place the items on one of the tables, grouped by item so that guests will view the goodies and write their names down if they are interested in trading with you. They will also be required to tell you what they want to swap for your item. Then the last 30 minutes of the event will be the "live action swap" where you will look on your sheet(s) to see who wants to swap with you. Then you will find those people, based on their name tags or knowing them personally already, and starting a conversation with them: "Do you wanna swap" "sure" "great""let's do it"…. or if you don't want what they are offering, kindly decline and move on.


+++

What To Swap?
Muffins, sourdough starters, vinegar mother, infused alcohol, infused vinegar, DIY extracts, canned veg, meat & fruit, fermented items, Kombucha SCOBIES, homemade yogurt, cheese, wine, jam, pickled beets, beer, dried herbs, potted herbs, vegetable plant transplants, cookies, biscotti, backyard garden vegetable bounty, salad dressings, stocks, cookies, pies, breads, dips & spreads, meals, backyard EGGS, lip balm, soaps, salves, anything that is food, drink or a homemade lotion/balmy/soapy item is welcome. As long as you made the item, the sky's the limit.


You can also bring items from your pantry that you can no longer use (such as due to new food allergies or intolerances or bordom): those items are NOT swapped for but instead are given for free, to a good home, to the first takers during the "silent auction" part of the program.

+++

Schedule

*Items must be on the table by 4:50pm to be eligible for the swap*

4:00-4:50pm: Sign-in, Display Goods & Grab a Refreshment
- Sign in, with your name & email address & blog address
- Display swap items & samples on the tables
- Fill out the swap cards (Name & Item Description)
We will have a refreshment bar (non-alcoholic) for your pleasure!


4:50-5:10pm: Browse the Tables
With refreshment in hand, introduce yourself to table-neighbors & new friends and take a peek at what others have brought, eat/drink some samples and start plotting your swapping!


5:10-5:30pm "Silent Auction"
Write your trade offers on others' tags (i.e. your name & what you'd be willing to trade)

5:30-6pm OPEN SWAP
Review your tags to see which offers have been made.
Find each other (wear your name tags) & swap away!
Take home your new artisan goods and enjoy!

+++
FOOD:
If at all possible, please bring samples of your swap items.

DRINKS:

We will be providing all the drinks.

+++
You can always write us an email with any questions or concerns at: fromscratchclub@gmail.com or visit our blog at www.fromscratchclub.com

Attendee List
Sort by:

Date

|

First Name
When & Where

Oakwood Community Center
313 Tenth Street
Troy, NY 12180


Sunday, March 18, 2012 from 4:00 PM to 6:00 PM (EDT)
Add to my calendar
Organizer
From Scratch Club
We are a small group, living within the Capital Region (Albany, Troy, Schenectady, Saratoga Springs) striving for a sustained connection to our kitchens, our gardens and our communities by being advocates for local food, farming & home cooking.
We host two food swaps a month, in Troy & Schenectady (and sometimes Saratoga Springs), where home-cooks swap homemade foods. We also participate in monthly community outreach at various local farmers markets where we demonstrate various cooking techniques & food projects in hopes of advocating home cooking & creating.
We also host a no-pressure food book club on our Facebook page and a monthly Podcast, From Scratch Club Podcast, which features interviews with everyday people making a difference in farming, home cooking, urban farming, farmers markets, policy and food-related media. Find us on Itunes.
Lastly, we run a DIY Food Projects & Cooking School: FSC Academy. The classes offered are a variety of DIY projects from Home Dairy (soft cheeses, yogurt & butter) to bread baking to canning & preserving the harvest. We intend the classes to be affordable, accessible, low-key, fun, small-enrollment demo classes taught by the ladies and friends of FSC in a casual atmosphere, your home or at various sites around the region, including The Arts Center of the Capital Region.
The rest of the month we are on the blog, sharing stories, recipes, DIY projects, homesteading tutorials, kitchen tips & tricks and food policy news in hopes of inspiring people to jump back into the kitchen, their gardens and communities as a daily way of life regardless of income, space & time.
{FSC SWAPPERS: TROY} MARCH 2012 FOOD SWAP