Friday Night Lights + Presbytery -- Feb 17 2012 - 7:30pm OPEN TO THE PUBLIC

Friday, February 17, 2012 at 7:30 PM (EST)
Event Details
Presbytery at Life Center involves the ministry to an individual by a team of qualified prophetic ministers who seek to receive a prophetic word and God's prophetic revelation on behalf of the individual for the purposes of edification, exhortation and comfort.
Presbytery is now available on the following dates:
If you live within the Metro Atlanta area you must sign up "IN-PERSON" (NOT ONLINE) on the day of presbytery. The doors open at 6pm and the sign-up table opens at 7pm. You can come as early as 6pm to stand in line and wait for the desk to open at 7pm.
GOT QUESTIONS?
If you live outside the Metro Atlanta area you can sign up by calling 770-399-0660 on the first business day of the month and leave your name address and phone number on the presbytery mailbox line, ext. 120.
NOTE: If you HAVE NOT received presbytery within the last 12 months you are eligible to receive presbytery.
For those who have received ministry within the last 12 months, we have prophetic ministry in the sanctuary after service every Friday night so please stay for that.
We look forward to ministering God's heart to you.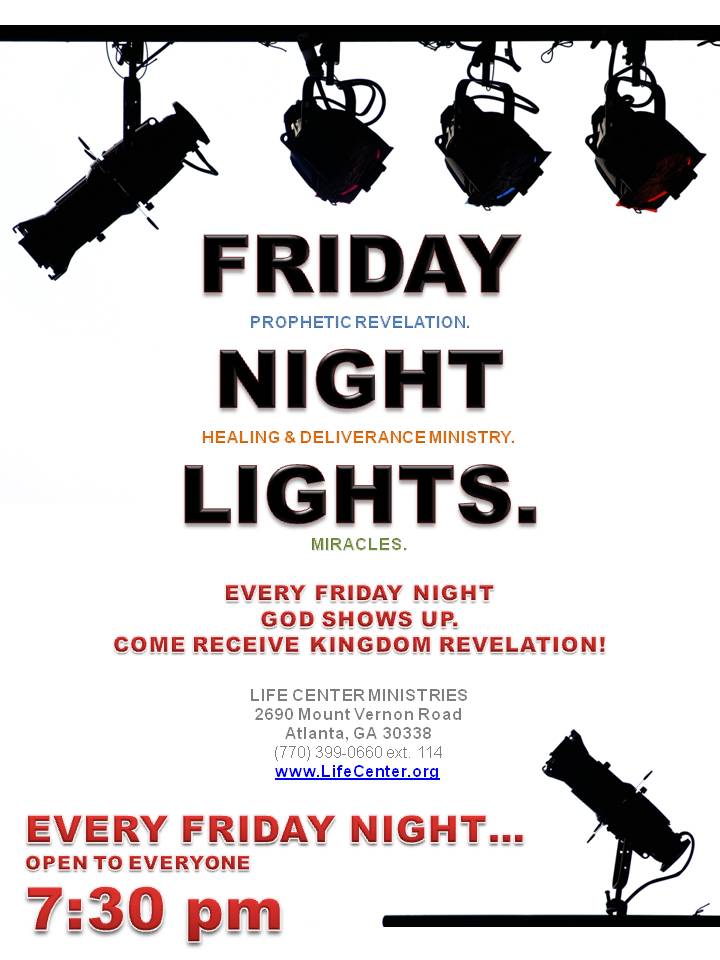 When & Where
2690 Mount Vernon Road
Dunwoody, 30338


Friday, February 17, 2012 at 7:30 PM (EST)
Add to my calendar
Organizer
Life Center Ministries
LIFE CENTER MINISTRIES has been given a God-given mandate to equip and prepare the Saints for the work of the ministry in all realms of life. For over 20 years, Life Center Ministries (LCM) has taken this mandate seriously and offered training schools, workshops and seminars designed to activate the Saints into their God-given gifts, callings and destiny. Through the years the ministry has continued its basic schools and training classes but has added many new and relevant courses and training programs to its curriculum. These are visionary and revelational programs designed to equip the Saints to operate in the supernatural and the current move of God in the Church and the Marketplace. It is time for God's champions to expand and build the Kingdom!
There are schools, conferences, workshops, and numerous other means available to train, equip, and mature the Saints.With so many choices and activities, it can be challenging to attend all or many of the classes and events taking place at Life Center Ministries. Accordingly, we are offering a flexible and comprehensive plan that will allow people to participate in the areas of their interest at the level their time and calling will allow.
For More Info. Visit, www.LIFECENTER.org

Friday Night Lights + Presbytery -- Feb 17 2012 - 7:30pm OPEN TO THE PUBLIC