Found L.A.: Santa Monica Walking Tour

Saturday, October 1, 2011 from 10:30 AM to 12:00 PM (PDT)
Event Details
FOUND L.A: A FESTIVAL TO CELEBRATE CREATIVITY AND SUSTAINABILITY IN THE CITY'S UNDISCOVERED NEIGHBORHOODS
Los Angeles is a city of neighborhoods, each with its own identity, each with its own story. Central to the mission of LA Commons is connecting people to the many neighborhoods across our far flung metropolis. Found L.A., a free, citywide event, will showcase these places. Local residents will lead tours alongside celebrities and renowned artists, through culturally dynamic neighborhoods. For additional festival information visit http://www.lacommons.org/foundla/index.html
RSVP now to take a walking tour of Santa Monica.
Join local resident and small business owner, Frank Angiuli as he leads you through an exciting tour of Santa Monica's Green Light District. (Scroll to bottom of page for a detailed route map).

Tour Theme: Healthy, local living in Santa Monica

Meeting Point: Natural High Lifestyle store parking lot
                        2400 Main St.
                        Santa Monica, CA 90405

Tour Guide: Frank Angiuli

All Found L.A. tours are FREE and open to the public.
For additional information, contact Maidel Luevano at maidel@lacommons.org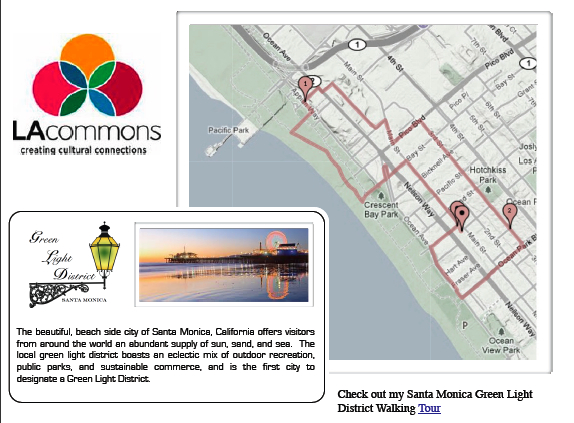 Follow the link below for a detailed map of the tour:
http://www.gmap-pedometer.com/?r=5105444
Organizer
LA COMMONS
For press inquires about Trekking LA
Karen Mack / 213-705-4457 cell