Forest City Adventure Race

Saturday, June 15, 2013 from 7:00 AM to 1:30 PM (CDT)

Forest City, IA
Who's Going
Loading your connections...
Event Details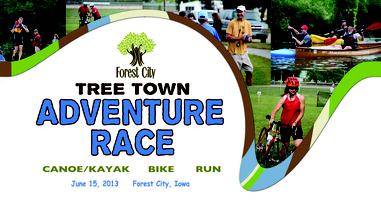 Join us for the 3rd Annual
Tree Town Adventure Race
Saturday, June 15, 2013
                Enjoy a day of healthy competition canoeing the Winnebago Water trail, biking the
                    hills of Pilot Knob State Park and running the scenic Hynes Spur paved trail.
The Course: 
The course begins with a 7 mile canoe/Kayak race on the Winnebago River at Ambroson Recreation Area(South of Leland, IA) to Pammel Park in Forest City.
This is followed by a 12 mile bike race that begins in Pammel Park and travels through scenic areas to Pilot Knob State Park then returning to Pammel Park.
The final race offers a challenging 5k run along the paved Hynes Spur trail.
        This race has one transition area in Pammel Park.  
Registration and Fee Payment:

Registration available through eventbrite:   http://treetownadventurerace.eventbrite.com (several payment options available:  credit card, paypal, or check.  Registrations also accepted on
raceday between 6-7am at Ambroson Park.

Event Information: 
Pasta available Friday night at Shooterz Bar & Grill off the menu

Packet pick-up is Friday(6/14/13) at 6-7pm at Shooters Bar & Grill or on race day at Ambroson Recreation area

(

three miles North of Forest City

on Hwy 69)

Pre race begins at 7:15 at Ambroson 

This race has one transition area in Pammel Park and there are staffed designated areas for your race equipment.

Race begins (wave start) at 7:30am with the canoe race at Ambroson






Included in your Fee:

Lunch is included for race participants, $5 for guests

Free t-shirt for race particpants who register before May 31st

Goodie bag filled with coupons and give-aways

Water & gaterade served during the event

Trophies for first, second, and thrid place finishes in all categories

Door prizes
 
      This is a RAIN OR SHINE event. TTAR race organizers reseve the right to cancel or postpone  
                                  the race due to inclement weather.
          Race proceeds go toward Forest City trail improvement and development

Common Questions:
1.   Are there restrictions or regulations on what kind of canoe/kayak, bike, or paddle I can use?
    No, you may use any type of bike, paddle or canoe/kayak , you choose.


2.  Do I have to wear a helmet while on my bike?
        Yes, all participants on the bike portion of the race will be required to wear CPSC/ANSI approved helmets.


3.  Do I have to wear a life jacket while I am in my boat?
      Yes, all participants will be required to wear US Coast Guard approved personal floatation device while on    the river.


4.  How do the categories work?
      SOLO      participants compete in the entire course.
      TANDEM participants also compete in the entire course, paddling in one canoe or tandem kayak  and competing in both the                                    bike AND run. Times are averaged. Parent/child teams often enter in this category.
      RELAY     participants compete in sections of the race as assigned by their team.


5.  Can I rent a boat?   
     You are responsible for providing a boat. Rentals can be provided IN ADVANCE by contacting:
       Standard Exchange (641) 585-5801


Contacts: 
Contact Race Directors  Jeff & Colleen Hovinga 641-590-2935 or email  jhovinga@wctatel.net or Forest City Parks & Recreation 641-585-4860
Canoe rental is available through Standard Exchange in Forest City:  641-585-5801

Local Forest City information is available at www.forestcityia.com or call Chamber of Commerce at 641-585-2092.   Forest City Parks & Recreation  641-585-4860
Follow event updates on Facebook:  https://www.facebook.com/TreeTownAdventureRace

Sponsors:
Maps and Routes:   (coming soon)
When & Where


Forest City
Pammel Park


Forest City

,

IA

50436


Saturday, June 15, 2013 from 7:00 AM to 1:30 PM (CDT)
Add to my calendar
Organizer
Jeff & Colleen Hovinga
This event is coordinated by the Forest City Parks & Recreation, under the direction of Jeff and Colleen Hovinga.
Friday, September 27, 2013 - 7:07 PM
Mark your calendars!  2014 Forest City Adventure Race date is announced: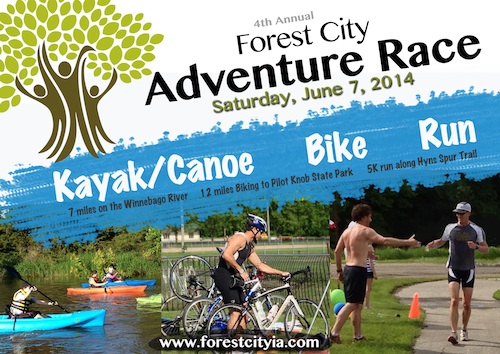 Saturday, June 7th, 2014!  
Thursday, June 20, 2013 - 8:33 PM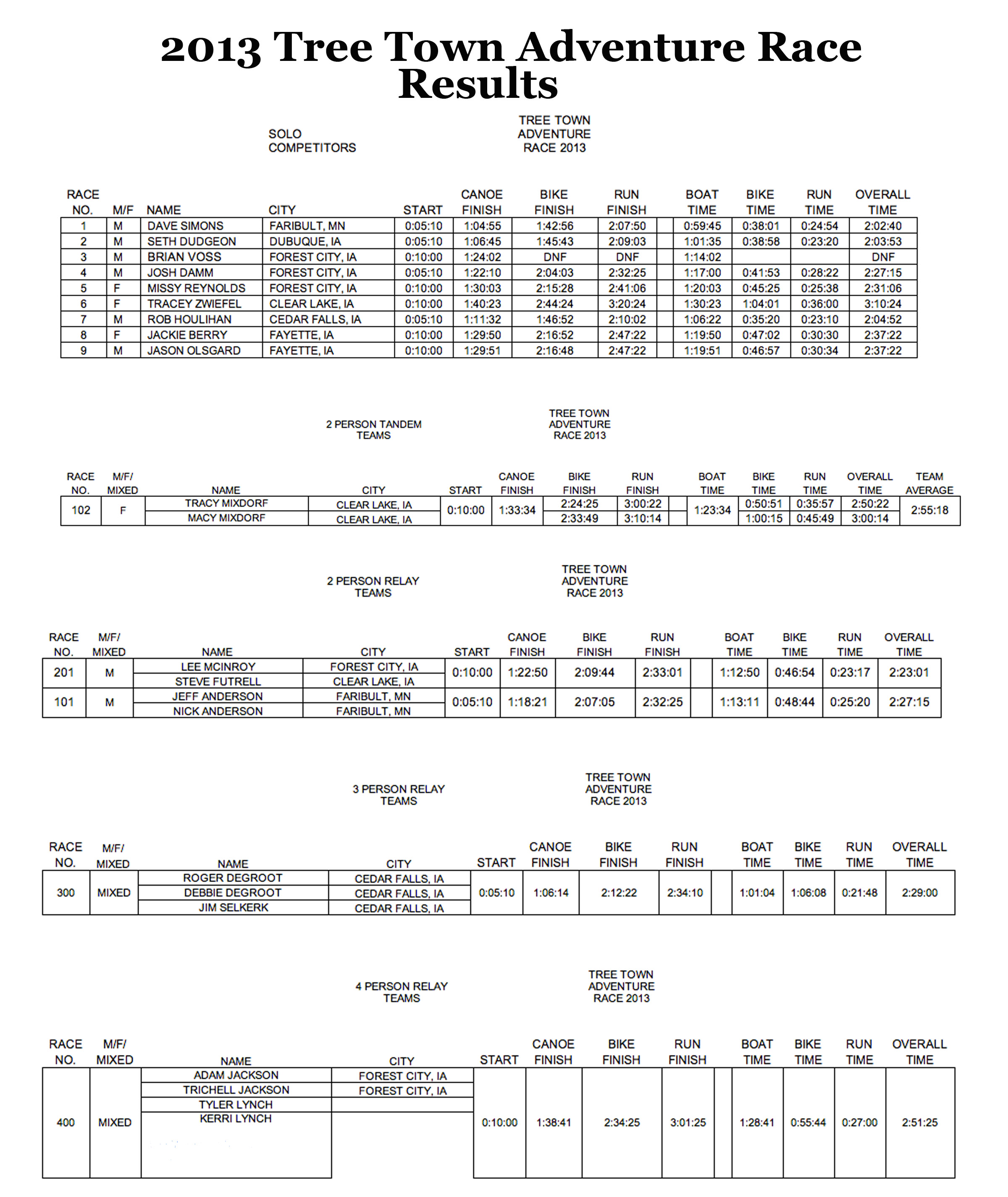 Monday, June 17, 2013 - 9:52 AM
Thanks to all who participated in the Tree Town Adventure Race 2013!   What a great race day!  Photos from the event can be found on the Tree Town Adveture Race Facebook Page and on this link:  http://www.flickr.com/photos/ajmikes/sets/72157634146786623/
Friday, June 14, 2013 - 4:52 PM
Adventure Race Attendees,
We will keep you posted on all race changes that may occur due to weather conditions.  You can keep updated by checking this page, our Tree Town Adventure Race facebook page, or contact the race organizer, Jeff Hovinga 641-590-2935.   We are looking forward to a fun day tomorrow! 
Friday, June 14, 2013 - 8:15 AM
Adventure Race Attendees, The river is still good! I just paddled the 7.2 miles this morning and it should be just fine for the race. It's over the banks in some areas but it still should be an enjoyable paddle. We'll be putting up mile marker signs on the river route and run route today plus have the transition area set up along with sweeping the bike course. First wave of paddlers starts at 7:30 tomorrow morning. There is a chance of rain so be ready for that. You might want to have bug spray too. We all look forward to seeing you on race day! Jeff Hovinga Race Organizer
Thursday, June 13, 2013 - 8:20 AM
To help you plan for the race we have downloaded the course map for the Tree Town Adventure Race 2013.   If you have any questions, contact race organizer Jeff Hovinga 641-590-2935.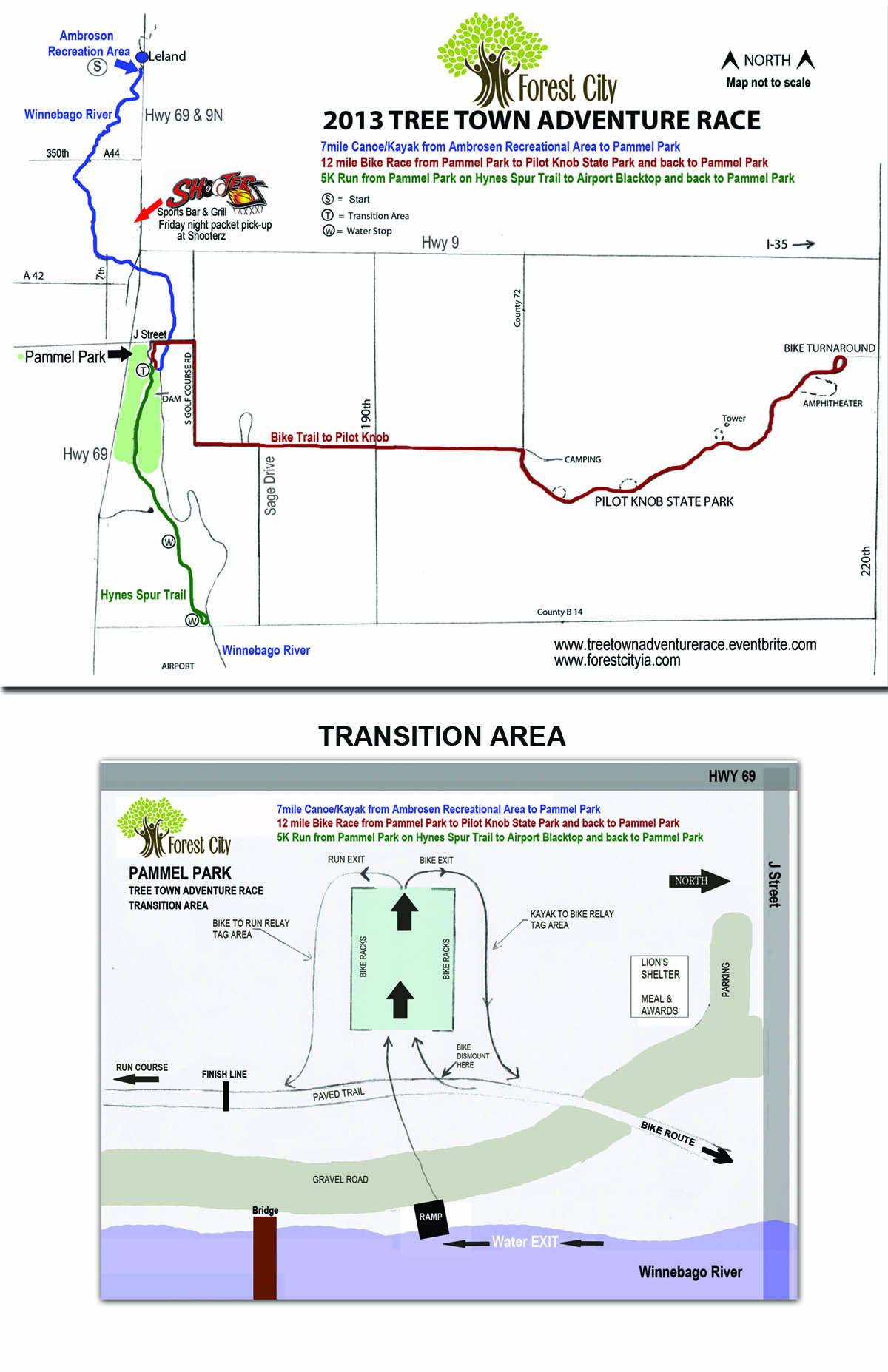 Thursday, June 13, 2013 - 7:49 AM
Hello Racers,

Thank you for pre-registering with the third annual Tree Town Adventure Race!  We hope your race will be enjoyable!  It is very exciting to announce that the river has been near the top of the banks this week and should make for some very enjoyable paddling.  

If you are in Forest City on Friday night please feel free to pick up your racer's packet at Shooterz Sports Bar & Grill from 6pm to 7pm at 1126 Hwy 69 N.  The packet will include a t-shirt, race map, transition map and other goodies.    Shooterz is a fun restaurant and will have pasta on the menu.  Late registration will be available there.

Pammel Park is located  at the corner of Hwy 69 and J Street.  Turn east at J Street then turn south on the first gravel lane.
Straight ahead is where the transition area and finish will be.  The Pammel Park campground is just south of this area.

On Saturday morning you will most likely want to come to Pammel Park first to leave your bike and running shoes.  We will have someone there by 6am to watch over your equipment.  Please keep any equipment bags with your bike in the transition area.  From there you can get back on Hwy 69 and head north for about 4 miles to get to Ambroson Recreation Area.  You will see a river access sign and will need to make a left hand turn into the parking lot.  This is where you will start your race.  You will need to go to the registration table to be body marked with your race number.  Last minute registration and packet pick up will be available from 6am to 7am here.

The race will be started in small waves with 5 minutes between waves.  You will be assigned to a wave that morning.  The paddle
portion is 7.2 miles and there will be temporary mile marker signs along the river just for this race.  You must wear a life jacket.  You will go under 5
bridges.  The bridge on County Road A44, plus the N 7th St, Secor Ave and the J Street bridges in Forest City make for great spectator locations.

You will exit on the right hand side of the river at Pammel Park.  There will be people there to steady your boat during exit.  You do not need to
carry your boat up the ramp.  Our volunteers will take your boat up to shore for you.

You will always enter the transition area on the East side and exit on the west side.  You will walk/run your bike out of the transition area and turn
right towards the bike trail.  You may mount your bike when you reach the paved trail.  The bike course is all paved and includes Pilot Knob State
Park.  If you have the time you might benefit from driving/riding the course before hand because of all the curves and hills contained in the park.
Length of the bike course is slightly under 12 miles and it will be open to traffic.  You must wear a helmet.  Drafting is not allowed.

At the end of the bike course you will need to dismount your bike and walk/run your bike back into the transition area.  You will turn left upon
exiting the transition area to start the run.  The run course is out and back on a paved trail.  It is wheel-measured at 3.1mile/5kilometers.  Water
and Gatorade will be available at the start of the run, the turn-around and halfway between.  The run course will be posted with mile and half mile markers.  Note that a small section of this trail is shared with the Bear Creek Golf Course so you will have to be aware of golf carts.

Teams.  Your team paddler will need to run through the transition area and "tag" your waiting biker.  If you have two paddlers, only one has to do
this.  After the bike ride the team biker must walk/run your bike through the transition(no need to rack your bike) and "tag" your waiting runner.  A
"tag" can simply be a pat on the back or a high five.

Your number will be written on your arm, there will be no race bibs.  Volunteers will need to know your numbers throughout the race so be ready to
shout it out if it can't be read.  We will post your finish times along with splits.  We will award at least for 1st & 2nd place finishers in each division.

Showers will be available at the campground shower building just southwest of the transition/finish area.  There will be a meal after the race
in Pammel Park served by the Lion's Club.  It is free for registered racers and only $5 for others.

If you need a shuttle back to your vehicle please let someone at the finish line table know.

Again thank you for competing in the Tree Town Adventure Race!  If you have any questions at all, please feel free to contact me.

Jeff Hovinga

641-590-2935

p.s.  Please feel free to share "good ideas" after the  race so that we can improve and grow this race for the future!
Thursday, June 6, 2013 - 9:53 AM
The Winnebago River is looking good for the Tree Town Adventure Race on June 15th! This photo was taken yesterday!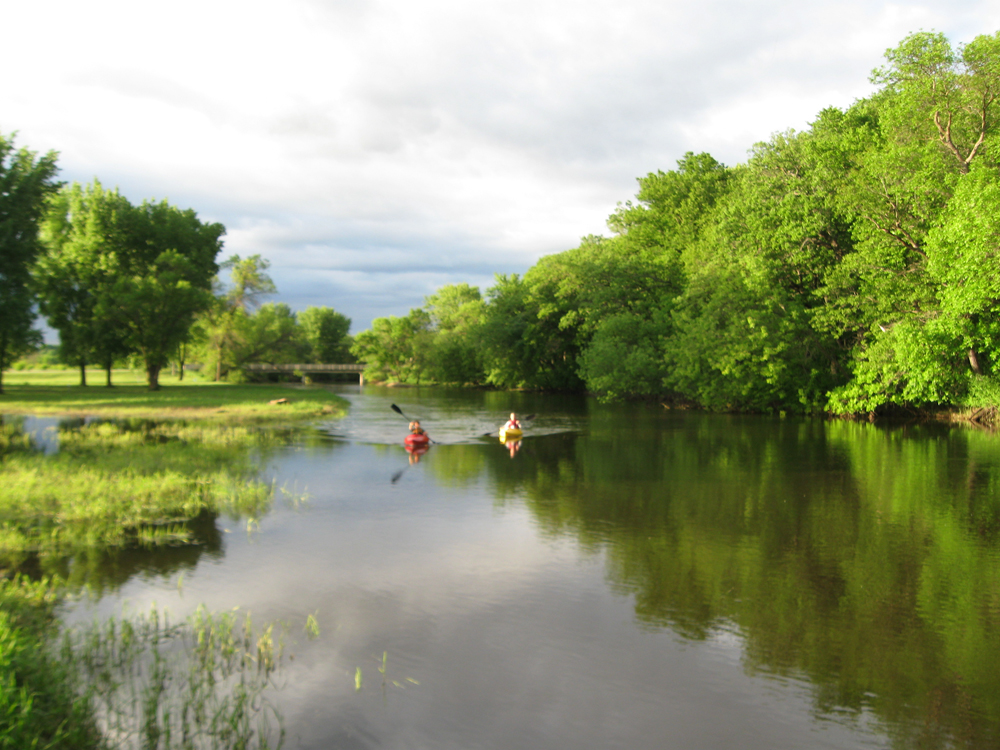 Tuesday, June 4, 2013 - 10:49 AM
6/4/2013:   TREE TOWN ADVENTURE RACE UPDATE: Trail and River conditions are looking good for the race on June 15th. Thanks to the Stream keepers, the Winnebago River from the A44 Bridge south to Pammel Park is clear. They will be clearing the river from Ambroson Recreation Area on Saturday.
Thursday, March 28, 2013 - 8:14 AM
Follow Adventure Race updates on Facebook! 
https://www.facebook.com/TreeTownAdventureRace