Fordham Center for Digital Transformation and IBM Present Symposium on Next Generation Advanced Analytics

Wednesday, October 19, 2011 from 9:00 AM to 12:00 PM (EDT)

New York, NY
Event Details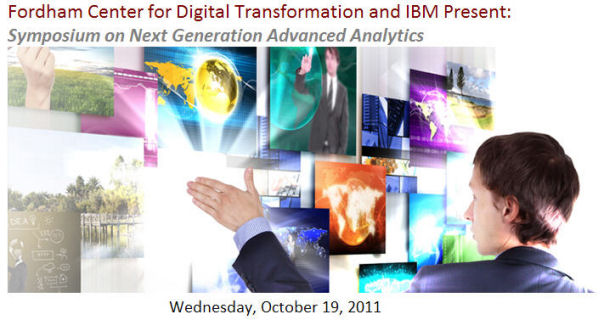 Symposium on Next Generation Advanced Analytics

The confluence of an increasingly complex world, the vast and rapid proliferation of data, and the urgent need to stay ahead of the competition has sharpened the focus on using analytics within organizations. The popular literature is abuzz with news of how advanced analytics is helping organizations in many industries use information to their advantage. It is helping meet such objectives as growth and competitive differentiation, engage in business performance management, and evaluate choices regarding products and pricing, and make operations more efficient and effective. More importantly, avanced or predictive analytics is helping organizations anticipate change by uncovering unexpected associations and patterns. Not only does predictive analytics enable organizations to gain insight to make informed decisions, it enables them to proactively anticipate future issues and react to them.

This symposium brings together faculty students, practitioners, and companies to discuss the contemporary opportunities and challenges in applications, curriculum development, and research in predictive analytics.
9:00 - 9:30 AM

Breakfast & Networking

9:30 - 9:35 AM
Opening Remarks
Stephen Freedman, Ph.D., Provost, Fordham University
9:35 - 9:40 AM 
Welcome
Donna Rapaccioli, PhD.,Dean, Gabelli School of Business & Dean of Faculty, Fordham University
9:40 – 9:45 AM
Introduction
RP Raghupathi, Ph.D., Professor of Information Systems and Director, Center for Digital Transformation Fordham University
9:45 – 10:05 AM 
Keynote Speaker: Business Analytics for Better Business Outcomes
Karen Parrish, Vice President, Public Sector Industry Solutions, IBM Software Group
10:05 – 10:25 AM
Analytics and Law Enforcement: NYPD Real Time Crime Center
Deputy Chief Ruben Beltran, Executive Officer, Office of Information Technology, NYPD
10:25 – 10:45 AM
Analytics: Enabling quality and efficiency on the front line of healthcare
Walter Groszewski, Senior Vice President, Sales and Alliances, SmartRoom
10:45 – 11:45 AM      


Panel Discussion

Marianne Cooper, Managing Director, IBM
Murray Campbell, Ph.D., Senior Manager of Business Analytics Research, IBM Research
Ken Stehlik-Barry, Ph.D., Managing Director, SPSS, IBM Software Group
Evan Katsamakas, PhD., Associate Director, Fordham Center for Digital Transformation
Chaitra Nagaraja, Ph.D., Assistant Professor of Management, Fordham University
Moderated by Kevin Faughnan, Director, Academic Initiative, IBM

11:45 AM – Noon
Closing Remarks and Next Steps
David Gautschi, Ph.D., Dean, Graduate School of Business Administration, Fordham University
Noon – 1:00 PM
Lunch, Networking and The Analytics Experience DemoZone
Fordham University
Lowenstein Center, 12th Floor Lounge
113 West 60th Street
New York, NY

Wednesday, October 19, 2011
9:00AM - Noon

When & Where


Fordham University Lincoln Center Campus
Lowenstein Building, 12th Floor Lounge
113 W. 60th Street


New York

,

NY

10023


Wednesday, October 19, 2011 from 9:00 AM to 12:00 PM (EDT)
Add to my calendar
Organizer
Fordham University, Center for Digital Transformation
The Center for Digital Transformation (CDT) is dedicated to the understanding of the role of digital technologies in accomplishing three fundamental transformations required for success in the global marketplace:

   1. Individual transformation to create effective human capital in a changing global environment.
   2. Business & Industry transformation to promote competitiveness, productivity, innovation and growth in the global marketplace.
   3. Societal transformation to build a sustainable global society.

The Center will accomplish this mission by conducting and disseminating high-impact research; creating an ongoing dialog between the various stakeholders including business executives; and, incorporating the understanding of the transformational aspects of digital technologies in the business curriculum.