Folktales of the Yoruba People | Workshop 1: The Lesson
New York, NY
Bummer! Sales have ended.
Unfortunately, tickets for this event are no longer on sale.
Event Details

Caribbean Cultural Center African Diaspora Institute (CCCADI)
in Partnership with El Museo del Barrio
Present
Folktales of the Yoruba People |  Workshop 1: The Lesson 
Folktales of the Yoruba People
Saturdays April 20, May 18, and June 22, 2013
12:00pm – 2:00pm
ADMISSION: FREE
Parents and children are invited to participate in a thee-part workshop based on the Center's publication, Folktales of the Yoruba People*, by Angela R. Fontanez. The audience will be able to experience and interact with the stories of this ancient civilization, and engage in music, dance, arts and crafts activities based on the oral traditions, and culture of the Yoruba of West Africa. Each 2 hour workshop will high-light one of the stories from a captivating book for young and old. Please join us for an enjoyable and engaging afternoon, where parents and children alike will experience a people's history coming to life. Don't Miss this unique opportunity.
Workshops:
Workshop 1 - April 20, 2013 – The Lesson 
LOCATION: The Lexington Academy @ 131 E 104th St, New York, NY 10029
Workshop 2 - May 18, 2013– Shango the Oba 
LOCATION: El Museo del Barrio @ 1230 5th Ave, New York, NY 10029
Workshop 3 - June 22, 2013 – Oshun Gets Her Way
LOCATION: El Museo del Barrio @ 1230 5th Ave, New York, NY 10029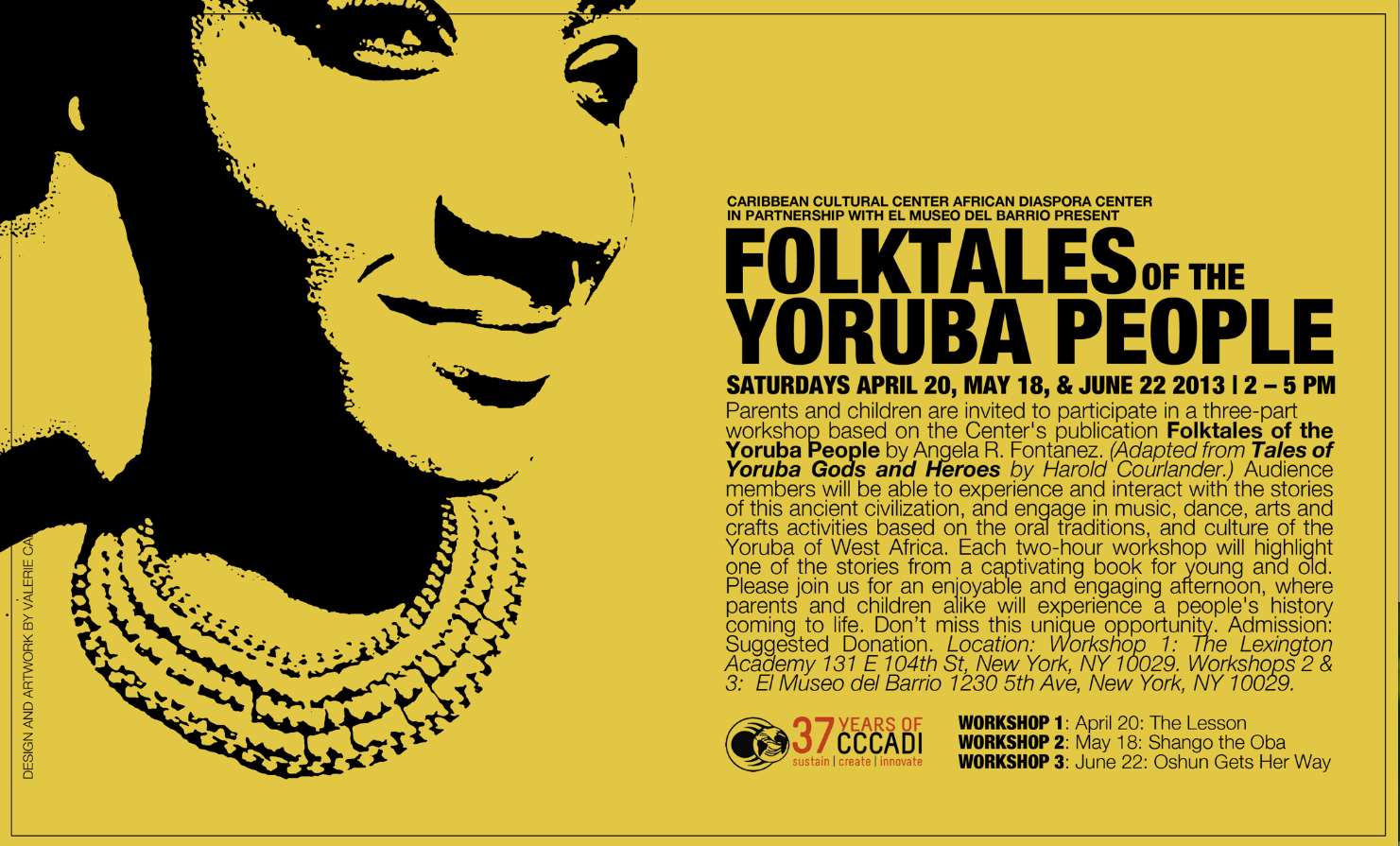 For more info: education@cccadi.org
*Adapted from Tales of Yoruba Gods and Heroes by Harold Courlander