Finding your 'WHY'- Business Vision Board Workshop

Monday, September 16, 2013 from 6:00 PM to 9:00 PM (PDT)

San Francisco, CA
Who's Going
Loading your connections...
Event Details
"A leader will find it difficult to articulate a coherent vision unless it expresses his core values, his basic identity. One must first embark on the formidable journey of self-discovery in order to create a vision with authentic soul."
- Mihaly Csikszentmihalyi
"Vision without action is a daydream. Action without vision is a nightmare."
- Japanese Proverb
In life and career, if you don't have a clear vision for your future,

you set yourself up for

failure

in achieving your goals.

 How can you get there if you don't know where you are going? 
According to leaders like Simon Sinek,

defining your

'WHY'

is what separates

successful, innovative
companies from the status quo
.
  This workshop takes this theory and combines it with the psychology of creativity, giving you the opportunity to create a

foundation

for your business by discovering your personal and professional  'manifesto' and putting it into pictures.
Stephanie Staidle, founder of

The Right Brain Entrepreneur

, brings her dynamic and lively Vision Board Workshop to the Citizen Space in San Francisco (SOMA).  Vision Boards (also referred to as Dream Boards), often get mislabeled as unconventional, offbeat, and even goofy- yet repeatedly, these physical manifestations have revealed incredible insight into its maker's persona with their owner declaring years later that many things in the Vision Board became real in their life.
EVEN OPRAH STANDS BY THEIR EFFECTIVENESS!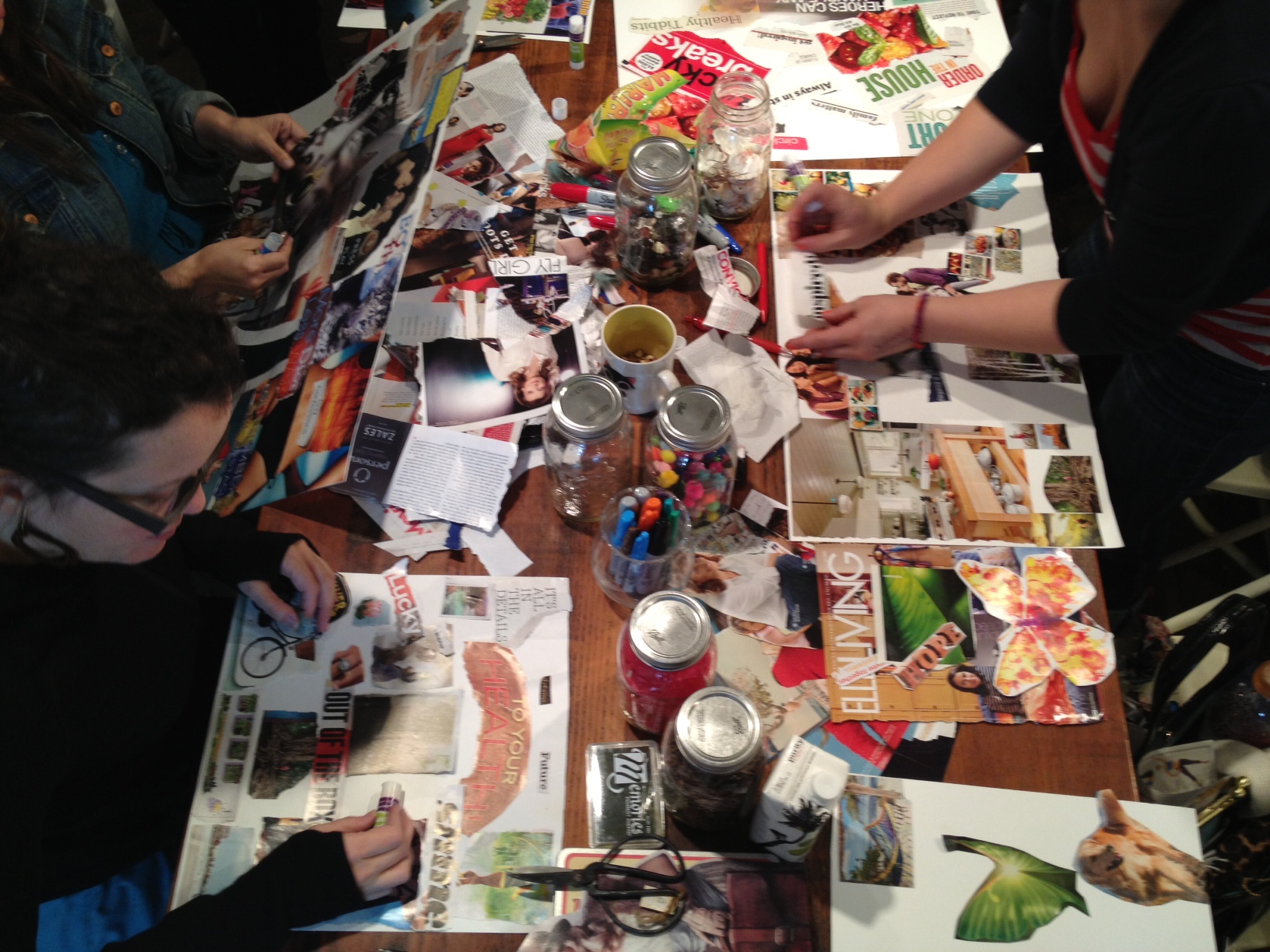 The workshop begins with a short presentation in which you'll learn WHY these poster-sized collages are essential to goal setting and their basis in the science and neurology of the brain, not just some hocus-pocus art-making. 
**You'll discover how most of us have been trained to approach our goals and future in a limited way and that by engaging 'right brain' processes and unleashing inner creativity, there is a natural expansion of

effectiveness

, problem-solving skills, and the ability to overcome challenges.**
Each individual will then create a Vision Board—poster-sized, real-world avatars of the collective projection of goals and dreams; business and otherwise—and everyone will leave with their own singular piece of artwork—created by their own hands.
*3-hour group hands-on workshop using mixed-media collage materials.
*Learn the neuroscience behind visual thinking and its importance in setting and achieving goals
*Geared toward the artistic and "non-artistic" alike
TESTIMONIALS:
The Right Brain Entrepreneur- Vision / Dream Board Workshop Testimonial
"I totally thought that the vision boarding workshop was going to be stupid... and i have to say that it's definitely a gift that keeps on giving. I have interacted with the vision board so much more than I would have expected and I'm getting so much insight and thought out of continuously having this thing that is a part of me and my home.  So if you ever need a testimonial, you let me know...I'm totally a convert."
"The intro was great. I liked hearing the science behind the process & project. Also appreciated the looking over of the board and pointing things out. Thanks, this is so great!"


"This was absolutely awesome. I loved your explanation in the beginning and the entire approach!"
When & Where


Citizen Space
425 2nd Street
#100


San Francisco

,

CA

94107


Monday, September 16, 2013 from 6:00 PM to 9:00 PM (PDT)
Add to my calendar
Organizer
The Right Brain Entrepeneur
The Right Brain Entrepreneur is founded on the concept that western society and education trains entrepreneurs and companies to build businesses using mostly 'left brain' processes, leaving half of a brain untapped and limiting the full human potential. By tapping into your entire brain as an entrepreneur, you expand your ability to overcome challenges, improve effectiveness, and skyrocket your results in business.
Founder Stephanie Staidle is a recognized innovator in Corporate Cultural Art programs, began her career for four years doing offline and online marketing for clients such as American Express and Clear Channel.  In search of something more meaningful, she obtained her M.A. in Art Therapy and has six years experience as a nationally board certified (ATR-BC) and New York State licensed (LCAT) art therapist.   She now combines her corporate and creative backgrounds in her ground-breaking, scientifically based executive workshops and coaching programs.