FIELD TRIP 14: SAN FRANCISCO

Thursday, March 29, 2012 at 7:00 PM

-

Sunday, April 1, 2012 at 11:00 PM (EDT)

San Francisco, CA
Event Details
FIELD TRIP 14: SAN FRANCISCO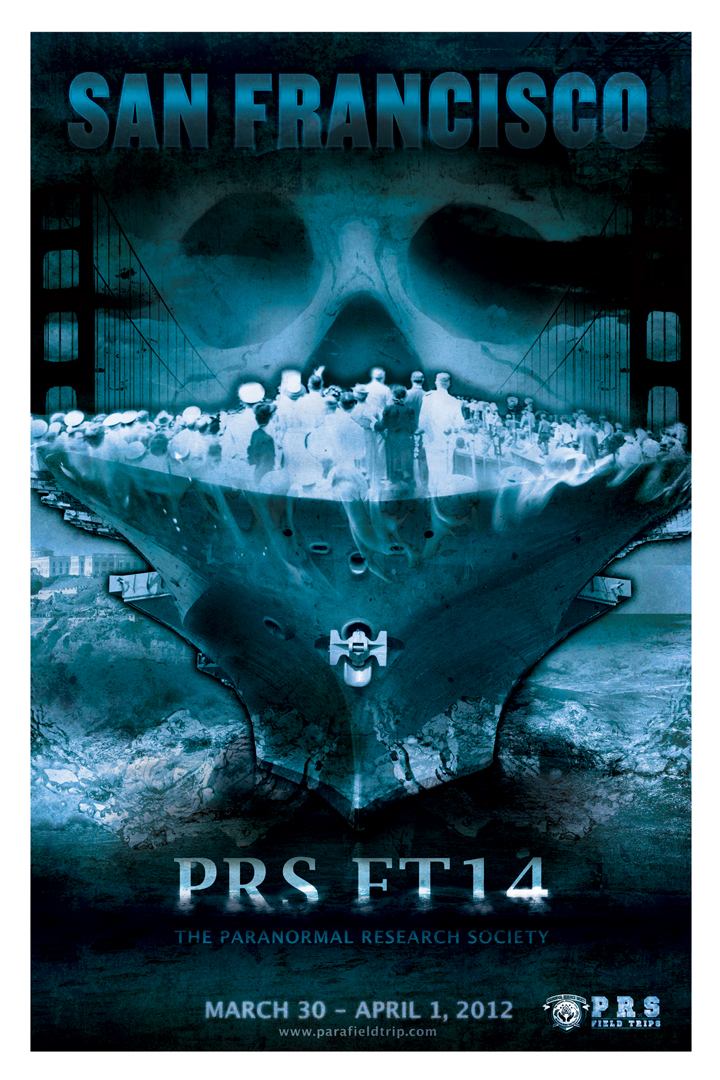 OVERVIEW
The PRS fans have demanded it, and at long last PRS FIELD TRIPS will be coming to the west coast.  PRS FIELD TRIP 14: SAN FRANCISCO will take place March 30th – April 1st, 2012.  The trip will take advantage of the local atmosphere and haunted legends in a way that has never been done before for a field trip!  The USS Hornett has been investigated by almost every famous paranormal team - except PRS!  For the first time, PRS embarks on a haunted voyage, where Field Trippers will roam the dark halls of the Hornett, conduct a seance in the captain's quarters, and for some, even spend the night on the haunted ship!  But the USS Hornett isn't all that FT14 has to offer!  Brand-new workshops (including an interactive workshop on Alcatraz) and celebrity guest speakers will be added to the lineup!  Haunted SF ghost tours and even a surprise ghost hunt Saturday night is in store!  For those who want to enjoy the social experience, there'll be a Thursday VIP themed party, plus circle discussions and more!  Then there are add-on's for those who want more, like a trip to Alcatraz and even a whole extra day of events (part of the EXTENDED EXPERIENCE) package!
This is going to be the most chilling Field Trip yet!

OVERVIEW OF EVENTS

USS HORNETT – Field Trippers will file in to the historically haunted USS Hornett, a retired aircraft carrier, for the bulk of Friday's events.  Field Trippers will have dinner in the ship's cafeteria, in a style similar to crew life.  Then, the trippers will be divided in to two teams.  The teams will be sectioned off to various parts of the ship that are notoriously known for being haunted.  While one team investigates, the other team will be in a closed quarters to hear about some of the most disturbing oceanic hauntings involving ships out sea.  Others will have an opportunity to participate in a séance in the captain's quarters, a closed off section with no light and deep in the ship!
SPENDING THE NIGHT ON THE USS HORNETT – For those wanting a little more supernatural action, Field Trippers will be able to actually spend the night on the ship itself in the bunkers (pillows, blankets/sleeping bags not supplied). 
LECTURE EVENTS – PRS' Chris Edwards will give an interactive and chilling lecture on Alcatraz, from the history of 'the rock' to its haunted activity.  This will be a great precursor to those planning to visit Alcatraz with PRS members Sunday morning!
Surprise celebrity guest speakers will also join the lineup on Saturday, giving field trippers new experiences and new faces to meet! 
VIP PRE-EVENT KICKOFF PARTY – PRS will be hosting a themed party Thursday night, which will be planned and organized in part by PRS Field Trip alumni.  Field Trippers will get to have input on the theme and setting of the party in order to make it a great event to remember!
MORE EVENTS SUCH AS GHOST TOURS & GHOST HUNTS – New workshops will be added on Saturday, including a panel discussion.  On Saturday evening, a local ghost hunt and ghost tour will also be added for those who want a bit more supernatural action!
TENTATIVE SCHEDULE
NORMAL FONT - Denotes events for Standard, Standard w/Overnight & EE members
ORANGE FONT - Denotes events for Standard w/Overnight members
RED FONT - Denotes events for EXTENDED EXPERIENCE members
THURSDAY
8:00 PM – VIP THEMED PARTY! Location- Hobson's Choice 1601 Haight St @ Clayton, San Francisco, CA (Not Included)

FRIDAY
11:00 AM – 1:00 PM – Registration (EE's get first-priority and their own priority line)
12:30pm – 1:45 PM – EE BRUNCH (Included)

2:00pm – 2:30pm – INTRODUCTORY FOR NEW FT'ers.
2:00pm – 2:30pm – RETURNING FIELD TRIPPERS REUNION EVENT
2:30pm – 3:00pm – ALL GATHER INFO SESSION
3:00 PM – 4:15 PM – Lecture/Workshop – "Welcome to Alcatraz" (Chris Edwards)

6:00 PM – 3:00 AM – USS Hornet
6:00 PM – 8:00 PM – Dinner (dramatic happening)
7:45 PM – 8:15 PM – Auction
8:15 pm – 8:45 pm – Sorted Into Ranks For GH
9:00 PM – 11:30 PM – Ghost Hunt 1 / Lecture 1 – Haunted Ghost Ships (Ryan Buell)
9:00 PM – 9:30 PM – Ghost Hunt Overview
12:00 AM - 2:30 AM - Ghost Hunt 2 / Lecture 2 - Haunted Ghost Ships (Ryan Buell)
12:00 AM - 12:30 AM - Ghost Hunt Overview

3:00 AM - 7:00AM (for those spending the night on USS HORNETT) - Sleep/Private time.
9:00 AM - (for those spending night on USS HORNETT) - included breakfast and pack-up.
SATURDAY
10:00 AM – 11:30 AM – Auctioned Breakfast
11:45 AM – 12:55 PM – EE Session
1:00 PM – 2:15 PM – SyFy's Bill Murphy from "Fact or Faked."
2:30 PM – 3:45 PM – TBD

4:00 PM – 5:15 – Panel Discussion
5:30 PM – 6:00 – Group Photo
7:45 PM - 8:45 PM - Eilfie Music Tarot Sessions 1

8:00 PM – 9:30 PM – "The Art of Dreamwalking" (Michelle Belanger)
9:00 PM - 10:00 PM - Eilfie Music Tarot Sessions 2

10:00 PM – 2:00 AM – Social Outing for Everyone (Not Included)

SUNDAY
9:30 AM – 12:30 PM – Alcatraz Tours with Chris Edwards, Eilfie Music (Additional Ticket Purchase Required for non EE)

10:00 AM – 11:30 AM – Auctioned Breakfast
1:00 PM – 2:00 PM – Goodbyes
2:30 PM – 3:45 PM – EE Session 1 (By Sign Up)

4:00 PM – 5:15 PM – EE Session 2 (By Sign Up)

5:30 PM – 6:45 PM – EE Session 3 (By Sign Up)

7:00 PM – 9:00 PM – EE Goodbyes / Dinner (Not Included)
When & Where



San Francisco

,

CA




Thursday, March 29, 2012 at 7:00 PM

-

Sunday, April 1, 2012 at 11:00 PM (EDT)
Add to my calendar
Organizer
"PARANORMAL: THE EXPERIENCE" 2014 CANADA TOUR
TOUR SCHEDULE
OTTAWA
April 3rd / April 4th
TORONTO
April 5th / April 6th 
VANCOUVER
April 8th
CALGARY
April 10th / April 11th
EDMONTON
April 12 / April 13th
WINNIPEG
April 15th
HALIFAX
April 17th