FED UP! Rally 2015 (RAIN or SHINE) Weather Updates on FED UP! Facebook Page

Saturday, October 3, 2015 at 1:00 PM
Event Details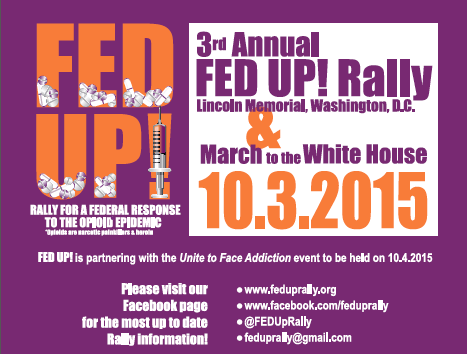 LAST MINUTE CHANGE OF VENUE…  
The 2015 FED UP! RALLY WILL BE HELD AT THE SYLVAN THEATER on the WASHINGTON MONUMENT GROUNDS on the NATIONAL MALL in Washington D.C. (this is the same location as last year's rally)  
The weather forecast in Washington, D.C. calls for rain. The Rally will proceed RAIN OR SHINE 
To see our PLATFORM calling for federal action click here
Please sign our Petition to President Obama: click here
The 1:00 p.m. Rally will be preceded by learning opportunities in FED UP!'s Resource Village.  The Rally will be followed by a march to the White House and a Closing Ceremony at the Ellipse.
Wondering how you can get to DC for the Rally?  FED UP! is now offering bus transportation from many locations. Click here
Learn how your organization can become a Sponsor or a Partner!
Click here for sponsorship information.
Click here to learn how your organization can become a Partner of FED UP! 
If you have questions, please click the "Contact the Organizer" button on the right. Your donations are tax-deductible.
DISCLOSURE STATEMENT: FED Up! Rally does not accept financial support from pharmaceutical companies or any other entities that could be perceived as a conflict of interest.
If you would like more information about the FED UP! Coalition, please contact us at FedUpRally@gmail.com.  We are a coalition of organizations and individuals from across the U.S. and Canada calling for immediate federal action to end the epidemic of opioid addiction and overdose deaths.  For more information see www.FedUpRally.org.
Note: By registering for this event, I have agreed, on behalf of myself, my heirs, executors, administrators and assigns, to waive, release and hold harmless the FedUp Rally Coalition, their partner organizations, their directors, managers, officers, employees, representatives, agents, organizers and volunteers and their successors from any and all claims for damages and for injuries arising from or out of my participation in and travel to and from the "2015 FedUpRally" that will be held in Washington D.C. on October 3, 2015.  I also agree to the use of any photo, film or videotape of the event that includes my image for any purpose by the event organizers, the FedUp Rally Coalition. 
When & Where

NEW VENUE: Sylvan Theater on the Washington Monument Grounds, National Mall
14th Street and Madison Dr NW
Washington, DC


Saturday, October 3, 2015 at 1:00 PM
Add to my calendar
Organizer
FED UP! Coalition
We are a coalition of organizations and individuals from across the U.S. and Canada calling for immediate federal action to
End the Epidemic of Opioid Addiction and Overdose Deaths
(Opioids are Narcotic Painkillers and Heroin)
Judy Rummler, Chair
Barbara Allen
Dan Busch
Karen Carlini
Michael DeLeon
Don Flattery
Ada Giudice-Tompson
Scarlet Gleeson
Mariel Harrison
Pete Jackson
Maureen Kielian
Andrew Kolodny, MD
Sandra Kresser
Teri Kroll
Chelsea LaLiberte
Diane Lunas
Jan McGrory
Michele McTiernan-Gleason
Joanne Peterson
April Rovero
Kyle Schalow
Emily Walden
FED UP! Rally 2015 (RAIN or SHINE) Weather Updates on FED UP! Facebook Page