ESSENCE MUSIC FESTIVAL 2013

Thursday, July 4, 2013 at 3:00 PM

-

Monday, July 8, 2013 at 12:00 AM
Event Details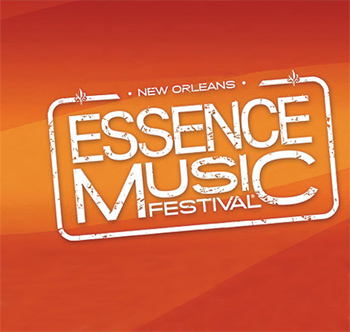 ESSENCE MUSIC FESTIVAL 2013
NEW ORLEANS, LA
 Thursday July 4- Monday July 8, 2013
 Four Day Package
Gold Pkg Full Travel  Package includes
Roundtrip transportation from Huntsville to New Orleans via Motorcoach
4 Nights at the Monteleone 
Day Party Razzoo's on Bourbon Street
Essence Festival Reserved Ticket for Friday Saturday and Sunday perfomances
Signature Gift
Gold Pkg Full Travel Package Prices
Single(one in a room) - $1796 per person
Double(two in a room) - $1208  per person
Triple(three in a room) -$1089  per person
Quad(four in a room) -$1034  per person
Gold Pkg Hotel Only Package includes
4 Nights at the Monteleone   
Day Party Razzoo's on Bourbon Street
Essence Festival Reserved Ticket for Friday Saturday and Sunday perfomances
Signature Gift
Gold Pkg Hotel Only Package Prices 
Single(one in a rooom) -  $1646 per person
Double(two in a room) -  $1058 per person
Triple(three in a room) -  $939 per person
Quad(four in a room) -   $889 per person
Silver Pkg Full Travel Package Includes
Roundtrip transportation from Huntsville to New Orleans via motorcoach
4 Nights at Hampton Inn Convention Center
Day Party Razzoo's on Bourbon Street
Signature Gift
Silver Pkg Full Travel Package Prices
Single(one in a room)- $1095 per person
Double(two in a room)- $912 per person
Triple(three in a room)- $683 per person
Quad( four in a room)- $454 per person
Silver Pkg Hotel Only Package Includes
4 Nights at Hampton Inn Convention Center
Day Party Razzoo's on Bourbon Street
Signature Gift
Silver Pkg Hotel Only Package Prices
Single(one in a room)-$946 per person
Double(two in a room)-$762 per person
'Triple(three in a room)-$533 per person
Quad(four in a room)-$304 per person
Early Bird Special
You and your roommate must make your first payment of $50 on or before Oct.19,2012 on Gold Pkg and $50 deposit Silver Pkg by Sept.30,2012, to be locked in at the above rates. You will also receive a Free wristband to the Private Welcome Party with Open Premium Bar and Buffet at a private location in New Orleans hosted by the Travelista of Urban Elite Travel Boutique.
Private Welcome Party Package
Our Private Welcome Party will be included in your package as long as you make your first deposit on or before October 19, 2012 (Gold) September 30,2012 (Silver).  The Welcome Party will be at a prime location and catered by a top named facility and restaurant in  New Orleans. 
 Payment  Guidelines
This guideline is here to help you stay on track with your payment plan.  You can start making payments at any time during the sale of this package.  Please note that if you make your first payment well after the start of this payment guideline you should be prepared to catch up with payments as soon as you can so you will not have such a large final payment.  It is also your responsibilty to stay on top of your roommate to be sure they are making their payments timely as well.  Roommate Account summaries are available upon request.  Just email us at info@urbanelitetravelboutique.com.  As a rule of thumb, by February 1, 2013, 50% of your balance should be paid.
$50-October 19
$50 or more-November 1
$50 or more- December 1
$50 or more- January 1
$50 or more- February 1
$50 or more- March 1
Final Payments - April 1
Policies
 All reservations for this booking will require your acceptance to our Terms & Conditions
All payments are NON-REFUNDABLE & NON-TRANSFERABLE.
Show  tickets seats are in the Loge Level NOTE: upgraded seats are available at a surcharge.
You must make monthly payments on your reservation after your initial first deposit of $50.  Any payment  amount of $50 or more is acceptable.
If you don't contact us and fail to make monthly payments your reservation is subject to cancellation and any previous deposits will be forfeited and your room will be re-sold.
Rates are subject to change. (We are not sure when the rates will change so please get your first payment in soon to be locked in at the rates above).
Hotel confirmations will be emailed on June 2013.
Motorcoach Travel Itinerary will be emailed on June 4, 2013.
Motorcoaches will leave Huntsville on Thursday, July 4, 2013 
Mail payment to:
Urban Elite Travel Boutique
Attn:Essence Festival 2013 
P.O. Box 283
Capshaw, Alabama 35742



Contact Us
Urban Elite Travel Boutique
PHONE   256-829-8382
EMAIL  info@urbanelitetravelboutique.com
WEB   www.urbanelitetravelboutique.com
When & Where

New Orleans, LA


Thursday, July 4, 2013 at 3:00 PM

-

Monday, July 8, 2013 at 12:00 AM
Add to my calendar
Organizer
Urban Elite Travel Boutique

Urban Elite Travel Boutique is a boutique style travel agency  specializing in group travel. We offer a full calendar of travel events and will also design an event to suit your travel taste.
Please visit us on our website at
http://www.urbanelitetravelboutique.com/
 Become our friend on Facebook at
ESSENCE MUSIC FESTIVAL 2013