Down by the Bay: San Francisco's History Between the Tides
San Francisco, CA
Bummer! Sales have ended.
Unfortunately, tickets for this event are no longer on sale.
Event Details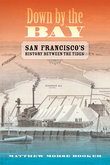 The California Historical Society and the Bill Lane Center for the American West welcome historian Matthew Booker as he discusses the role of nature in shaping Bay Area history.
San Francisco Bay is the largest and most productive estuary on the Pacific Coast of North America. It is also home to the oldest and densest urban settlements in the American West. Focusing on human inhabitation of the Bay since Ohlone times, Down By The Bay reveals the ongoing role of nature in shaping that history. From birds to oyster pirates, from gold miners to farmers, from salt ponds to ports, this is the first history of the San Francisco Bay and Delta as both a human and natural landscape. It offers invaluable context for current discussions over the best management and use of the Bay in the face of sea level rise.
Matthew Morse Booker is Associate Professor of History at North Carolina State University. He was previously Visiting Assistant Professor at Stanford and leads the Between the Tides project at Stanford's Spatial History Lab, mapping San Francisco Bay's dynamic tidal margin.
A link to his book can be found here. 
If you like this event and want to help us put on more like this, please consider becoming a member of the California Historical Society. Join us.