District 30 TLI | July 25, 2012 | Mission Possible 2

Wednesday, July 25, 2012 from 5:30 PM to 9:30 PM (CDT)
Event Details
Download Directions to the Hotel Here
Download the Summer TLI Session 2 agenda here: Mission Possible 2 Agenda
Please Read some Important Notes from our July - Mission Possible 2 - TLI Dean
1) Download of the directions mention the 15th Floor but we will be entirely on the 14th Floor.  We'll post a volunteer on the 15th floor to direct people to the 14th floor.  Also see below for correct Parking Information, disregard the parking fee rates in the directions download.
 
2) Anyone arriving via the L at the Merchandise Mart stop should give themselves a solid 15 minutes to walk through the entire Mart to the Skybridge over to the western Mart building (the Apparel Center) which is where the Holiday Inn is located.  The distance is surprisingly long so hopefully people plan extra time.
3) NO FOOD provided by the District at this event.  The hotel strictly prevents any outside food that was not purchased from their caterer in their conference center so please make arrangements to eat in advance or bring a small snack you can hide.

Parking Information
The Holiday Inn - Merchandise Mart Plaza offers self parking in the Guest Parking Lot adjacent to the hotel.  Special rate for the event is $10 with validation from the Hotel Front Desk.  SEE YOU THERE!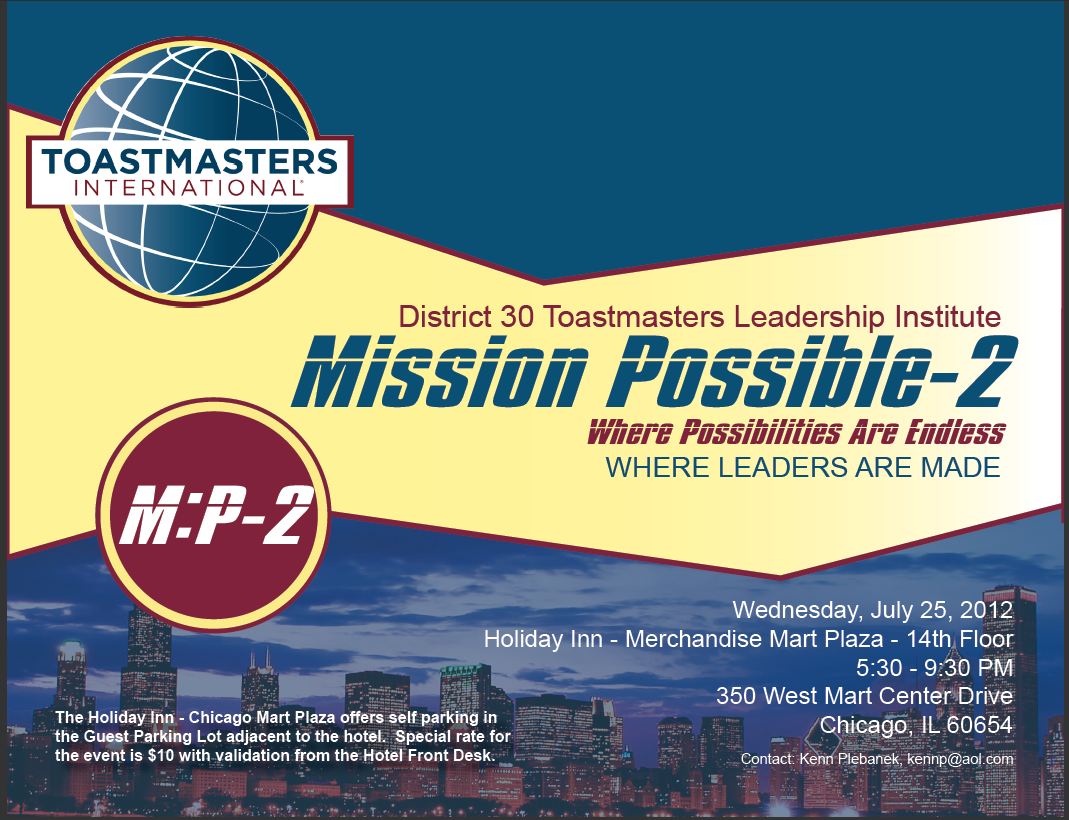 When & Where
350 West Mart Center Drive


Chicago

, 60654


Wednesday, July 25, 2012 from 5:30 PM to 9:30 PM (CDT)
Add to my calendar
2012-06-22 18:03:02
Breakout Sessions
Play by Play
TLI's is about more than just officer training, TLI has something to offer every ambitious and serious Toastmasters!
In addition to the vital club officer's training, many outstanding toastmasters have volunteered to lead some pretty awesome breakout sessions.
·     Don't miss John Labbe's presentation entitled "Keystone Habits: Making Change in Organizations".  This session will show how organizations have habits just as individuals do, and investigate how introducing keystone habits to organizations, such as Toastmasters clubs, can lead to profound changes in organizational effectiveness.
·     Charles Bonilla will present a session entitled "Controlling your Fear: From Club to Contest".  In this presentation, learn to identify the fears that trigger your anxiety, as well as learn and share your techniques for managing those fears so that you can make your next speech boldly and confidently.
·     Join master storyteller, Tim Wilson, for his session on "The Secret of Storytelling".  How do you tell a story that makes your presentation point, connects in with your audience, and doesn't bore them?  If you've ever thought there was some mysterious secret to being a great storyteller...you're right!  Come learn how to use stories effectively as you hear the storyteller's secret from Tim Wilson, District Champion and Distinguished Toastmaster. 
 ·      Make it a point to stop by the 8:30 PM Breakout Session to hear the "The Club Ambassador Program: Releasing Your Potential"  presentation --  As District 30's 2010-2011 Club Ambassador of the Year, Charlene Rhinehart, wants to ignite the fire inside of you so the you can be empowered to live your most desired dreams.  If the dream isn't powerful enough to propel you to action, hopefully the nightmare of never tapping your potential will motivate you to step into your greatness!  Join Charlene at the July TLI so you can witness how the Club Ambassador program will enable you to release your potential! 
·      Fenesha Hubbard's presentation is entitled "Don't Keep Toastmasters a Secret".   The session will teach attendees how to share Toastmasters with others authentically, naturally and with ease in a way that aligns with their personal and professional interests.
2012-07-12 18:12:27
Please note the following presenter changes:
6:30 pm VP of Education training will now be presented by Theo Travis, DTM
8:30 pm SAA training will now be presented by Terry Haywood, DTM
2012-07-17 16:35:12
Room assignment change and sold-out sessions reopened for registration:
As you may already know, we are experiencing a record turn out for this event and a few of the breakout sessions had previously been sold out.  Fortunately, the Mission Possible 2 team has made arrangements with the hotel for a larger space in which to hold these presentations. Registration has now been re-opened for those sessions.   Also, please make a note of the new room assignment for the sessions previously booked in the Lake house as they will now meet in the "Sauganash West Room". 
5:30 pm -  "Keystone Habits: Making Change in Organizations" by John Labbe
6:30 pm -  "The Secret of Storytelling" by Tim Wilson
7:30 pm -  "Controllng your Fear: From Club to Contest" by Charles Bonilla
8:30 pm - "Don't Keep Toastmasters a Secret" by Fenesha Hubbard
 Please signup now and phone a friend too!