Discovery of the Neural Developmental Bases of Autism: From MRI to Neurons and Genes

Monday, April 16, 2012 from 3:30 PM to 4:30 PM (EDT)

Baltimore, MD
Event Details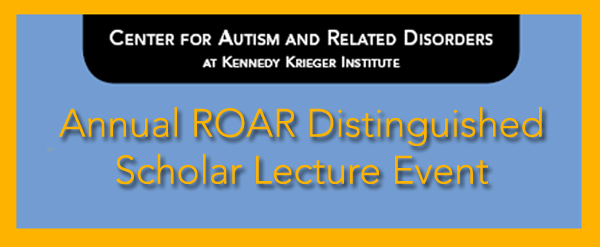 The Center for Autism and Related Disorders Presents their 3rd Annual ROAR Distinguished Scholar Lecture
Presentation Title:  Discovery of the Neural Developmental Bases of Autism:  From MRI to Neurons and Genes
 

Guest Speaker:  Dr. Eric Courchesne

 
 
Eric Courchesne is Professor of Neurosciences in the School of Medicine at the University of California San Diego (UCSD) and Director of the UCSD Autism Center of Excellence. His Autism Center of Excellence does research to identify biological and behavior markers of risk for developing autism in babies and toddlers. Current ACE Center research has identified abnormal brain growth and connectivity patterns in infants and toddlers with autism.  They have also elucidated patterns of abnormal growth from infancy through adulthood that reveal progressive abnormal structural changes across the life span in this disorder. Dr. Courchesne's MRI study of longitudinal development in ASD during the first years of life was named one of the Top Ten Autism Research Studies of 2010 by the IACC.  Autism Speaks named his Center's recent study, led by Dr. Karen Pierce, to be one of the Top 10 Autism Studies of 2011; this study reported on the early identification of risk for autism in infants. Current functional brain imaging techniques have established links between autistic symptoms in infants and toddlers and the brain sites responsible for them. Dr. Courchesne's studies of brain tissue have discovered clear evidence that abnormal brain development in autism begins in prenatal life. These studies found a 67% excess numbers of prefrontal neurons, dysregulation of genetic mechanisms that control neuron numbers, and cellular and laminar defects in the frontal cortex in young children with autism. Dr. Courchesne's studies have resulted in over 180 publications with an overall impact factor that is among the highest in the field according to the ISI Web of Knowledge.  An article in an upcoming issue of Discover Magazine provides an interesting summary of this work. Dr. Courchesne's research has been published in JAMA, Science, Lancet and the New England Journal of Medicine and is supported through grants from NIMH, NINDS, NICHD, Autism Speaks, and the Simons Foundation. 
Audience:  This scientific lecture is designed for researchers and professionals.
This is a free event supported by ROAR For Autism!
RECEPTION:  Please join us for a brief reception for Dr. Courchesne from
                        4:30 - 5:00 pm.  
For additional information please contact Joy Johnson at 443.923.7632 or johnsonjoy@kennedykrieger.org.
When & Where


3901 Greenspring Avenue

Creamer Building, 3rd Floor Large Conference Room


Baltimore

,

MD

21211

Monday, April 16, 2012 from 3:30 PM to 4:30 PM (EDT)
Add to my calendar
Organizer
The Center for Autism and Related Disorders (CARD) at Kennedy Krieger Institute in Baltimore, Maryland
The Center for Autism and Related Disorders (CARD) at Kennedy Krieger Institute is a multifaceted, interdisciplinary program serving children with autism spectrum disorders (ASD), their families, and professionals in the community.  We base our services and trainings on evidenced-based practices.  One of our major endeavors is to develop new models of effective care that can be distributed to families and care providers on a national and international level.
To view previous STAR presentations and downloadable Power Point slides, visit:  www.kennedykrieger.org/star-trainings-archive.