Digital DUMBO Invites you to Give the Gift of Digital this Holiday Season

New York, United States
Event Details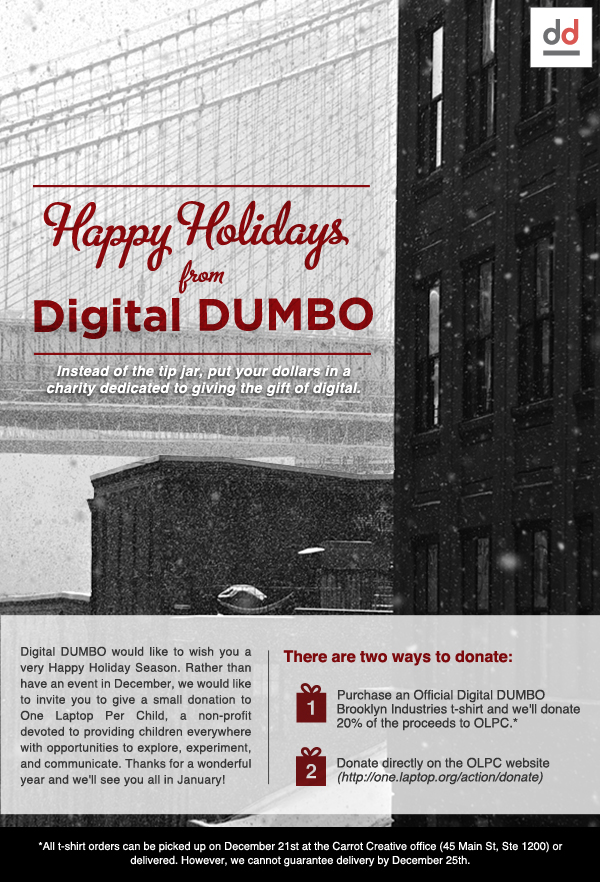 Official Digital DUMBO T-Shirt

General Inquiries & Press Contacts
Please contact Andrew Zarick (@A2Z) and Kaitlin Villanova (@KaitVillanova) with any questions, comments, or press iniquiries.
About Digital DUMBO

Digital DUMBO was founded in January of 2009 to raise awareness and foster business for the local technology community. We do this through collaborative efforts with local organizations, companies and individuals to showcase local talent, educate the community, and facilitate idea exchange. The goal of our efforts is to drive future talent to the area, sustain business and solidify the community as a viable economic player in the New York Metro area.
Have questions about Digital DUMBO Invites you to Give the Gift of Digital this Holiday Season?
Contact Digital DUMBO
Attendee List
Sort by:

Date

|

First Name

|

Last Name
Organizer
Digital DUMBO

Upcoming Events 
August 26th Office Hours & Drinks "Money Talks: Get Capital Like CAPS Lock is On" Presented by TD Bank
Join us and our friends at TD Bank for a brief two part presentation exploring strategies to help businesses secure bridge loans and lines of credit, followed by advice on how to manage all that cash after you sell your company or cash out your stock. The presentations will be followed by audience Q/A, the opportunity to have private office hours with executives from TD Bank, and hang time with other entrepreneurs with beer, wine and music.
September 4th dd:COLLECTIVE "Defining Tomorrow: The Role of Wearables and Shareables" Presented by Ready Set Rocket & Interbrand
Data, connected devices, and wearables are quickly entering and influencing our daily lives. In our panel, Ready Set Rocket and Interbrand will explore the future of wearables and connected devices, and how thought leaders in the space are influencing the next big shift in culture and technology.
September 16th dd:COLLECTIVE "Hustle Hard! Scaling Mobile Apps & Getting Users" Presented by Facebook & Parse
What do Cadillac, Hello Kitty, and the Greenbay Packers have in common? Well, not much other than that they all have mobile apps built on top of the Parse Cloud! Parse, acquired by Facebook in 2013, adds a scalable and powerful backend to mobile apps eliminating the need to worry about server maintenance. In this edition of dd:COLLECTIVE we'll not only talk about the nitty-gritty of app development but also explore strategies for leveraging the Facebook ad platform to grow user bases and take any app to the masses!
Sign-up to be notified once events go live at digitaldumbo.com