| | |
| --- | --- |
| Detox/Weight Loss Workshop | |
Event Details
Join us on your journey to look good and feel great!!!
I find that this program works great for my clients who want to lose weight or who just want to "feel better". The purification workshop is for ANYONE who wants to lose weight, detox, increase energy, or even sleep better. The purpose of doing this workshop in a group setting is to have the group participate in the detox TOGETHER. Detoxing for 3 weeks is difficult to do. It becomes a lot easier when you have others that are participating with you and holding you accountable. This program is a 3 week program. At the end of the three weeks, the group will meet again to discuss their results with the program. During the 3 three weeks, you will meet with me weekly for an evaluation as well as an acupuncture AND aromatherapy treatment. (Your treatments will be targeted specifically for what you are trying to accomplish (lose weight, gain energy, etc). Also, as a group, we will hold a weekly conference call to keep each group member motivated to continue and to discuss any difficulties that have been encountered.
During the detox program, you will be able eat food, you will just be limited to the types of food you can eat. You will be given a 21 day supply of protein powders, fiber, detox pills and supplements. All products are made from whole foods that are organically grown. The purpose of the program is to help you take a step in the right direction to changing the way you eat daily. Changing the way you eat daily will improve your overall well-being.
The entire program will be explained during the workshop. You are NOT obligated to participate in the program if you attend the workshop. You can then make a decision as to whether or not you want to participate in the program.
There is a program special for those who participate in the group setting as opposed to an individual basis. Space is limited to only 10 people per group! 
The 3 week program includes:
• Pre/post purification workshop
• Nutritional consultation
• Toxicity screening
• Lifestyle evaluation
• The complete 21 day detox kit and essential oil weight loss blend
• 1 weekly evaluation
• 1 weekly acupuncture treatment
• 1 weekly aromatherapy treatment 
• Blender bottle and pill container
• Purification program guide
• Purification cookbook
• Daily phone/email support
• Weekly conference calls with the group
You get a $1,100 dollar value of services for 50% off!! Total for the entire program is $550. (You will also have the option to just purchase the detox kit without any other services for $250.00)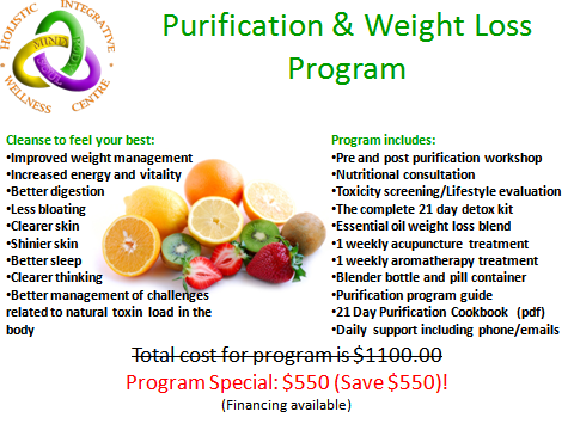 Save This Event
When & Where

Holistic Integrative Wellness Centre, LLC
17W715 Butterfield Rd.
Suite A
Oakbrook Terrace, IL 60181


Organizer
Cynthia Williams, MSOM, L.Ac, RN, CA
Cynthia Williams is the owner of Holistic Integrative Wellness Centre (HIWC). She is a Licensed Acupuncturist, Registered Nurse, and Certified Aromatherapist. For more information on Cynthia and HIWC, visit www.holisticintegrativewellness.com
Detox/Weight Loss Workshop