DESIGN GOES SOCIAL
Long Island City, NY
Bummer! Sales have ended.
Unfortunately, tickets for this event are no longer on sale.
Event Details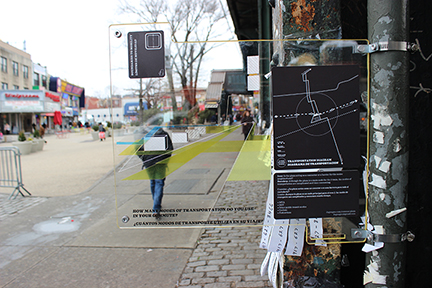 NEGOTIATING THE INTERSECTIONS OF ART, POLITICS AND THE LATINO COMMUNITY
High-end products – fashion, luxury architecture, sleek furniture and even sleeker devices – have colonized the public's definition of design. To many "design" has become synonymous with objects of consumer desire and the communication of these values through advertising and media.

In past talks of our series CONVERSACIONES we have examined how - in the shift from minority to majority - Latino communities across the United States are being repositioned and courted. An unprecedented increase in purchasing power and electoral influence have made Latinos key players in the agendas of both commerce and politics – often with design as mediator.

In this panel discussion we will explore a different side to "design", one in which Latino creative professionals have had to re-evaluate its role and purpose in an increasingly politicized environment. Our speakers - architects, artists, designers and educators - will present case studies in which design has been used to negotiate the relationship between politics, commerce and the Latino community - reflecting a growing trend in design process and design thinking for social innovation.

Our special speakers include:
Cynthia Lawson: a Brooklyn-based Colombian digital artist, technologist and educator. Cynthia's artwork, centered around themes of time and transience, has been internationally exhibited and performed. Since 2007 she has been an active participant in, and until recently coordinated, DEED: Development Through Empowerment, Entrepreneurship, and Design, which has connected over 50 university students with artisans in Latin America to support craft-based, income-generating opportunities. 
Pablo Medina: a designer, artist, teacher, builder, filmmaker, photographer, lover, traveler, dancer and cyclist. He has an BFA in drawing and a MS in communication design from Brooklyn's Pratt Institute. Fresh out of grad school he teamed up with David Carson (one of his design heroes), and set out to infuse the design world with his flair of post-modernist typeface designs that drew from his love of Latin-American popular culture. For the past ten years, he has run his own multi-disciplinary graphic design studio called Cubanica that is located in the heart of the East Village of New York City.
Quilian Riano: a designer, writer, and educator currently working out of Brooklyn and Queens, New York. Quilian founded DSGN AGNC and is its principal. Quilian works with trans-disciplinary groups to research and design proposals that address the complex interactions of social, political, economic and spatial urban processes. This methodology seeks to address issues that negatively affect communities with comprehensive research that can be used to propose a variety of targeted policies, actions and designs at various scales — from pamphlets to architectures to landscapes.