Design For Empowerment Extended: Chicago

Monday, January 27, 2014 at 7:00 PM

-

Monday, February 10, 2014 at 10:00 PM (CST)
Event Details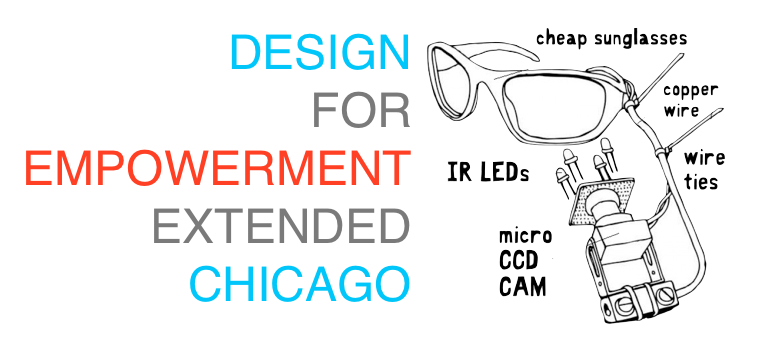 ***NOTE: We are not using tickets anymore.  You're more than welcome to come to the rest of class, but I should warn you that we have recently delved into a programming language called Processing, and I won't be able to get you up to speed during class since we're a few modules in.  If you want to try to get up to speed yourself, you can go to the link below and watch the following tutorial.  And, when we have time where people work and I'm available to help, I'd be happy to answer any questions you have then.  If not, we'll for sure be offering the class again so stay tuned.

http://hello.processing.org/***
Technology is increasingly shaped and developed by everyday people who design, build, and hack their own devices. The goal of this class is to understand, contribute to, and support these creative communities. We will focus on tools that enable non-experts to design and build computational and electronic artifacts. Along the way we will investigate software toolkits, hardware toolkits, open-source technologies, fabrication processes, and new manufacturing and distribution models. (1) 
We will explore these tools and communities with the following questions in mind: How can technology and design both raise and lower barriers to empowerment? How can low cost technologies be co-opted and combined to create high tech solutions to real world problems? How can you identify and describe a healthy community, and how can we create tools which foster healthy communities? (2)
Participants will leave with knowledge at the intersection of economics, technology, and design, and engage in hands-on experiences with open source tools such as Arduino, Processing, and  3-D printing platforms.  
A tentative syllabus with a basic outline of the course can be found here.
This meetup assumes no prior knowledge; programming or otherwise.  We hope to have beginners and advanced members alike to create a diverse learning community.  The class will be directed in part by it's participants, and you do not have to attend each meetup to participate.
There is a suggested donation of $5-$10 dollars per class to support the cost of the space at CivicLab.  For questions and more information contact: benjamin@civiclab.us
[1] from Design for Empowerment
[2] from Design for Empowerment Extended 
DFEX: CHI is an extension of the Design for Empowerment class originally offered at the MIT Media Lab by Professor Leah Buechaly of the High Low Tech Group In the fall of 2010, complex systems researcher, maker, and multimedia artist Kawandeep Virdee, developed an open "side car" version of this class called Design for Empowerment: Extended (DFEX).  With both Leah and Kawan's blessing, DFEX: CHI will bring the collection of these teachings to the Chicagoland area.  The class will be led by Benjamin Sugar, a participant in the original DFE/X course, core team member of Between the Bars, and the co-founder of CivicLab.
When & Where

CivicLab
114 N Aberdeen St
Chicago, IL 60607


Monday, January 27, 2014 at 7:00 PM

-

Monday, February 10, 2014 at 10:00 PM (CST)
Add to my calendar
Organizer
CivicLab
CivicLab is a space in the West Loop of Chicago dedicated to co-working, collaboration, tool building and education to accelerate civic engagement and community improvement efforts. We are at 114 N. Aberdeen Street. info@civiclab.us.
The URL for our EventBrite page = http://civiclab.eventbrite.com.

Design For Empowerment Extended: Chicago