DeKalb Chamber of Commerce Presents: Congressman Hank Johnson "Help Entrepreneurs" Bill Listening Tour
DeKalb Medical Center Hospital
Bummer! Sales have ended.
Unfortunately, tickets for this event are no longer on sale.
Event Details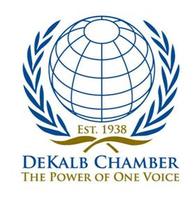 Presents: 
Rep. Johnson's "Help Entrepreneurs" Bill Listening Tour
GOAL: To discuss the Help Entrepreneurs Create American Jobs Act with stakeholders – constituents, business owners and chamber members – get feedback on the bill(s) and listen to what issues chamber and business owners would like to discuss so Congressman Johnson can take their feedback to Washington.
WHO: Rep. Hank Johnson, local entrepreneurs, members of the local chambers of commerce, CID representatives, the public.
WHAT:Help Entrepreneurs Create American Jobs Act, H.R. 4032, which will double the tax cut for start-up businesses from $5,000 to $10,000 and increase the ceiling at which deductions begin to phase out from $50,000 to $60,000. We can also discuss the Fairness & Transparency in Contracting Act – H.R. 3184 – Congressman's signature small business bill.
WHEN: Thursday, September 27, 2012
TIME: 10:00am - 10:30am - Registration and light refreshments will be served / 10:30am - 11:30am - Discussion
WHERE:  DeKalb Medical Center Hospital – North Decatur Road location in Women's Center.
 (Capacity is limited - manadatory registration)

WHY: Creating jobs and supporting American entrepreneurs should be our No. 1 priority in Congress and at home. We must make it easier for Americans to start small businesses. The HECAJA encourages small business growth, means more job opportunities for a robust and talented labor pool, helps small businesses stay competitive with larger companies and brings increased cash flow in our local economy.
 Sponsored by: