Dash and Dine 5K Run/Walk

Sunday, October 21, 2012 from 1:00 PM to 5:00 PM (CDT)

Wichita, KS
Who's Going
Loading your connections...
Event Details
Cargill presents Dash & Dine a 5K to benefit United Way of the Plains. After running/walking a course through Sedgwick County Park, participants will enter the runners village at the finish line where food vendors will hand out samples of delicious food and drawings for participating will be given out!
ABOUT:
When we give to a local charity, we don't expect a reward. But we do expect results. United Way funds dozens of local Wichita programs. They also provide volunteer assistance, a 2-1-1 hotline for finding help, and other programs that make our community a better place to live. They get through to the people that need the most help and the local programs that do the most good.
REGISTRATION:
All online entries must be received by October 19, 2012. Paper registrations are available at the GoRun Wichita East and West locations along with the New Balance East and West locations. We will have a registration and packet pick up at GoRun Wichita East location on October 12th from 1-close and Saturday, October 13th at GoRun West location all day.
Race day registration will be at the at Sedgwick County Park Shelter House 4. Participants may also pick up packets on race day starting at 12:30 p.m.
We hope you will make the decision to participate in this great event that will bring a huge crowd together to benefit the local community. On behalf of the United Way of the Plains and Cargill, we want to extend our sincerest gratitude for your support and we look forward to your support for the Dash & Dine 5K.
Registration includes a Dri-Fit T-Shirt!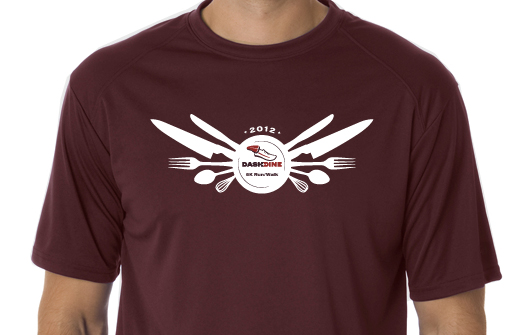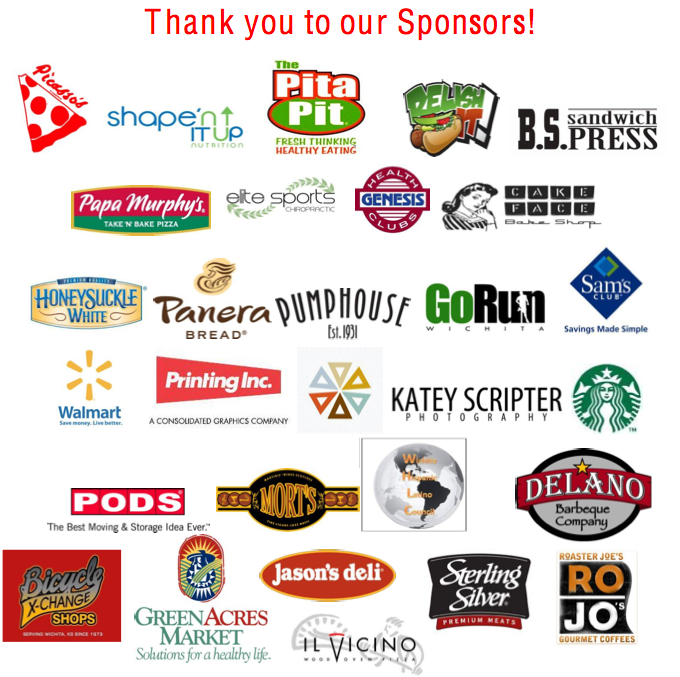 For more information call 316.291.1343 or email april_kiehl@cargill.com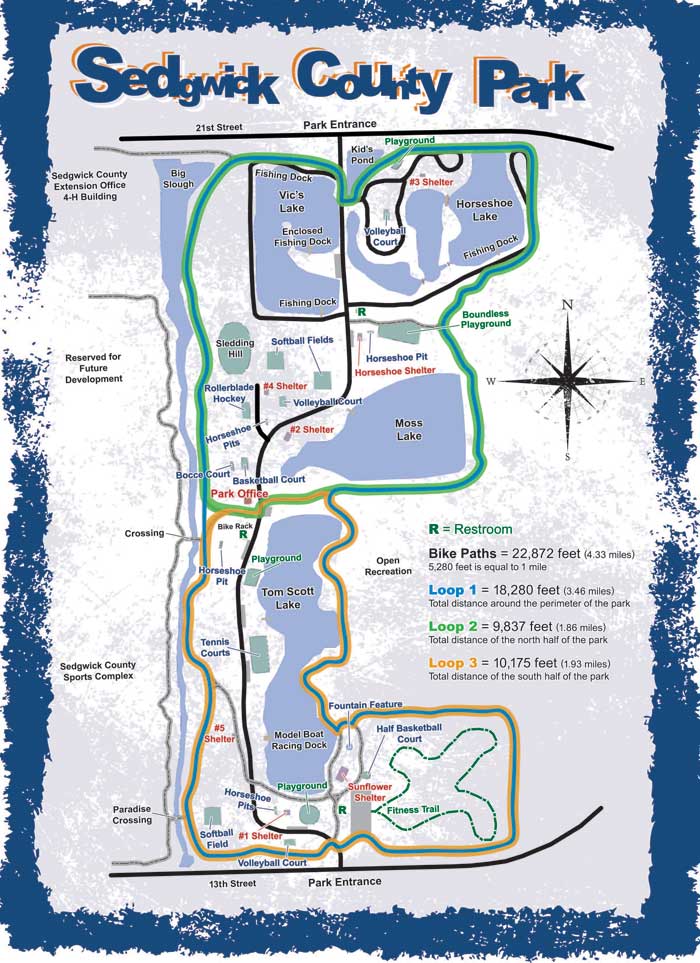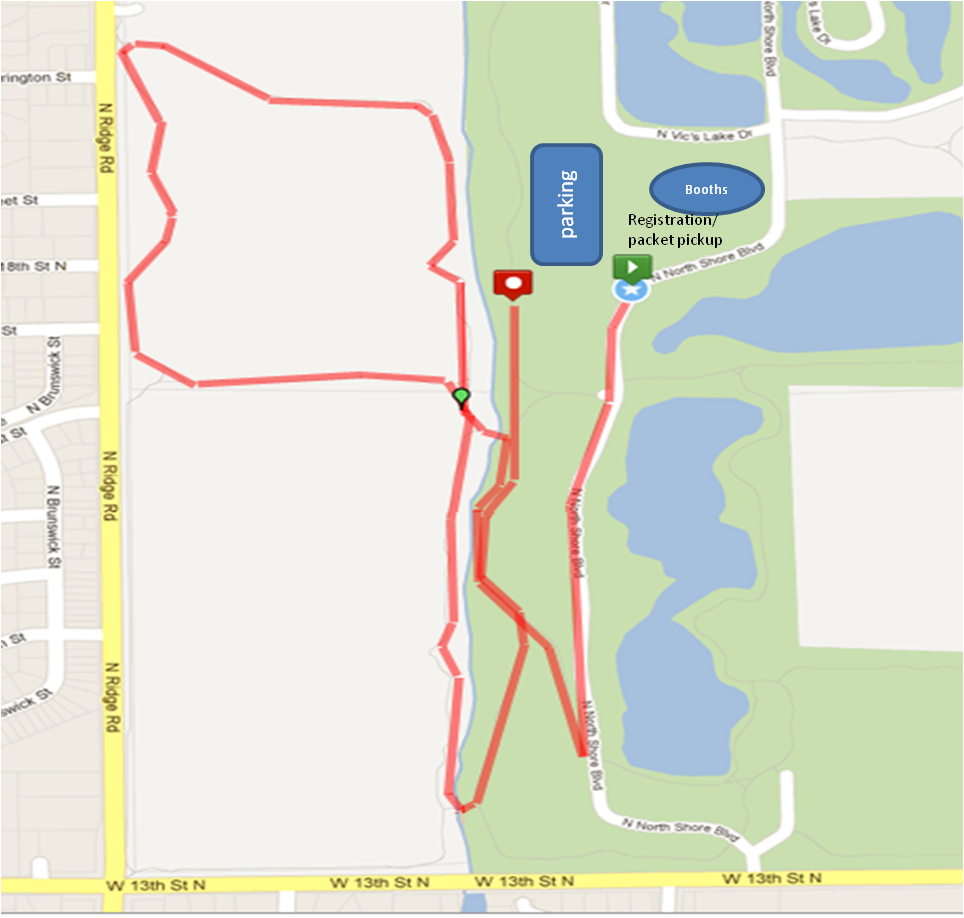 For more information about the location: http://www.sedgwickcounty.org/sg_park/
Online Registration Ends Friday October 19th at midnight but we will accept registration on the day of the event starting at 12:30pm.
Results:

                              DASH + DINE  5K
                   OCT. 21, 2012        WICHITA, KANSAS
                          AGE-GROUP RESULTS FOR 5K

         **************** 5K MALE OVERALL WINNERS ***************
Place Name                 Age Time   
===== ==================== === =======
    1 JACOB JARVIS          23   20:18
        **************** 5K FEMALE OVERALL WINNERS ***************
Place Name                 Age Time   
===== ==================== === =======
    1 CHRISSY GLANZER       32   22:04
                ********  MALE AGE GROUP:  1 - 19 ********
Place Name                 Age Time   
===== ==================== === =======
    1 MAX KENNEDY           16   20:52
    2 CHASE HARRIS          12   27:25
    3 JIM SHEEHAN           13   29:02
               ********  FEMALE AGE GROUP:  1 - 19 ********
Place Name                 Age Time   
===== ==================== === =======
    1 GRACE HARRIS          14   27:10
    2 KYLIE MOUSER           9   31:22
    3 CAMILA ESQUIVEL        9   33:44
                ********  MALE AGE GROUP:  20 - 29 ********
Place Name                 Age Time   
===== ==================== === =======
    1 JACOB JARVIS          23   20:18
    2 CORDAIRO HANSEN       26   21:11
    3 CODY HARTMAN          24   22:22
               ********  FEMALE AGE GROUP:  20 - 29 ********
Place Name                 Age Time   
===== ==================== === =======
    1 ALICE HACKETT         21   22:10
    2 BECKY HALL            28   23:27
    3 CARI MASSEY           24   25:43
                ********  MALE AGE GROUP:  30 - 39 ********
Place Name                 Age Time   
===== ==================== === =======
    1 CHAD CLARK            36   22:32
    2 CLAY WILLIAMS         31   22:55
    3 IAN JOHNSON           30   23:56
               ********  FEMALE AGE GROUP:  30 - 39 ********
Place Name                 Age Time   
===== ==================== === =======
    1 CHRISSY GLANZER       32   22:04
    2 ANGIE ELLIOTT         36   25:19
    3 PATTI ROLF            35   26:36

                ********  MALE AGE GROUP:  40 - 49 ********
Place Name                 Age Time   
===== ==================== === =======
    1 MARK ANDREWS          48   20:51
    2 TODD BEGNOCHE         46   21:04
    3 MIKE KENNEDY          46   25:11
               ********  FEMALE AGE GROUP:  40 - 49 ********
Place Name                 Age Time   
===== ==================== === =======
    1 JONI YOUNG            41   26:19
    2 JILL LAFFOON          44   26:52
    3 DEBBIE NECE           47   27:31
                ********  MALE AGE GROUP:  50 - 99 ********
Place Name                 Age Time   
===== ==================== === =======
    1 CHARLIE FOX           51   22:46
    2 KENNETH MCCAFFREE     64   23:52
    3 GALE ENGELS           60   29:25
               ********  FEMALE AGE GROUP:  50 - 99 ********
Place Name                 Age Time   
===== ==================== === =======
    1 ELAINE CHAVEZ         51   24:35
    2 TRUDY CALLOWAY        64   25:25
    3 DIANE GREENLEAF-KISN  52   27:06

                                                                      Page 1
                              DASH + DINE  5K
                   OCT. 21, 2012        WICHITA, KANSAS
                               5 K    RESULTS
Place Name                 Age S Div/Tot  Time    Pace 
===== ==================== === = ======== ======= =====
    1 JACOB JARVIS          23 M   1/12     20:18  6:32
    2 MARK ANDREWS          48 M   1/19     20:51  6:43
    3 MAX KENNEDY           16 M   1/12     20:52  6:43
    4 TODD BEGNOCHE         46 M   2/19     21:04  6:47
    5 CORDAIRO HANSEN       26 M   2/12     21:11  6:49
    6 CHRISSY GLANZER       32 F   1/34     22:04  7:07
    7 ALICE HACKETT         21 F   1/29     22:10  7:08
    8 CODY HARTMAN          24 M   3/12     22:22  7:12
    9 CHAD CLARK            36 M   1/20     22:32  7:16
   10 CHARLIE FOX           51 M   1/11     22:46  7:20
   11 CLAY WILLIAMS         31 M   2/20     22:55  7:23
   12 BECKY HALL            28 F   2/29     23:27  7:33
   13 KENNETH MCCAFFREE     64 M   2/11     23:52  7:41
   14 IAN JOHNSON           30 M   3/20     23:56  7:43
   15 JOE BOGDANOVECZ       34 M   4/20     24:23  7:51
   16 DEREK LOWREY          32 M   5/20     24:23  7:51
   17 ELAINE CHAVEZ         51 F   1/16     24:35  7:55
   18 BRIAN BLACKERBY       33 M   6/20     24:39  7:56
   19 MIKE KENNEDY          46 M   3/19     25:11  8:07
   20 ANGIE ELLIOTT         36 F   2/34     25:19  8:09
   21 STEVE SINIK           48 M   4/19     25:25  8:11
   22 TRUDY CALLOWAY        64 F   2/16     25:25  8:11
   23 JOSH YOUNG            29 M   4/12     25:43  8:17
   24 CARI MASSEY           24 F   3/29     25:43  8:17
   25 KRISTEN CORRELL       25 F   4/29     25:47  8:18
   26 JOHN MIDDLETON        24 M   5/12     25:57  8:21
   27 TAMARA BIEKER         27 F   5/29     26:05  8:24
   28 KEVIN HAMMOND         34 M   7/20     26:09  8:25
   29 HALLEY BEEKLEY        28 F   6/29     26:18  8:28
   30 JONI YOUNG            41 F   1/30     26:19  8:29
   31 NATHAN BAKER          24 M   6/12     26:24  8:30
   32 BEN WATSON            28 M   7/12     26:35  8:34
   33 PATTI ROLF            35 F   3/34     26:36  8:34
   34 JILL LAFFOON          44 F   2/30     26:52  8:39
   35 DIANE GREENLEAF-KISN  52 F   3/16     27:06  8:44
   36 GRACE HARRIS          14 F   1/17     27:10  8:45
   37 CHASE HARRIS          12 M   2/12     27:25  8:50
   38 DEBBIE NECE           47 F   3/30     27:31  8:52
   39 JOSH MAZE             32 M   8/20     27:52  8:58
   40 MATT GLANZER          33 M   9/20     28:07  9:03
   41 STACI SHEERN          34 F   4/34     28:09  9:04
   42 DENISE NEIL           39 F   5/34     28:40  9:14
   43 BEV EXPOSITO          55 F   4/16     28:43  9:15
   44 MIKE HILLIARD         46 M   5/19     28:45  9:16
   45 ADAM ZOHNER           30 M  10/20     28:46  9:16
   46 TERRY HANKINS         38 M  11/20     29:00  9:20
   47 JIM SHEEHAN           13 M   3/12     29:02  9:21
   48 GALE ENGELS           60 M   3/11     29:25  9:28
   49 DAVID LOCKARD         53 M   4/11     29:27  9:29
   50 KIM ROWLEY            39 F   6/34     29:38  9:33

                                                                      Page 2
                              DASH + DINE  5K
                   OCT. 21, 2012        WICHITA, KANSAS
                               5 K    RESULTS
Place Name                 Age S Div/Tot  Time    Pace 
===== ==================== === = ======== ======= =====
   51 IGNACIO AYALA         37 M  12/20     29:42  9:34
   52 AMANDA WHITTEMORE     20 F   7/29     29:43  9:34
   53 MARLENE GUILLEN       31 F   7/34     29:48  9:36
   54 JEVIN FOUST            8 M   4/12     29:51  9:37
   55 GEORGE RIVAS          37 M  13/20     29:52  9:37
   56 JASON ROLF            39 M  14/20     30:10  9:43
   57 FRANK WHITE           44 M   6/19     30:24  9:47
   58 GARY LOVE             62 M   5/11     30:28  9:49
   59 LINDA AYALA           37 F   8/34     30:42  9:53
   60 ERIN DEKOSTER         27 F   8/29     30:43  9:54
   61 ANNA CLOVIS           29 F   9/29     30:43  9:54
   62 JOHN STAUTH           31 M  15/20     30:47  9:55
   63 ANGELA BLACKERBY      32 F   9/34     30:49  9:55
   64 ELYSE CURRY           23 F  10/29     30:51  9:56
   65 BRIAN MCCALL          47 M   7/19     31:13 10:03
   66 KYLIE MOUSER           9 F   2/17     31:22 10:06
   67 LESLEY MOUSER         36 F  10/34     31:22 10:06
   68 PETER QUAYLE          12 M   5/12     31:25 10:07
   69 SCOTT NELSON          46 M   8/19     31:43 10:13
   70 EMMA ZOHNER           32 F  11/34     31:47 10:14
   71 NORA TANG             30 F  12/34     31:47 10:14
   72 DEBBIE HALL           59 F   5/16     32:02 10:19
   73 JACKIE WANKA          26 F  11/29     32:14 10:23
   74 LARRY HOETMER         48 M   9/19     32:16 10:23
   75 ROCKY BURRIS          39 M  16/20     33:02 10:38
   76 LORI KENNEDY          46 F   4/30     33:20 10:44
   77 JENNIFER CAVAZOS      35 F  13/34     33:24 10:46
   78 ASHLEY BLANKENSHIP    29 F  12/29     33:25 10:46
   79 LYNDON PERRY          48 M  10/19     33:35 10:49
   80 JESSICA SCHOENHOFER   32 F  14/34     33:40 10:51
   81 CAMILA ESQUIVEL        9 F   3/17     33:44 10:52
   82 LEAH NELSON           15 F   4/17     33:49 10:54
   83 ALLISON DIALBERTO     42 F   5/30     34:06 10:59
   84 TRACI EARLS           39 F  15/34     34:07 10:59
   85 MICHELLE BELIN        44 F   6/30     34:07 10:59
   86 LEA ANN GABBERT       37 F  16/34     34:16 11:02
   87 JODIE MCCALL          38 F  17/34     34:29 11:06
   88 SARA MAZE             32 F  18/34     34:48 11:12
   89 BRENDA CLY            41 F   7/30     34:49 11:13
   90 MELISSA FRISBIE       48 F   8/30     34:52 11:14
   91 MICHELLE HILLIARD     40 F   9/30     35:05 11:18
   92 ANDY NILES            27 M   8/12     35:08 11:19
   93 DONNA NILES           28 F  13/29     35:09 11:19
   94 DEREK SEIBERT         43 M  11/19     35:11 11:20
   95 BOBBY HARRIS          46 M  12/19     35:23 11:24
   96 AMY BOLAN             32 F  19/34     35:28 11:25
   97 THOMPSON KNUTH        12 M   6/12     35:33 11:27
   98 BAILEA PHELAN         22 F  14/29     35:41 11:29
   99 MARY THOMPSON         51 F   6/16     35:42 11:30
  100 AMY SHEEHAN           17 F   5/17     35:52 11:33

                                                                      Page 3
                              DASH + DINE  5K
                   OCT. 21, 2012        WICHITA, KANSAS
                               5 K    RESULTS
Place Name                 Age S Div/Tot  Time    Pace 
===== ==================== === = ======== ======= =====
  101 PHYLLIS SHEEHAN       50 F   7/16     36:01 11:36
  102 MEGAN DAVIS           25 F  15/29     36:37 11:48
  103 AUDRA DINELL          26 F  16/29     36:37 11:48
  104 MADDI WILLERT         15 F   6/17     36:59 11:54
  105 JOHANNA HARRIS        15 F   7/17     37:14 12:00
  106 KAREN KENDRICK        36 F  20/34     37:40 12:08
  107 CHRISTINE THOMPSON    36 F  21/34     37:43 12:09
  108 DEAN RHEIN            35 M  17/20     37:50 12:11
  109 RYAN DREHER           26 M   9/12     38:35 12:25
  110 CHARLES LINK          55 M   6/11     38:44 12:28
  111 JAIME BYER            35 F  22/34     39:01 12:34
  112 DAYLENE GOMEZ         43 F  10/30     39:53 12:51
  113 KIM NGUYEN            24 F  17/29     39:57 12:52
  114 ALLISON KISNER        23 F  18/29     39:57 12:52
  115 TOMAS ESQUIVEL         5 M   7/12     40:03 12:54
  116 THU TRUONG            43 F  11/30     40:14 12:57
  117 AMY HARRIS            46 F  12/30     40:32 13:03
  118 CAROL LOVE            61 F   8/16     41:05 13:14
  119 KEVIN SHEEHAN         49 M  13/19     41:07 13:14
  120 JULIE OLMSTEAD        40 F  13/30     41:23 13:19
  121 MORGAN MANLOVE        25 F  19/29     41:28 13:21
  122 SCOTT ODENDAHL        39 M  18/20     41:43 13:26
  123 ANDREA ODENDAHL       38 F  23/34     41:49 13:28
  124 BRYANT SCHMIDT        11 M   8/12     43:02 13:51
  125 CHRIS WEBBER          50 F   9/16     43:03 13:52
  126 ELEANOR LINK          43 F  14/30     43:20 13:57
  127 JULIUS HIGH           55 M   7/11     43:43 14:05
  128 TINA HOETMER          48 F  15/30     43:43 14:05
  129 MADISON HARRIS        13 F   8/17     44:03 14:11
  130 VICKI EMEOLA          42 F  16/30     44:03 14:11
  131 NICOLE ERWIN          35 F  24/34     44:30 14:20
  132 KIM BARNES            42 F  17/30     44:31 14:20
  133 MISHA BENDER          36 F  25/34     44:34 14:21
  134 RYAN BENDER            8 F   9/17     44:34 14:21
  135 SUZANNE FINN          30 F  26/34     44:38 14:22
  136 DARLA WHIPPLE-FRAIN   53 F  10/16     44:39 14:23
  137 PAT CLARK             56 F  11/16     44:45 14:25
  138 TIMOTHY CLARK         56 M   8/11     44:46 14:25
  139 KATE SIMON            23 F  20/29     44:51 14:27
  140 DESI WEAKLY           20 F  21/29     44:51 14:27
  141 JUAN FLORES           22 M  10/12     45:26 14:38
  142 COLLEEN MOORE         22 F  22/29     45:26 14:38
  143 ASHLYN LEINEN         25 F  23/29     46:22 14:56
  144 JENNIFER OWENS        36 F  27/34     47:24 15:16
  145 ROBIN WILLIAMS        46 F  18/30     47:24 15:16
  146 STACY NEWTON          41 F  19/30     47:27 15:17
  147 LAURA BERNSTORF       30 F  28/34     47:43 15:22
  148 CHRISTY NIEBAUM       28 F  24/29     48:15 15:32
  149 DAVE FRAIN            54 M   9/11     48:19 15:33
  150 ROXANA YGLESIAS       38 F  29/34     48:24 15:35

                                                                      Page 4
                              DASH + DINE  5K
                   OCT. 21, 2012        WICHITA, KANSAS
                               5 K    RESULTS
Place Name                 Age S Div/Tot  Time    Pace 
===== ==================== === = ======== ======= =====
  151 VALERIA ESQUIVEL       8 F  10/17     48:25 15:35
  152 SARAH NELSON          17 F  11/17     48:56 15:45
  153 ABI NELSON             8 F  12/17     48:59 15:46
  154 BAIG ANDWAR           68 M  10/11     49:56 16:05
  155 SHARON FREUND         46 F  20/30     50:15 16:11
  156 MARY YEAGER           42 F  21/30     50:16 16:11
  157 ZAC MAZE              34 M  19/20     51:33 16:36
  158 MARY WHITESIDE        55 F  12/16     51:33 16:36
  159 HENRY QUAYLE          12 M   9/12     51:36 16:37
  160 MARK QUAYLE           42 M  14/19     51:36 16:37
  161 DESIREE HOETMER       17 F  13/17     51:51 16:42
  162 JESSICA CUMMINGS      28 F  25/29     51:58 16:44
  163 ASHLEY MOSS           10 F  14/17     52:02 16:45
  164 MARK MOSS             45 M  15/19     52:03 16:46
  165 ELEANER KEPPY         45 F  22/30     52:10 16:48
  166 AMIE ROSS             24 F  26/29     52:10 16:48
  167 SCOTT COLE            53 M  11/11     53:06 17:06
  168 STACI PRIBYL          27 F  27/29     53:39 17:16
  169 FRANK PRIBYL          27 M  11/12     53:40 17:17
  170 LAWERENCE HANSON      47 M  16/19     53:42 17:18
  171 TERESA WENZEL         33 F  30/34     53:45 17:18
  172 BETH PALADINO         55 F  13/16     54:19 17:29
  173 MELISA SALAS          33 F  31/34     54:28 17:32
  174 ERIN PELZ             33 F  32/34     54:28 17:32
  175 JOSHUA NELSON          5 M  10/12     55:48 17:58
  176 KATY NELSON           45 F  23/30     55:50 17:59
  177 ANGIE SCHMIDT         41 F  24/30     56:06 18:04
  178 BRENDA STUBBY         46 F  25/30     56:08 18:05
  179 KELSEY WEBBER         20 F  28/29     56:11 18:05
  180 GRACE QUAYLE          11 F  15/17     57:09 18:24
  181 TAMMY QUAYLE          42 F  26/30     57:09 18:24
  182                                       57:20 18:28
  183                                       57:20 18:28
  184 PRESTON WEGMAN        46 M  17/19     57:26 18:30
  185 TJ WEGMAN             45 F  27/30     57:27 18:30
  186 JUSTIN SCHWANKE       28 M  12/12     57:31 18:31
  187 MARY BETH SCHWANKE    26 F  29/29     57:31 18:31
  188 KIMA MORA             53 F  14/16     58:02 18:41
  189 CONNIE BROWN          63 F  15/16     58:18 18:46
  190 ROBERT ALTERMA        39 M  20/20     59:06 19:02
  191 JULIE SANDERS         37 F  33/34     59:18 19:05
  192 KAHAMI SPEIGHT        47 F  28/30     59:18 19:06
  193 STEVE OWENS           40 M  18/19     59:34 19:11
  194 SCOTT OWENS           42 M  19/19     59:54 19:17
  195 SHARON BARLOW         55 F  16/16   1:00:12 19:23
  196                                     1:02:33 20:08
  197 JESSICA RHEIN         33 F  34/34   1:02:33 20:08
  198 CHANCE MCCOY           8 M  11/12   1:04:21 20:43
  199 LAILONI WHITE          7 F  16/17   1:04:22 20:44
  200                                     1:04:43 20:50

                                                                      Page 5
                              DASH + DINE  5K
                   OCT. 21, 2012        WICHITA, KANSAS
                               5 K    RESULTS
Place Name                 Age S Div/Tot  Time    Pace 
===== ==================== === = ======== ======= =====
  201 LISA MCCOY            48 F  29/30   1:04:43 20:50
  202 NAOMI HARRIS          14 F  17/17   1:05:07 20:58
  203 LISA HARRIS           40 F  30/30   1:05:07 20:58
  204 GRANT HARRIS          10 M  12/12   1:05:12 20:59
When & Where


Sedgwick County Park
6501 West 21st St N


Wichita

,

KS

67212

Sunday, October 21, 2012 from 1:00 PM to 5:00 PM (CDT)
Add to my calendar