CWRU Faculty Networking Reception

Tuesday, March 19, 2013 from 6:00 PM to 8:00 PM (PDT)
Event Details
This event has been cancelled because of low registration. Please contact Brian Browne at brian.browne@case.edu with questions or concerns.

CWRU Faculty Networking Reception
You are cordially invited to join The Alumni Association for the opportunity to network with alumni and hear from two CWRU faculty members, professors David Sedwick, PhD, andMartina Veigl, PhD. The evening will feature an opportunity to hear from these two dynamic faculty members about their research and receive updates about current happenings at CWRU from The Alumni Association.
The event will begin at 6 p.m. on Tuesday, March 19 with a brief opportunity to network ahead of remarks from our faculty at 6:30 p.m.
 
About the Faculty

David Sedwick, PhD, is a Professor of Medicine who joined the Cancer Center at Case Western Reserve University in 1986.  After graduating from Haverford College in 1962, Sedwick carried out his graduate studies on the growth, biochemistry and control of rubella virus at the Wistar Institute in the Department of Microbiology at the University of Pennsylvania.  He then joined David Korn's laboratory at Stanford University to initiate studies of human DNA polymerases as a fellow supported by the Jane Coffin Childs Fund for Medical Research. Sedwick's next stop was Duke University where, most importantly, he met his wife, Martina Veigl, PhD, and proceeded to carry out research in the Duke Cancer Center that relied heavily on collaborations with Burrough's Wellcome and NIEHS.  

David and Marty came to Case Western Reserve University 27 years ago, and worked with their new colleagues to make a number of early contributions to our understanding of how mutations and other deleterious changes in processes that protect our DNA from damage and mutations can lead to cancer. More recently, Sedwick has collaborated with colleagues at the university to uncover how mutations that alter the function of genes that control abnormal growth can lead to cancer and be subsequently exploited as new therapeutic markers and targets for cancer treatment. During his time at CWRU, Sedwick chaired the Research Committee of the Faculty Senate, led the Occupational and Environmental Safety Department of the University and still is the university's Radiation Safety Officer. David is currently the Scientific Director of a contract with the National Children's Study, and is interested in turning his attentions to helping young scientists at the university successfully focus their work to obtain funding for their exciting ideas.


Martina Veigl, PhD, an Associate Professor of General Medicine in the Case Western Reserve Cancer Center, joined CWRU in 1986. Marty received her doctorate degree in Biochemistry from Emory University in 1977, and then completed her postdoctoral training in Protein Chemistry in the Microbiology Department at Duke University where she transitioned to a junior faculty position. Among her professorial roles at CWRU, she is the director of the Gene Expression and Genotyping Facility that services more than 150 investigators in the Cancer Center and the Cleveland area with high technology tools that facilitate experiments that follow the activity of thousands of genes in single experiments. Marty developed the first high throughput genetics facility at the university and has been a promoter and implementer of high throughput genomic technologies at Case Western Reserve University and nationally since 2000.   

Marty's main area of study has been colon cancer, which she has studied for more than 20 years. She organized a symposium for the Environmental Mutagen Society, EMS, in 2003, entitled "The Impact of the Environment on Colon Cancer" and the National Meeting for the EMS in Vancouver in 2006 entitled "Genetic and Environmentally Induced Genotoxicity: Causes and Impact" during her tenure as President-Elect and President of that Scientific Society. Veigl is a funded co-investigator with a number of scientists at the university whose research projects are focused on translational studies directed toward bringing exciting new observations to clinical relevance. Marty has also served for more than 15 years as the Director of Graduate Studies for the Environmental Health Sciences Department. Her research efforts are currently highlighted by her work on the recently awarded GI SPORE directed by Dr. Sanford Markowitz that focuses on providing new molecular advances to patients with GI cancers. She is most closely involved with 1 Project within the SPORE that is trying to define new genes that drive development of cancer and tumor metastasis. This project and complementary projects with her colleagues at the university, focused on defining genetic variants that predispose individuals to cancer development, comprise major areas of her scientific interest.
Attendee List
Sort by:

Date

|

First Name

|

Last Name
When & Where

Charlotte Harbor Event Center
75 Taylor St
Punta Gorda, FL 33950


Tuesday, March 19, 2013 from 6:00 PM to 8:00 PM (PDT)
Add to my calendar
Organizer
The Alumni Association
The Alumni Association of Case Western Reserve University connects more than 100,000 alumni from around the world through regional chapters, special events, alumni publications, social media and more.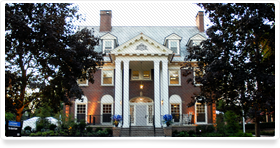 CWRU Faculty Networking Reception