CreativeMornings/Amsterdam: Yoeri van Alteren, Club van 30
Amsterdam, Netherlands
Bummer! Sales have ended.
Unfortunately, tickets for this event are no longer on sale.
Event Details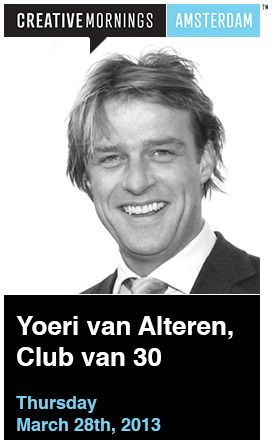 Amsterdam/CreativeMornings:
Yoeri van Alteren, Club van 30
Thursday, March 28 2013, 8:00am - 10:00am
(RSVP Open Now!!)
Our Speaker
Yoeri van Alteren is an entrepreneur with a simple mission - have the Netherlands become the most sustainable country in the world. Yoeri and his team at Club van 30 have contributed to the sustainable  business practices for clients ranging from energy, water, waste, nutrition and mobility. Check out their latest projects, like making the Lowlands Festival have as little impact on the environment as possible or rethinking one of Amsterdam's most popular shopping and entertainment areas as an example of holistic sustainable practices in urban areas. He will discuss his involvement with the Amsterdam Smart City initiative and discuss how advances in technology and saving the environment do not have to be at odds. In the spirit of the 'Reuse' theme bring your own coffee cup for refills.
February = Reuse
We're excited to announce that CreativeMornings is hosting unified themes across our 40+ chapters in 2013. This month, over 5,000 attendees will meet up at CreativeMornings events on six continents for speakers that relate to our March theme, "Reuse".
Through these themes, we hope to stir up a global conversation among our fantastic, local creative communities. Themes for future months will be announced later on in the new year.
Host and Sponsors

Het Veem Theater is an Amsterdam based International co-production platform for contemporary performing arts. Het Veem Theater stands for a group of excellent professional performance makers, yearly program, (inter)national partnerships and a physical space on west dock of IJ channel.

Our main sponsor is frog, a global innovation firm founded in 1969 by Hartmut Esslinger that works with the world's leading companies, helping them to design, engineer, and bring to market meaningful products and services.

SuperHeroes is a superstella creative digital agency, brimming with life and blistering with endless possibilities. We'll stop at nothing for that razzle-dazzle brand campaign. Free biscuits for every visitor.

Breakfast and all things foodie will be generously provided by Two for Joy. They are a small specialty coffee roasting company based in the heart of Amsterdam. Nice and local. They take some of the finest cultivated coffee beans in the world, and roast by hand and eye to ensure they bring out the best intrinsic quality of each variety