Conversations With Bloggers No. 2 - On-Camera, 2-5 Minute Interviews
Chicago, IL
Bummer! Sales have ended.
Unfortunately, tickets for this event are no longer on sale.
Event Details
Call for Bloggers
Get Your Blog Recognized and Exposed!
Chicago Blog Week™ is launching ChicagoBlogWeek.TV to interview and help recognize local, national and international blogs and bloggers. If you would like to be interviewed on-camera in a 2-5 minute segment to educate and inform the public about your blog, sign up and attend an on-camera, studio taping in downtown Chicago.
You will be interviewed on-camera by Melissa Miller, Host and Director, ChicagoBlogWeek.tv.
There is no cost, this is a free service. Taping takes place within LiveStream Chicago Studio's Blue Room (located within The 3D Printer Experience store at 316 N Clark Street).
Boost Awareness of Your Blog Website - FREE!
You will be able to post your interview on your blog and YouTube.com or any place you can embed the code. All interviews will appear on ChicagoBlogWeek.TV and affiliated websites such as ChicagoBlogWeek.org.
Additional links from our CBWTV Twitter, Facebook, Pinterest and YouTube channels will help boost awareness of your blog and interview.
There are limited spots available on a first-come basis.
Please RSVP and then show up and be prepared to answer these basic questions:
Sample 2-5 Minute Interview Questions:
What is the name of your blog? 

What is the blog URL? 

What category best defines your blog content (i.e. Arts, Business, etc) 

When did you start blogging? 

What are some of the highlights of your blog content (i.e. feature stories, videos, photographs, etc) 

Why should someone visit your blog? 

What are your plans for the future of your blog? 

Any special comments?
If you have any questions please contact: 
Dante Hamilton, Producer, ChicagoBlogWeek.tv 
Phone: +1 (312) 281-4884 (office) 
Mobile: +1 (312) 662-9917 (cell)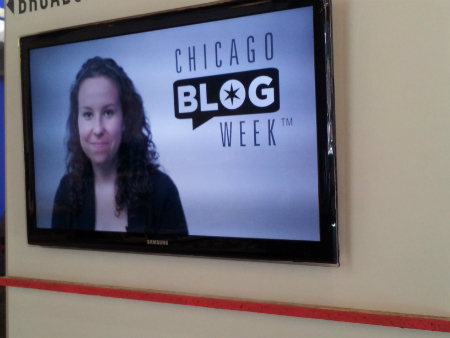 Photo: Melissa Miller, host and director, Chicago Blog Week Television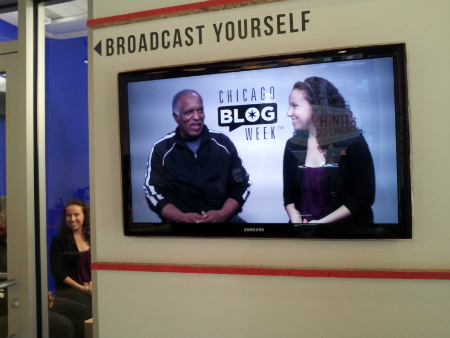 Photo: Blogger Bruce Montgomery of TechAccessTV.com on-camera with Melissa Miller of Chicago Blog Week TV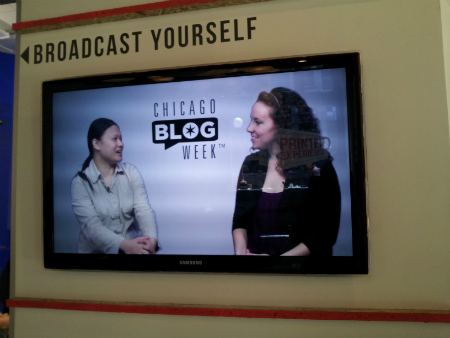 Photo: Blogger Thu Nguyen of BloggingFor.info on-camera with Melissa Miller of Chicago Blog Week TV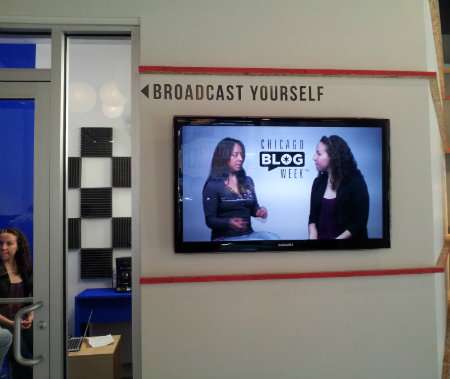 Photo: Ruth Morlas Blogger and Corporate Pilot of PilotTricks.com with Melissa Miller on ChicagoBlogWeek.TV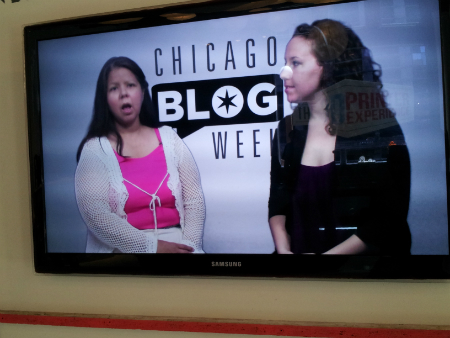 Photo: Blogger Mary Vasquez of ApprenticeButterflies.com with Melissa Miller of ChicagoBlogWeek.TV