Collaborative Innovation: Public Sector Prizes (Virtual)
Bummer! Sales have ended.
Unfortunately, tickets for this event are no longer on sale.
Event Details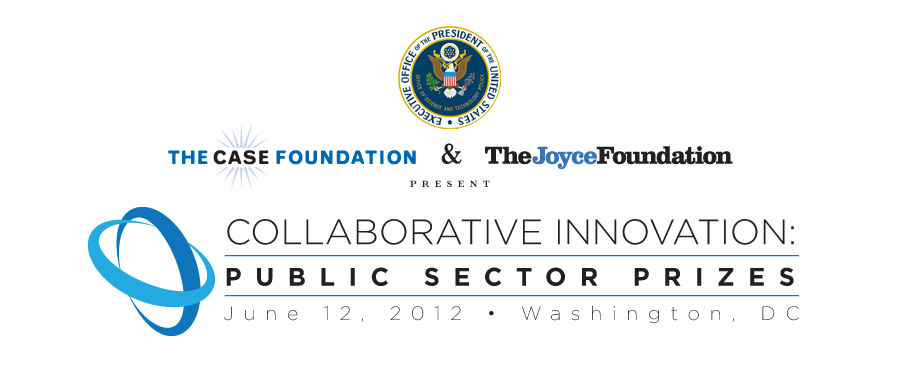 The White House Office of Science and Technology Policy, the Case Foundation, and the Joyce Foundation invite you to virtually attend an event on public sector prizes.
The event will feature participation and presentations from the NASA Center of Excellence for Collaborative Innovation. Also featured will be informative discussions with Obama Administration officials, private-sector representatives, and Federal offices experienced in working with prizes.
Watch the livestream on Tuesday, June 12

 12-2pm ET
Use #PublicPrizes on Twitter
Schedule
12:00 – 12:15pm

Jean Case, CEO of the Case Foundation, interviews Todd Park, U.S. Chief Technology Officer

12:20 – 12:40pm

Todd Park, Lunch keynote

12:45 – 1:05pm 

Interviews: Public Sector Prize Administrators

Jean Lupinacci, Director, ENERGY STAR Commercial Buildings Program, EPA — EPA Battle of the Buildings

Dr. Alok Das, Senior Scientist for Design Innovation, Air Force

Interviewer: Jenn Gustetic, NASA 

1:10-1:30pm

Interviews: Private Sector Prize Administrators

Lisa Kennedy, Ph.D. Director of Strategic Marketing, GE healthymagination

Sara Holoubek, CEO, Luminary Labs — Sanofi-Aventis US Innovation Challenge

Interviewer: Michael Smith, the Case Foundation

1:35-1:55pm

Interview: Cristin Dorgelo, Assistant Director for Grand Challenges, OSTP


Interviewer: Gretchen Crosby Sims, the Joyce Foundation