Cleanweb Hackathon Boston

Friday, May 4, 2012 at 5:30 PM

-

Sunday, May 6, 2012 at 6:00 PM (EDT)
Event Details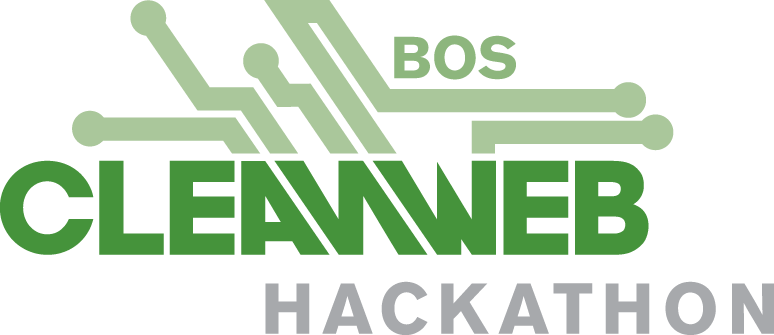 Please Visit 
for event information and details
Join the #cleanweb conversation and follow @CleanwebBOS 
Schedule:
Friday, May 4th: Kick-off Party! Cambridge Innovation Center
5:30pm: Event begins. Registration and networking. Food and drinks available!
6:15pm: Welcome overview and orientation. Nick Allen, co-founder of 'cleanweb'
6:30pm: Expert overview of select data sets and APIs.
7:00pm: Pitch opportunities for participants seeking team members.
8:30pm: Event ends.
Saturday, May 5th: Hackathon Day #1. Greentown Labs
8:00am – 9:00am: Hacker check-in and setup.
9:00am – 9:30am: Introduction & welcome. Review rules.
9:30am: Hackathon begins!

Note: The hacker space at Greentown Labs will remain open overnight. Teams are welcome to continue working throughout the night!
Sunday, May 6th: Hackathon Day #2: Greentown Labs
2:30pm: Teams complete work. All applications must be checked-in!
3:00pm – 5:00pm: Live hack demonstrations to audience and judges.
5:00pm – 6:00pm: Hackathon awards ceremony and wrap-up.
Attendee List
Sort by:

Date

|

First Name

|

Last Name
When & Where

Greentown Labs
337 Summer St
Boston, MA 02210


Friday, May 4, 2012 at 5:30 PM

-

Sunday, May 6, 2012 at 6:00 PM (EDT)
Add to my calendar
Organizer
Cleanweb Worldwide LLC The Cleanweb Hackathon is an upcoming gathering to demonstrate the impact of applying information technology to resource constraints. Join us as we bring together developers, designers and business professionals dedicated to optimizing resource use and accelerating cleantech development. Participants are tasked with building applications that tackle energy, waste, water, and other sustainability issues by leveraging web and mobile technologies. We challenge attendees on what they can do over the course of the weekend that might just change the world for the better.  www.cleanweb.co 
2012-05-03 08:00:52
Hey Cleanweb Hackers! (and other interested parties)

We're closing in the big event and are looking forward to seeing all of you soon! Please take a minute to familiarize yourself with some details for the weekend. Apologies for the lengthy e-mail but we've got lots of details to share regarding schedule, team formation, and ideas for hackathon projects.

If you haven't signed up yet it's not too late! Registration will remain open until 9:00 am on Saturday, or until we hit capacity. We'd love to blow the doors off the previous San Francisco and New York events, so spread the word and try convince more of your friends to participate!

TL;DR: You should actually read the info below.
FRIDAY KICK-OFF
Who: Everyone
When: 5:30pm - 8:30pm
Where: Cambridge Innovation Center, Venture Cafe
Address: One Broadway, 4th Floor, Cambridge, MA (map)

The Kickoff Party is all about welcoming participants and giving teams time to meet and form.  Tim Rowe, founder of the Cambridge Innovation Center, will welcome us and Matthew Nordan of Venrock and Blake Burris, co-founder of the Cleanweb Hackathon from Silicon Valley will share a few thoughts on cleanweb. Beer, wine, food and fun are all on the menu. There will be plenty of opportunities to meet your fellow participants, pitch an idea for a project, find new team members, and mingle with sponsors and community members.
WEEKEND HACKATHON
Who: Participants
Check-In: 8:00am - 8:45am
Where: Greentown Labs, 2nd Floor
Address: 337 Summer St., Boston, MA (map)

Saturday the hacking gets going. Check-in will open at 8:00am - giving you time to grab breakfast, find your working space, and get situated with your laptop. Open WiFi will be provided, but if you've got a portable hotspot it might not be a bad idea to bring along as an emergency backup. Beginning at 9:00am we'll commence with a quick orientation and cover some on-site logistical information. Hacking will begin promptly at 9:30am.

If you don't have a team by 9:00am that's okay. We're expecting teams to move about and grow/shrink throughout the morning. We're also expecting several of our API and data set providers to be on-hand to address your questions.

With respect to food and beverage, expect to be presented with adequate opportunities to stuff your face and caffeinate. We have lined up great restaurants and caterers for the entire weekend. You'll more than make up your for your registration costs in free food! Some of you understandably have different dietary requirements, however, so feel free to bring your own food and drinks. Greentown Labs has (2) microwaves available downstairs and limited amount of refrigerator space to offer.

You're free to break at anytime throughout the event and are more than welcome to leave the facility for lunch, to take a stroll on the waterfront, etc. We do ask that you don't code from outside the building, however.

In terms of overnight work, we expect many of the teams will choose to stay and continue coding. We're planning to have midnight snacks and extra energy on hand, and we'll do our best to make some additional space available for catnaps. You may want to consider bringing along a toothbrush, some toothpaste, and some anti-perspirant, however. Unfortunately our building doesn't have showers.

Please note Greentown Labs is located in a historic Boston Wharf Company building from 1907 in the Innovation District. As such it has no passenger elevator. The 2nd floor is a walk-up! If you have difficulty navigating stairs please contact jhanna@greentownlabs.org and we can coordinate use of our freight elevator.

For parking there are a number of surface lots near Greentown Labs and on the South Boston Waterfront that are relatively affordable. Street parking at meters is not recommended for durations longer than 2 hours. The nearest covered parking garage is located at Necco Street, about 2 blocks from Greentown Labs.
SUNDAY HACK PRESENTATIONS AND AWARDS
Who: Everyone
When: 3:00 - 5:30 PM

All projects must be submitted by 2:30 PM. Judging starts at 3:00PM and each team will have 5 minutes to show off what their accomplishments. No Powerpoints or PDFs, these are functional demos. All supporters are welcome to attend the pitches and we will also be live-streaming the presentations on the web. We anticipate there will be members of the press in the audience throughout the weekend and for the presentations.

We've got a spectacular group of judges lined up.  These leading, local founders and investors of cleanweb companies are:

- Israel Ganot, Founder, Gazelle
- Brian Chemel, Founder, Digital Lumens
- Rob Day, Partner, Black Coral Capital
- Swapnil Shah, Founder, First Fuel
- Hugh Scandrett, VP Engineering, EnerNOC


DETAILS FOR HACKATHON PARTICIPANTS
Some important info:
Please be sure to

register

all of your team members. If someone else registered you as part of a team make sure to provide their name at the door.

Don't forget to sign up for

HackerLeague

-- this is important.  Their site allows you to join and form teams, discover and discuss project ideas, and connect with other participants.

We're providing desks, chairs, power, and WiFi Internet connections. If you have other on-site technical requirements you'll need to prepare accordingly.

Be sure to check out the data sets and APIs before the event. If you know you'll be using

Only fresh code!! it's in

our rules

but it's worth repeating: To be considered for prizes your project must have been created over the weekend. Planning is fine, but to keep it fair we want to make sure everyone has invested roughly equal amounts of time.

Teams are not required to demonstrate their hacks on Sunday, but to be eligible for a share of the $12K prize pool you'll need to have a working demo completed by 2:30pm EDT on Sunday.

If you're developing a mobile application don't forget you need to demonstrate it to the crowd and a live judging panel. It may be more effective to use an emulator rather than passing your phone around.

In order to keep things moving during the demonstrations and judging, we'll provide details about submitting your team

An HD projector and 100" screen will be in the event space for the demos. Preferably we can access your hack via URL on the Internet or local LAN, but if you need to connect a laptop the projector can support HDMI, DVI-D, and VGA connections. We have a couple of adapters for Apple-types, too.

Don't forget you'll have no more than five minutes for your pitch, and this includes setup time and time for judge's questions!

Organizers and volunteers will be available throughout the weekend to answer your questions. Also if you have a problem, concern or hilarious reddit link to share please come and find us.

Twitter Users: We'll be Tweeting from the @CleanwebBOS handle and you suggest you append the #cleanweb hashtag for your posts if you're Tweeting about the event. Google+ and Facebook users are welcomed with hesitation, too.

Additional

Frequently Asked Questions

are answered on the event site.

Anything we missed? Let us know and we'll do our best to help you out quickly!

Cheers,
Matt Liebhold
Chair, Boston Cleanweb Hackathon
boston@cleanweb.co

Jason Hanna
Managing Director, Greentown Labs
jhanna@greentownlabs.org