Chartboost Comes to Tokyo! Mobile Game Developer Drink Up Happy Hour
Shibuya, Japan
Bummer! Sales have ended.
Unfortunately, tickets for this event are no longer on sale.
Event Details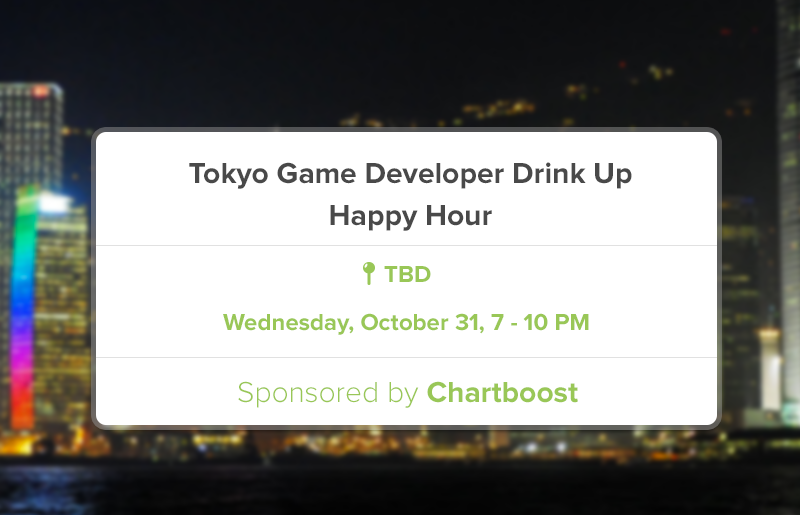 Who
Mobile game developers big and small and up to 5 of your industry friends. 
What
We're bringing together our mobile game developer friends in Tokyo for a few hours of drinking and eating on Chartboost. Come meet other members of the mobile game development community in Tokyo, discuss your games and maybe even figure out a way to collaborate. 
Where
HUB SHIBUYA 1
〒150-0042
東京都渋谷区宇田川町3-10
フィエスタ渋谷B1
When 
October 31, 7 - 9 PM
Why
Because nothing makes us happier than partying with our developer partners.  
For more information, or if you have any questions, please e-mail us at natedog@chartboost.com. Hope to see you in Beijing! 
Who:モバイルゲームデベロッパー、同じ業界の友人(5人まで)

What: 個人から大企業まで大小問わずモバイルゲームデベロッパーをお互いに繋げるためにハッピーアワーを開催します。自分の仕事や、他の参加者がいまやっていることをシェアしたり、Chartboostの直接取引市場を利用してお互いのゲームをプロモーションする絶好の機会です。

Where
HUB SHIBUYA 1
〒150-0042
東京都渋谷区宇田川町3-10
フィエスタ渋谷B1

When:10/31(水) 午後7 ~ 9 時

Why:私たちのパートナーと楽しく時間を過ごすことほど幸せなことはありません。

もっと詳しいことを聞きたい場合は、natedog@chartboost.com までご連絡ください。


みな様にお会いできることを楽しみにしています。