Looks like this event has already ended.
Check out upcoming events by this organizer, or organize your very own event.
CCAS Annual Symposium "The Mediterranean Re-Imagined"

Thursday, March 21, 2013 from 9:00 AM to 5:30 PM (EDT)
Who's Going
Loading your connections...
3 of your friends are going.
Share it to get more people on board!
Share
Sara Haughty
San Francisco, California
Luke Picard
London, United Kingdom
Rick Vespucio
Florence, Italy
Event Details
The Center for Contemporary Arab Studies is proud to present
The 2013 CCAS Annual Symposium
The Mediterranean Re-Imagined
A conference in memory of Faruk Tabak (1954 - 2008)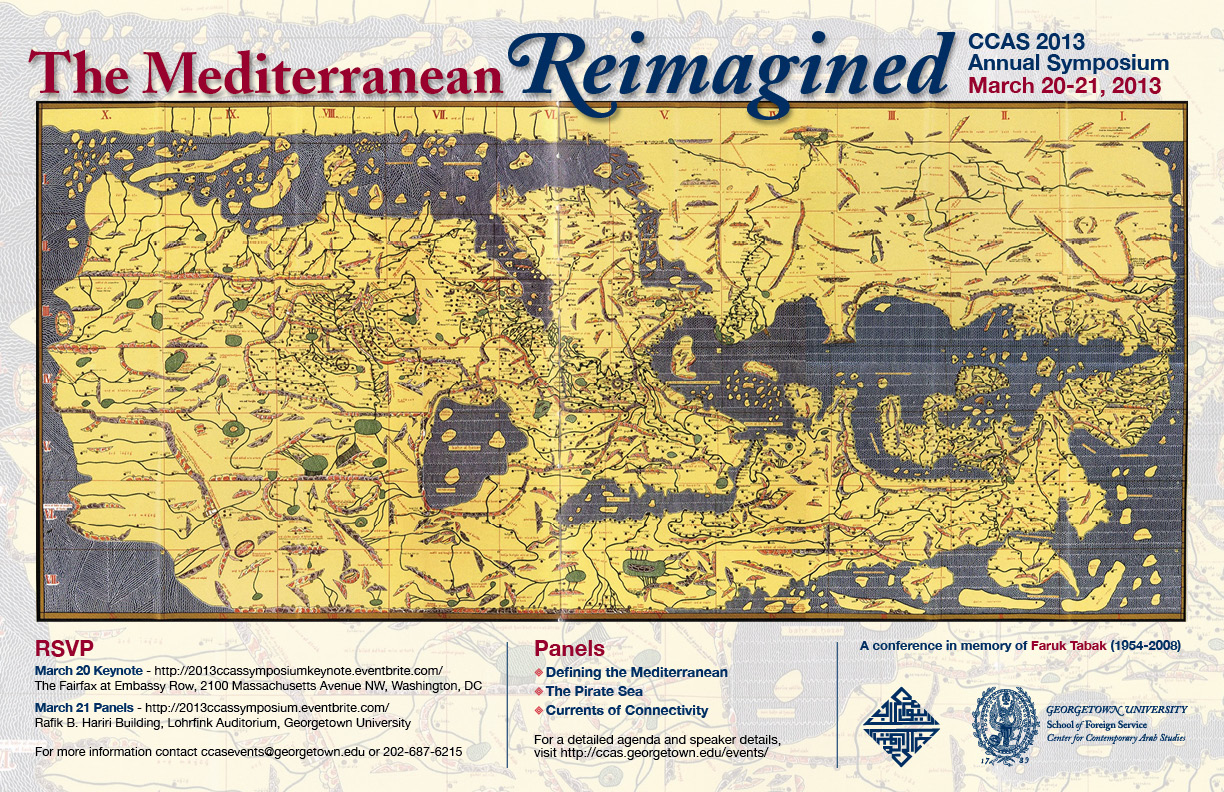 Agenda for Thursday, March 21, 2013
Conference Venue: Lohrfink Auditorium, Rafik B. Hariri Building
Georgetown University
9:00 – 9:30 am
Registration, coffee, and light breakfast
9:30am
Welcoming Remarks
Osama Abi-Mershed, Director, Center for Contemporary Arab Studies, Georgetown University
Timothy Beach, Director, Science, Technology, and International Affairs, Georgetown University
9:30 – 11:30 am
Panel one: Defining the Mediterranean
John McNeill (Georgetown University)
"Faruk Tabak as Environmental Historian"
Abstract: Faruk Tabak's The Waning of the Mediterranean may be read in many ways, including as an environmental history of the early modern centuries. Scholars from several disciplines have conducted debates for more than 40 years about environmental history issues in Mediterranean lands such as the chronology and scale of soil erosion, the role of climate, the extent of forests and much else. This talk considers Tabak's book in light of the environmental history literature and debates on the Mediterranean region, both that which he drew upon and that which appeared only after the publication of his book. 
Julia Clancy-Smith (University of Arizona)
"Barbary Coasts: How Mediterraneans Came to Be"
Abstract:  Until very recently, historical narratives of the modern Mediterranean suffered from a missing persons and places syndrome. The Sea's northern rim was privileged over the Ottoman Levant, and the eastern end of the Basin attracted more scholarly notice than a Maghrib peopled mainly by Moors, pirates, and, after 1830, by the colonized.  How would the Mediterranean look if conventional perspectives were skewed—if the center came to rest somewhere on the North African coast in the time just before colonialism? This paper retraces the journeys and detours that ultimately produced Mediterraneans and the questions that arose along the way. It also considers how attention to the issues addressed by Faruk Tabak's work would have contributed to an environmentally grounded history from below. 
Nabil Matar (University of Minnesota)
"The Mediterranean as Barrier in Arabic Cartography and History"
Abstract:  The study of the early modern Mediterranean remains dependent on European sources, with no attention paid to the fact that over two-thirds of the basin was not "European." This paper examines the view of the "Mediterranean" in Arabic cartography and history in the period between the 1590s and the 1790s. Starting with the medieval period, the paper documents the multiple names that appear in regard to the "Mediterranean," showing that by the beginning of the period under study, not a single Arab cartographer or writer used the (translation of the) Latin name of the sea, but a multiplicity of names signifying a multiplicity of conceptualizations. Nor did any writer view the sea as a Braudelian sphere of inter-religious trade and connections (or connectivities, as some historians prefer). The Arabic sources treat the multi-named sea as a hājiz/barrier because of the fear of European sea-borne attacks: which is why the sea was overwhelmingly known as the Sea of the Rūm/the sea of the Greeks, a Qur'ānic term that remained in use until the nineteenth century. In that century appears the first reference to the sea as Medi-terranean/mutawassit, a direct result of European influence.
Rochelle Davis (Georgetown University)
"War, Refugees and Movement in the Modern Eastern Mediterranean"
Abstract: Wars and refugee movements in the 20th century played a crucial role in the development of borders, citizenship,  new methods of administration, and criteria for determining belonging. Reflecting on the movements of displacement during this period in the Eastern Mediterranean reveals how a number of different types of exclusivist nationalism developed and a corresponding determination of categories for inclusion and exclusion. For people displaced from their homes, examining the varied ways they think of the places left behind enlightens our understanding of homeland and space that challenges the power of states to determine belonging and sentiment. 
Chair: Elliott Colla (Georgetown University)
11:30 – 11:45 am
Break
11:45 am – 1:45 pm
Panel two: The Pirate Sea
 Joshua White (University of Virginia)
 "Slave Laundering: Piracy and the Illegal Captive Trade in the Ottoman Mediterranean"
Abstract: Demand for slaves in Ottoman domains meant that there was always big money to be made in slave raiding, but there were also restrictions on who could be legally enslaved. Ottoman subjects and the subjects of the Ottomans' treaty-partners were supposed to be off limits. However, "Ottoman" pirates in search of easy prey routinely captured people from both categories, employing a variety of techniques to wash the captives of their juridical subjecthood and circumvent the prohibitions against their sale. This paper examines the late sixteenth and seventeenth-century Mediterranean phenomenon I call "slave laundering," the long-distance networks of friendly officials and dealers on which it relied, and the legal and administrative tools the Ottoman central government developed to combat it.
Khalid Bekkaoui (University Sidi Mohamed Ben Abdellah Fez)
"Christian Female Captives and the Allure of the Orient"
Abstract: In the 17th and 18th centuries a considerable number of European women fell captive to North African corsairs. My paper discusses the historical context and circumstances of Christian women enslavement in North Africa, their conversions to Islam and the implication of such conversions on the construction and narration of the discourse of gender, culture, nationhood, and empire in the early modern period. I will also invoke the representation of European female renegades in eighteenth-century literary discourse to argue that Christian woman's desertion of country and culture and defection to the Muslim fold, her attraction to the erotic and luxurious allures of the Orient, her ascent from slave girl to favored Sultana, have filled eighteenth-century captivity fiction with profound political and sexual anxieties and paradoxes.
Judith Tucker (Georgetown University)
"Pirates and the Making of Mediterranean Space"
Abstract: The early modern Mediterranean appears as a time of territorial tension, with piracy at the center of both boundary-crossing and re-territorializing impulses in the context of major shifts in maritime trading patterns and the resulting conflicts.  Piracy was a theater of action for many of the key players in the struggle to reconfigure Mediterranean territory: state powers, a mobile merchant class, and individual trans-Mediterranean actors were all deeply involved in making claims to territory and identity that alternately asserted and undermined a vision of the Mediterranean as a coherent space, and they often made these claims in the context of regulating, profiting from, and pursuing acts of piracy.  This paper examines the rise of a "new regionalism," in the sense of a Mediterranean space in which the practices of piracy became familiar from one end of the Sea to the other, while also noting the instabilities and contestations that undermined the coherence of the Pirate Sea.  
Molly Greene (Princeton University)
"Movement and Paperwork in the Early Modern Mediterranean"
Abstract:  In a sea infested with pirates bent on violence, the possession of passports, flags and other markers of permission would seem to be pointless.  And yet there is abundant evidence of a regime of paperwork in the early modern Mediterranean.  With a focus on the "small fry," that is, Ottoman seafarers and the Catholic pirates who pursued them in the seventeenth and eighteenth centuries, in this paper I will discuss the seeming paradox of the co-existence of violence and paperwork.
Chair: Joseph Sassoon (Georgetown University)
1:45 – 3:30 pm
Break
3:30 pm
Remarks
Carol Lancaster, Dean, School of Foreign Service, Georgetown University
3:30 – 5:30 pm
Panel three: Currents of Connectivity: Ecology, Ideology, Interaction
Osama Abi-Mershed (Georgetown University)
"The "Nuptial Bed": The Mediterranean in the Saint-Simonian Imagination"
Abstract: Between January and April 1832, Michel Chevalier, Saint-Simonian thinker, engineer, and political economist, authored a series of articles for the society's journal, Le Globe. In these articles, labeled collectively as Système de la Méditerranée, Chevalier advanced a "socio-physiological" notion of the Mediterranean world, centered on the interplay between human cultures (living systems) and industrial progress (scientific functions). He discarded climatic, ecological, geological, or bio-geographical criteria, and characterized the Mediterranean region as the crystallized product of circulation, velocity, and connectivity along constructed (artificial) networks of communication and transmission (banking arrangements, steamship routes, railway lines, optical semaphore and electromagnetic telegraphs, etc.). Today, Chevalier's Système de la Méditerranée is widely regarded as a prophetic statement on the effects of technological modernization on international cooperation, economic integration, and socio-political reforms. This paper will further argue that Chevalier's Saint-Simonian concept of the Mediterranean Sea as "the nuptial bed" on which to reconcile Orient and Occident also motivated explicit and unambiguous colonial practices in French Algeria. 
Ilham Makdisi-Khuri (Northeastern University)
"Fin de siècle anarchism in the Eastern Mediterranean and North Africa, 1870-1914"
Abstract: My paper explores the different articulations and promotion of anarchist ideas in the Eastern Mediterranean and North Africa, and specifically in Egypt between 1870 and 1914, as well as the implementation of anarchist projects, and the establishment of global radical networks. I first examine how anarchism and anarchist ideas were understood and in some cases selectively promoted by individual Arab thinkers and militants. Second, given that most anarchists or anarchist sympathizers in these regions were migrant or immigrant workers and militants (Italians and Greeks in Egypt and the Levant, Spanish and French in North Africa), I look into the relationship of these 'foreign' anarchists with the indigenous populations, and specifically their interaction with local radicals. Specifically, I seek to gauge these anarchists' impact, as well as the changes their ideas underwent as they moved beyond their national borders. In particular, I examine the anarchists' stance on colonialism and imperialism through the use of extant anarchist periodicals and memoirs. 
William Granara (Harvard University)
"Contesting the Mediterranean as Homeland in French and Arabic Colonial North African Literature[s]"
Abstract: This essay argues that Arabic Tunisian national literature is at once Arabic and Mediterranean: Arabic in language and temperament, literary influences, and its politics; Mediterranean in historical consciousness, geographical setting and outlook, and its expansive aesthetic, ethnic, and cross-cultural boundaries. My focus is on three literary works of a single figure, Zin al-Abidin al-Sanusi (1899-1965), penned between the years 1936 and 1948, and my strategy for reading these works is to establish a direct interface between them and between the French, pied-noir epic novel of Louis Bertrand, Le Sang des Races (1899). Both figures stood at the forefront of intellectual movements that defined the colonial era of North Africa: The Latinist movement within the French imperial project; and Tunisia's struggle for independence as part of a broader Arab Nationalism. My goal is to demonstrate the oddly similar ways in which both writers read (and write) history to construct national identity, emphasizing the centrality of the Mediterranean as 'indigenous homeland' and legitimate historical space to which each author stakes his literary claim. I also argue that the pairing of these two nationalist-oriented literatures leads to further lines of inquiry in reading the Arab (Muslim, eastern) and European (Christian, western) inter-connectedness, which continues to permeate modern Mediterranean literatures to this day, as being among the most critical elements in mapping out a course for modernity in North Africa. 
Timothy Beach (Georgetown University)
"The Mediterranean Valleys and the Waning of the Mediterranean: Case Study from Kinet Höyük"
Abstract: The factors of environmental change in any region are complicated, especially so in the Mediterranean with its seismicity, topographic diversity, and long history of varied land uses. This paper considers two of the most important aspects of environmental history, soil erosion and sedimentation. From our own field studies and others in the Hatay of Turkey, the most intensive erosion occurred during and at the end of the Roman period. Soil and agricultural systems were also being built up extensively during the Roman period. Exemplifying this, the ancient Roman road on the alluvial plain in Hatay is buried by 1-2 m of alluvium and the Roman road through the Amanus Mountains is eroded by 1-2 m. In comparison, Faruk Tabak's book focused on the Little Ice Age period, more than a millennium later, and demonstrated from numerous archival and scientific sources that landscape instability during this time was an important factor to human land use, health, and activities. Although our research focuses on landscape instability during or after the Roman period, it is now clear that the Little Ice Age was another period of environmental dynamism. Thus an important contribution of Tabak's magisterial synthesis is to make more localized field studies aware of other big drivers and periods of change that might be overlooked.
Chair: Fida Adely (Georgetown University)
---
RSVP here for keynote address on March 20, 2013.
Contact:
ccasevents@georgetown.edu
(202) 687-6215 
When & Where

Lohrfink Auditorium

Washington, DC 20057


Thursday, March 21, 2013 from 9:00 AM to 5:30 PM (EDT)
Add to my calendar
Organizer
SFS Center for Contemporary Arab Studies
CCAS Annual Symposium "The Mediterranean Re-Imagined"