Carnivals and Snowstorms -
multimedia theater, dance & film

Multiple Dates

Boulder, CO
Event Details
Carnivals and Snowstorms 
A Multimedia Theater, Dance & Film Collaboration
Carnivals and Snowstorms, an interdisciplinary theater production, explores the nature of dreams, memory and the afterlife.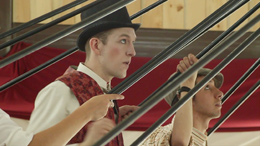 The production is designed to evoke an otherworldly atmosphere of haunting nostalgia and beauty. To achieve this, it uses an all encompassing projection screen that  immerses the audience in film and graphics of another time and place, a set design derived from vintage carnival booths, the elegance of 1930s-inspired costumes and retro-inspired choreography.  
Three main sections of the performance consist of a dance/theater piece entitled "Brilliant Silence," originally developed under the guidance of CU faculty Michelle Ellsworth and Michael Theodore who also head up the ATLAS Center for Media, Arts and Performance.
The second piece, "Apotheosis," is an original electric violin solo composed by local artist and musician
Nathan Wheeler. 
"Memory," a short play written by director/producer Daniella Vinitski, was professionally workshopped at the MidAmerican Theatre Conference where it was approached for production. 
Director/producer Daniella Vinitski explained, "Aesthetically speaking, this production seeks to merge whimsy with the grotesque. It pairs the unsettling with the arresting, and through the vehicle of montage, we hope to communicate – however subtle or abstract – the possibility of rebirth out of loss."
Film director and collaborator Travis Mouffe commented, "I am hoping that through this collaborative and interdisciplinary work to reawaken cinema's power as a tool of magic and illusion. Through these collective processes, cinema can reintegrate and reconnect with other live performance arts and transcend its own conventions and expectations."
The production will utilize projected images that contribute to the ambience and mood of the piece, novel and experimental video surfaces, and direct interaction between live performers and film. 
Vinitski concluded, "Carnivals and Snowstorms aims to demonstrate a new voice in multimedia that successfully merges theater and technology in a unique style."
Note: The Friday, April 29th show will be followed by a talk back/discussion with the artists.
Where


ATLAS Institute, Black Box Studio, downstairs to lowest basement level, B2
University of Colorado at Boulder, 1125 18th St.


Boulder

,

CO

80309-0320


Organizer
ATLAS Institute, University of Colorado at Boulder
ATLAS Institute (Alliance for Technology, Learning and Society) is an innovative campus-wide initiative in education, research, creative work and outreach in which information and communication technology is the enabling force.
ATLAS programs bring together students, educators, artists, writers, scholars and leaders from the academy, industry, non-profits and government to create a multidisciplinary environment that contributes to the understanding of the interaction of ICT and human society, and to the realization of the full potential of that interaction.
ATLAS offers a Technology, Arts and Media (TAM) minor for undergraduates, a masters degree in Information and Communication Technology for Development (MS-ICTD), a certificate in digital arts and sciences through Boulder Digital Works, and a Ph.D. in Technology, Media and Society.
The ATLAS building is home to the National Center for Women & Information Technology (NCWIT), ATLAS Assessment & Research Center, ATLAS Speaker Series and CU's Film Studies Program. Visit: http://atlas.colorado.edu.