Caribbean Fusion Festival
Kissimmee, FL
Bummer! Sales have ended.
Unfortunately, tickets for this event are no longer on sale.
Event Details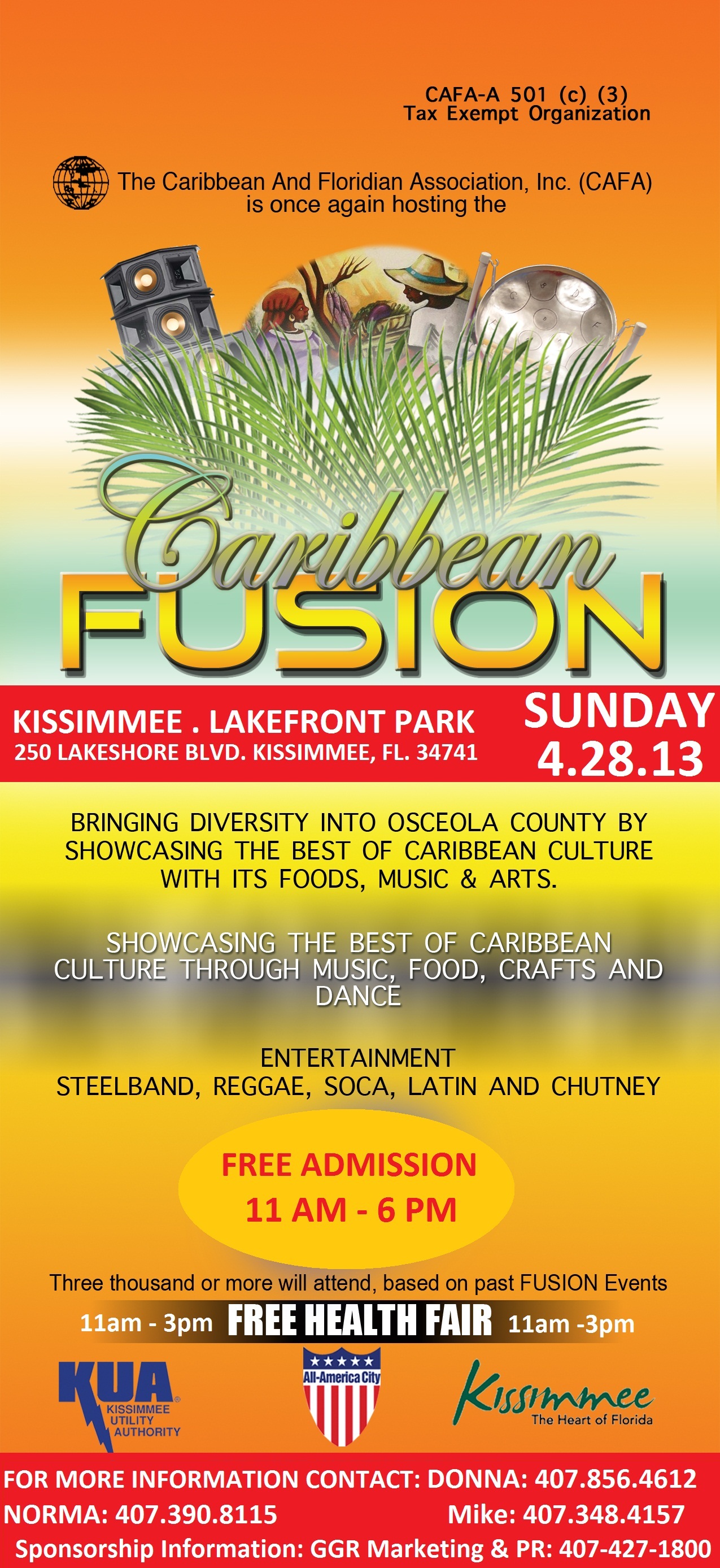 Creig Comacho will be the MC for the event and will also be performing with Mystik NRG to close the show.  Admission is free! 
There will also be performances by the following:
Second Chance (live band)
Jahguar (live band)
St John's Episcopal Church Steel Orchestra (steel band)
Vashnie Dance Academy (Indian Dancers)
Latin Flavor (Latin Dancers)
The Errol and Brenda Show, featuring Shelly (singers)
DJ Code Red…and fun for the whole family! 
Come out and be a part of bringing diversity into Osceola County by showcasing the best of Caribbean culture with its food, culture and arts. 
Bring out the entire family for the FREE Health Fair and then enjoy an afternoon of delicious food and smooth entertainment including a range of Steelband, Reggae, Soca, latin and Chutney.
For more information including booth and sponsorship information please call:
Donna 407.856.4612    Norma: 407-390-8115   Mike 407.348.4157
Admission is free.
___________________________________________________________
Caribbean Fusion
 Festival is this Sunday at the beautiful Lakefront Park 
on April 28th
.  We would like to invite you to participate in this festival showcasing the diversity of the Caribbean.  Please note the event details below and share it with anyone who might be interested in reaching the Caribbean Community especially in Kissimmee, St. Cloud and Poinciana.  Thousands attend this festival annually and it will be amazing again as it returns for it's 19th year to Lakefront Park.  
Booth prices are detailed below, sponsorship opportunities are attached: 
□ Food 20' x 20' location x $400/location =$_____ (electric included)
□ Nonprofit Org. Food 20' x 20' location x $350 =$____ (electric included)
□ Merchandise 10' x10' spaces x $250/space =$_____ plus electric @ $20
□ Business Org. 10' x 10' spaces x $250 =$_____ plus electric @ $20
□ Craft 10' x 10' location x $100 =$_____ plus electric @ $20
□ Nonprofit Org. Display 10' x 10' location x $100=$_____ plus electric @ $20