Capital Creation Event Series - Atlanta

Wednesday, August 3, 2011 from 6:00 PM to 8:30 PM (EDT)
Event Details
NowStreet Media and LDJ Capital are proud to announce that the kickoff party for The Soho Loft Capital Creation Event Series is going to be held on Wednesday, August 3rd in Atlanta. We have guests flying in from different parts of the globe ready to celebrate with us.  
The Soho Loft Capital Creation Event Series is a global event platform designed to enhance capital formation for emerging private companies. The Atlanta event will be a unique opportunity to learn more about the rapidly expanding marketplace for private company stock and the crucial role this marketplace is playing in enhancing capital formation. Attendees will also meet senior executives of this market's future bellwether companies and demo technologies that will both transform and enhance our everyday lives.
Presentations will be followed by exclusive networking opportunities with an elite group of investors and investment professionals over cocktails and hors d'oeuvres on the scenic roof deck overlooking the city.
 Speakers include:
·         Vince Molinari – CEO of GATE Technologies, leading private company exchange platform. As founder and chief executive officer of GATE Technologies, Vince has been the driving force behind GATE's mission to create new market infrastructure that brings efficiency, transparency, and liquidity to the unstructured global alternative asset markets. His vision is based on a core belief that actionable knowledge and information drive investments, and that technology can close the gap between traditional and emerging alternative markets, a commitment reflected in the company's initiatives in Impact Investing and emerging geographies such as India, Brazil, Europe, and Asia.
·         Steve Berson – Partner at Nelson Mullins, prominent national law firm.
·         Linda Smith – CEO of FaceCake, a pioneer and innovator in personalized interactive marketing whose cutting-edge virtual Try-On technologies and unparalleled marketing process patent enrich the relationship between brands and their consumers. FaceCake will be demonstrating Swivel—the first full motion, 3-D, real-time virtual dressing room—which has generated a tremendous amount of excitement from the international community since its launch at DEMO Spring 2011. Swivel was featured at the 2011 Microsoft Worldwide Partner Conference held July 10-14 in Los Angeles.
·         Gil Raker – CFO of 24eight, a wireless sensor device company using microelectronic sensing materials, wireless communications infrastructure and a powerful analytic engine of proprietary algorithms to enhance the global mobile health market.  24eight was recently featured in the Wall Street Journal.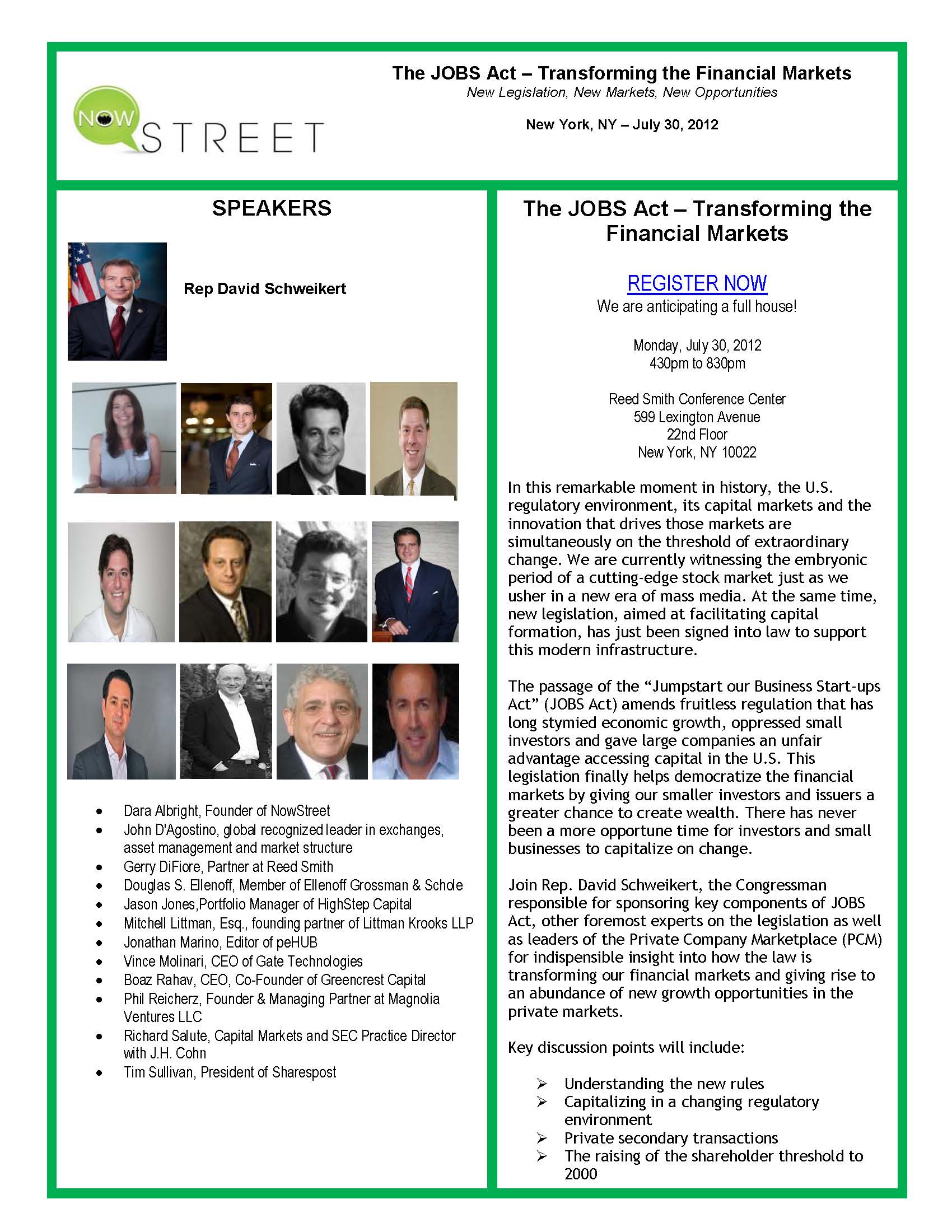 When & Where

Nelson Mullins Roof Garden
Atlantic Station
201 17th St NW Ste 1700
Atlanta, GA 30363


Wednesday, August 3, 2011 from 6:00 PM to 8:30 PM (EDT)
Add to my calendar
Organizer
Dara Albright Events
Since 2011, Dara Albright has been helping set the direction of the crowdfinance industry through leading-edge industry articles and acclaimed conferences that introduce crowd-driven asset classes such as crowdfunding and p2p lending to the financial community. She produced the very first crowdfunding conference in January 2012 which was headlined by key JOBS Act architects: Congressman Patrick McHenry and Dave Weild. That event birthed the crowdfinance movement and led to the instituting of the industry's first trade and leadership organizations which Albright co-founded. In 2013, she co-founded LendIt, the largest and most recognized global P2P & online lending conference organization. Some of the most prominent figures in the financial industry as well as the legislature continue to participate in Dara Albright events. In 2013, she co-founded LendIt, the largest and most recognized global p2p & online lending conference organization. Some of the most prominent figures in the financial industry as well as the legislature continue to participate in Dara Albright events. Additional information can be found at daraalbright.com
Capital Creation Event Series - Atlanta