Caffeinated Mornings

Monthly Event - First Friday of every month: 9:00 AM to 10:30 AM (MDT)

Boulder, CO
Event Details
Tech vs. Creative? or Tech AND Creative.
This talk will be an intimate look at how Made is working with, not against technology. By strategically bringing creatives and technologists together, Made discovers new opportunities for its clients by not only limiting the generation of ideas to the creative team, but by inviting in the tech team to participate at the very beginning of every project. The result is stronger campaigns and ideas with strategic value that take advantage of technology as much as they subvert it.
PARTNER / CHIEF CREATIVE OFFICE
Schiff was born to do this job. Seriously. Behind the crazy personality is a guy with a brilliant point-of-view when it comes to building brands and creating genre-disrupting work. He started his agency career at Crispin Porter + Bogusky where his unique talent and unbridled passion quickly led him up the agency ladder.
PARTNER / CHIEF TECHNOLOGY OFFICER
Sometimes the quietest guy in the office has the most important things to say. That's Scott Prindle. Scott spent 10 years as a developer and technology director at R/GA Interactive in New York City, where in addition to working on IBM and Ericsson, he led the development of innovative digital platforms, including Nikeid.com and other Nike properties.
This event is for all creative types and will be a 20-30 min talk, followed by 10-15 min Q&A session, moderated by Jay Ferracane of Angry Bovine. 
As usual, coffee and breakfast snacks will be provided.
Caffeinated Mornings
Friday, September 5th
Snacks will be available from 9am to 9:25 and the talk will start at 9:30 and usually run to about 10:15am.
Scrib is located on Broadway between Pearl St and Spruce. The entrance is next to the Unseen Bean coffee shop. Take the elevator down and go through the glass doors.
Scrib
2060 Broadway St. Suite B1
Boulder, CO 80303 
Thanks and look forward to seeing you there!
caffeinatedmornings@gmail.com
@caffeinatedmorn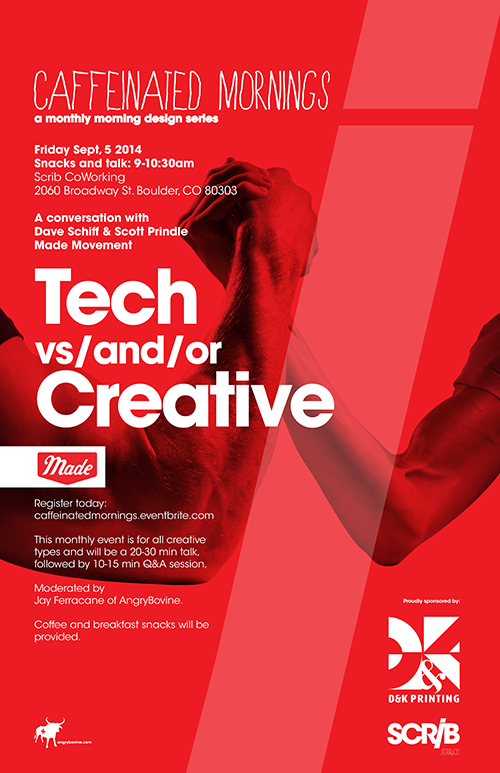 Where


Scrib
2060 Broadway St.
Suite B1


Boulder

,

CO

80303

Organizer
Caffeinated Mornings
Scrib (short for Scribble) is a coworking location in the heart of Boulder designed to stimulate connections of like-minded creatives, consultants, entrepreneurs, startups and freelancers. It's a community that goes beyond desk space and drives growth and innovation by connecting people.
Located at Broadway and Pearl in Boulder, Scrib is 5,000 square feet of shared work space designed with different zones to make you as productive as possible. Come write on the dry erase walls, brainstorm with a team in the cafe or present to a client in the conference room.