Building a Kayak

Wednesday, January 5, 2011 at 7:00 PM

-

Saturday, March 26, 2011 at 6:00 PM (EST)

Somerville, United States
Event Details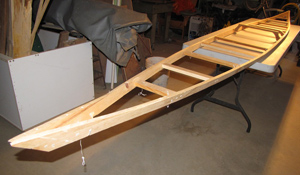 Class Description:
In this class you'll build your own traditional skin-on-frame, seaworthy kayak. Materials, major
equipment and workspace are included, all for less than the cost of most plastic sea kayaks. The frame will be wood and the "skin" will be nylon treated for waterproofing. This allows the final product to be lightweight, in the range of 30-40lbs. Each boat will be custom-fitted to its builder, and roughly 17' long.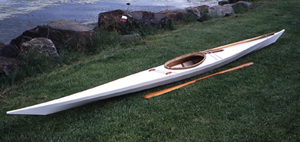 Construction is done without forms, using the dimensions and goals of the builder as guides.
We will begin by setting out the gunwhales, and then installing the deckbeams along the top. Oak ribs are steam-bent and installed on the bottom of the frame. Over the ribs, stringers are placed that run the length of the frame. The stringers are the pieces of the boat that the skin is stretched over. Along the way the frame is varnished to protect it from water. Next a large sheet of nylon fabric is stretched over the frame of the boat, and sewn up along the deck. The cockpit coaming is sewn onto the skin, and then the skin is waterproofed. This will likely be done with a UV resistant polyurethane. If you're feeling extra creative, it might be possible to use colorful sealants.
Class Goals:
Teach students how to safely use basic woodworking and assembly tools to create a functional sea
kayak.
Prerequisites:
Some woodworking experience helpful, but not needed. Tools used most frequently will be an electric
drill and handsaw. Occasional (supervised and instructed) use of larger power tools will be involved as
well. Recommended that you take Building the Asylum for basic tool instruction prior to this class if
you are completely new to woodworking.
Materials:
Materials will be provided in class, and are included in the ticket cost.
Instructor Biography: Michael Murphy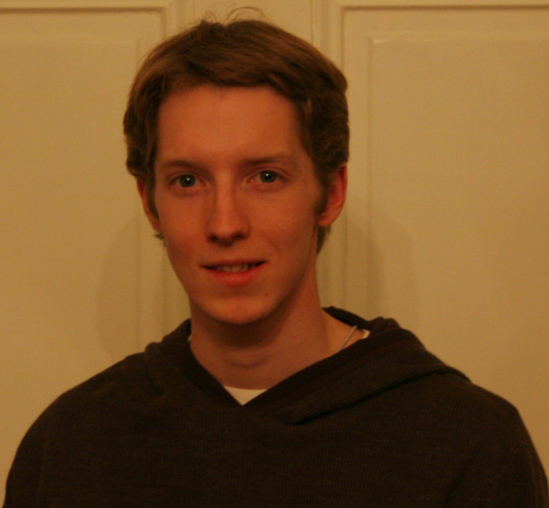 Michael has experience in woodworking, and boatbuilding work as well. He has restored an older wooden sailboat, built a cedar strip sea kayak, and assisted in building his brother's boat. He looks
forward to sharing the experience of building a beautiful, functional craft with the avid boaters of the greater Boston area.
Class Times:
Wednesdays 7 PM - 10:00 PM @ 13 Joy St, Somerville MA from Jan. 5 through Mar. 30 2011
and
Saturdays 3pm-6pm @ 13 Joy St, Somerville MA from Jan. 8 through Apr. 2 2011
***NOTE: This is not a choice of Wednesdays or Saturdays, ALL sessions are needed to build this
boat.
When & Where
13 Joy Street


Somerville

, 02143


Wednesday, January 5, 2011 at 7:00 PM

-

Saturday, March 26, 2011 at 6:00 PM (EST)
Add to my calendar
Organizer
Artisan's Asylum, Inc.
Artisan's Asylum is a community fabrication and makerspace near Union Square, Somerville MA, that is dedicated to making creativity a way of life. It does this by maintaining a community workshop, training its members in the use of all of its professional-grade equipment, and hosting events promoting the learning and practicing of craft and creative expression.