Book Release Signing for Sugaree Rising - J. Douglas Allen-Taylor

Thursday, December 6, 2012 at 6:00 PM (PST)
Event Details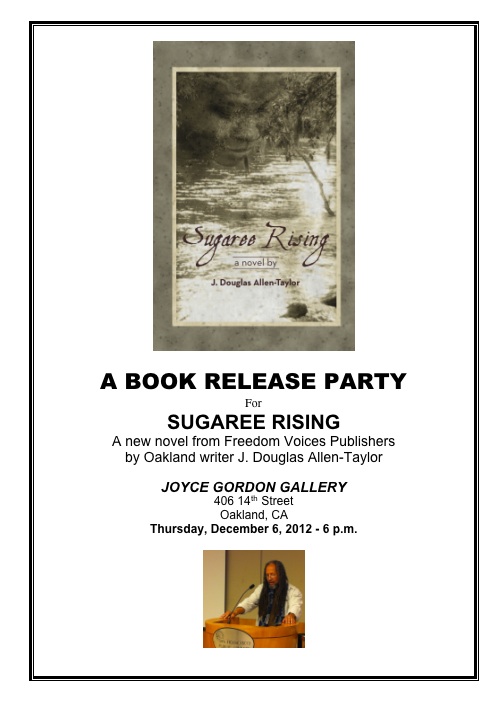 For years, many Bay Area residents have depended upon the reporting and writing of Oakland journalist and political columnist J. Douglas Allen-Taylor to keep us up to date and informed on issues of importance to our community.
In his first novel, Sugaree Rising, Allen-Taylor has taken his familiar humor, insight, untiring research, and extraordinary writing ability to turn our attention to another place and time: the Deep South of the openly racist years of the Great Depression.
Inspired by actual historical events, Sugaree Rising is the story of resistance by a group of South Carolina African-Americans to a government plan to wipe out their entire community with a flood.
Even before its release, Allen-Taylor's novel has received high praise from important American literary sources. Pulitzer Prize for Fiction winner Shirley Ann Grau of New Orelans calls the book "
a remarkable first novel, intelligent, sensitive, thoughtful, perceptive. It is the story of a small tightly knit, interrelated group of South Carolina Blacks [who have retained] the traditional beliefs of their slave ancestors, the old ways and the old gods, ... living their days in essentially parallel universes, the everyday and the spiritual, both real, both shifting back and forth like a kaleidoscope. It is an extraordianarily exhilarating way of perceiving the world.
" And the University of South Carolina Press adds that "
buried deep among the ancillary tales of tricksters, the supernatural, and hoodoo is the unique coming of age story of protagonist Yally Kinlaw who, as she approaches the age of sixteen, is one of the most appealing young literary characters since [To Kill A Mockingbird's] Scout Finch.
"
Allen-Taylor's Sugaree Rising is already being favorably compared to Alex Haley's Roots, Zora Neale Hurston's Their Eyes Were Watching God, Toni Morrison's Beloved, and Richard Wright's Native Son as an important and historic work of African-American literary fiction.
You will not want to say that you passed up the chance to be here at the Joyce Gordon Gallery when J. Douglas Allen-Taylor presents us with the first public reading of this phenomenal new novel.
We hope to see you there!
The Joyce Gordon Gallery is a commercial fine art gallery located in the downtown district of Oakland California. It exhibits art that reflects the social and cultural diversity of the Bay Area and international artists. The aim of the gallery is to respect the creative pursuits of the individual and seeks to make such work accessible to a broad audience.
Joyce Gordon Gallery
406 14th St
oakland, California 94612
510-465-8928 
When & Where

Joyce Gordon Gallery
406 14th St
Oakland, CA 94612


Thursday, December 6, 2012 at 6:00 PM (PST)
Add to my calendar
Organizer
Virginia Jourdan Fine Art Studio
Virginia Jourdan is a San Francisco Bay Area Visual Artist, Entrepreneur and Art instructor with a non-profit organization called Art With Elders. She owns and operates the Virginia Jourdan Fine Art Studio/Gallery located at 399 San Fernando Way in San Francisco, Ca. She also teaches art to children at the Northern California Music and Arts Cutural Center. 
http://www.virginiajourdan.com/intro.vm
Book Release Signing for Sugaree Rising - J. Douglas Allen-Taylor