Body Paint Night

Multiple Dates
Event Details
Interactive body painting event
A body painting party hosted by DenArt studio is an expressive and empowering night out. Held at a nice Williamsburg restaurant/ event space, you'll get to take your creativity outside of the usual studio. Mix and mingle with other artists, models, photographers and other creative people as you create a painting on each other or become a living canvas for one of the artists.
What to expect:
Live body painting

Space and supplies for body painting so you can paint and/or get painted

Live music

Free champagne and hors d'oeuvre for early birds
This is a 21+ event Although some people will be topless (no full nudity), nudity is not a requirement to attend or get painted.
When
Saturday, October 25th: Special Halloween Themed Party -Last Party in 2014!
Where
CU 29 Copper 232 N 12th St, Brooklyn, NY 11211 See map
 Live Music: Pravin Thompson Quartet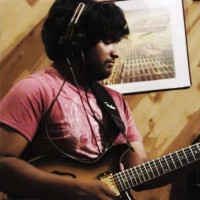 Members Quartet: Pravin Thompson Anthony Pocetti Jarrett Walser Charlie Dougherty
Genre Rock, Jazz, Experimental, Improvisation.
---
Frequently Asked Questions
Does everyone need to paint or get painted ? No, not at all. Some people come as spectators. They love seeing others paint and get painted in beautiful designs. It's quite a liberating creative experience!
Will there be nudity ? Some people will be topless. Our painters do an amazing job at covering their private regions with beautiful designs, or with material to cover up. It's very tasteful, and you will be amazed with the end result. Full nudity is not allowed at this event.
Can I get painted ? Sure! We will have painting stations through out the venue. You can ask another guest to paint you or sign up to get painted by our artists. You can have the artist paint your face, hands, legs, arms, back, chest, or you can go topless (male & female). It's all up to your comfort zone, and at your discretion. Tell the painter what you want and where, and be amazed.
If I want to get painted, what kind of design can I get? If you choose to get painted by one of our artists, you can choose any design that can be done within 30 minutes. You can see sample designs here. Obviously, you can choose different designs with similar complexity or something simpler if you'd like more coverage area.If your design is to complex to be done within the available time slot, the artist will simplify it.
Will there be a bar ? Yes, there's a large bar and separate lounge section to enjoy the painting fun.
Can I come to the event already painted ? Yes, by all means. You're more than welcome to come to the event painted.
What's the travel situation looking like? parking? Well you're in luck. The venue is close to L train, Bedford ave stop and G train, Nassau stop. If you drive, street parking around the venue is pretty easy to find.
Will there be a coat check? No, Sorry
Are there any showers ? No.
How to remove paint?. All paint is water based and safe for your body and clothing. It can be removed by soap and water.
Dude, where is my money going ? Paint, brushes and other art materials, artists, party supplies and promotion to bring in the great people. All these cost a lot these days:-( .Plus, % from our revenue goes to support an organization fighting human trafficking.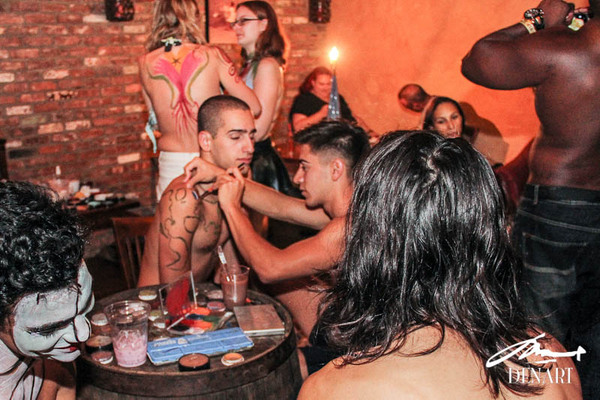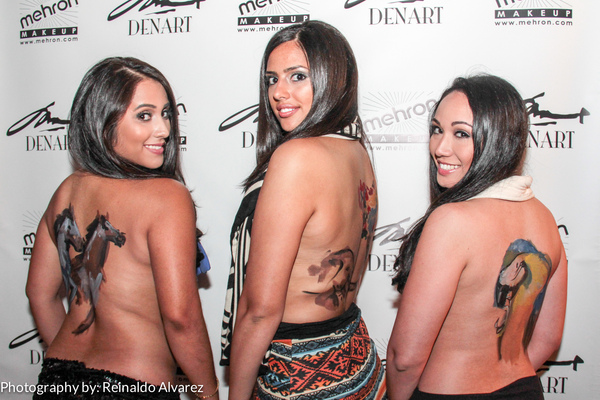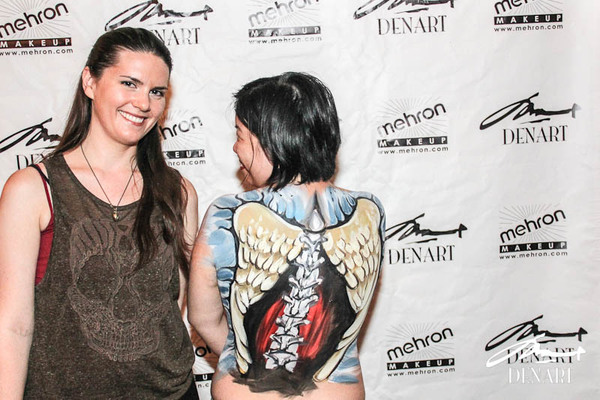 Organizer
DENART Body Painting Studio www.denartny.com
DenArt Body Painting studio is the first retail body painting studio in NY. We are the first company that make the body painting experience available for the general public, where anyone can just come in and experience body painting then photographed. Before we came into the picture, this kind of experience was only available for professional models as part of elaborate productions.
DenArt studio started when Danny Setiawan experimented with body painting as a medium to increase the relevancy of his art so he can make more impact through it.
In 2009, Ekaterina Dorozhkina joined and turned it from a merely artistic endeavor into a business.
In 2014, DenArt  announced collaboration with Mehron Makeup. Mehron is going to be supplying the paint for the events that DenArt is hosting. From fashion runways to Broadway, Mehron has become a key element in the fashion and beauty world. Performers such as the Black Eyed Peas, Hilary Duff, and Pink have all utilized Mehron's fantastic products on-stage.  
DenArt studio exist to empower through art. We believe in the power of art to change lives for both the creators and the audience.
In addition to our passion in creating beautiful and engaging art to empower the public, DenArt studio aspires to inspire other artists to experiment with new ways to monetize their talents so they can create more art.
DenArt became New York's famous retail body painting studio that has been featured in the media worldwide. TV appearances include (USA) NBC's The Daily Show and Last Call with Carson Daly, VH1 (Germany) Prosebian Network's TAFF, and (Indonesia) RCTI, VOA Network's Dahsyat Okezone.
The company has also been the subject of various print and online articles published by Make Up Artist, FORTH, and GALO.
Previous clientèle and/or collaborators include American Airlines, American Express, Casio, Klipsch, Kings of Leon, Roberto Cavalli, Stoli Vodka, TY KU Sake, and more.