Beulah Feast - I found the one…I think?
New York, NY
Bummer! Sales have ended.
Unfortunately, tickets for this event are no longer on sale.
Event Details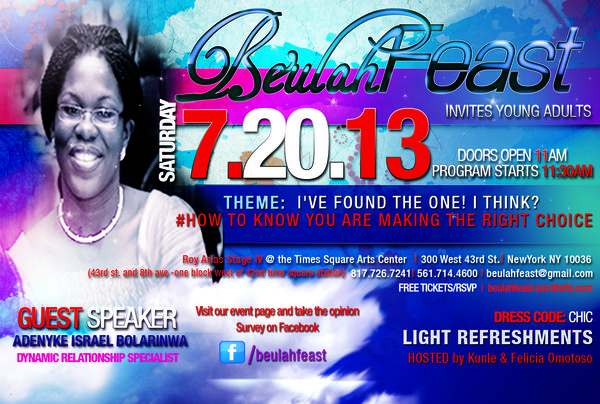 On July 20th, it is happening again....Beulah Feast invites you to "I found the one…I think?" A powerful dialogue that will explore that thought…that moment. We invite you to engage in this deep session to answer some pressing questions…How do I know when I've found the right one? How do I tell the difference between my desired outcome and God's will? If God wants me to be happy and I am, could this still be outside God's will? Everything is working out great...what am I still waiting for? What do I need to know to move forward boldly in this relationship…So many questions. Great audience, Great Speakers.
Featuring: Adenyke Israel-Bolarinwa (http://www.buildingrightrelationships.com/)
In this amazing intimate theater setting, get ready for an amazing time!
Doors open at 11am!