Better Care Conference & Summit

Friday, December 14, 2012 from 9:00 AM to 4:00 PM (MST)

Salt Lake City, UT
Who's Going
Loading your connections...
Event Details
Are you ready to imagine the possibilities of accountable care in Utah?
The purpose of the Better Care Conference & Summit is to set the vision for accountable care--the pathway to better care for all Utahns.

Accountable care changes the way we compensate medical providers. Right now, we pay for each test and procedure, whether the patient benefits or not. That gives the provider a strong incentive to order more tests and perform more procedures than may be necessary. Accountable care pays the provider to make patients well and keep them healthy. This is better for patients—and for taxpayers.
Additional goals of the conference:
Highlight better care opportunities within health reform at the state and federal levels

Understand what better care looks like for different populations

Look at wellness incentives—what works and what doesn't?
Target Audiences:
Health care providers and stakeholders

Patient advocates and health care consumers

Policymakers and public health officials

Academics, researchers, and students

General public and members of the media
Cost:
$20 per ticket--additional donations to UHPP are warmly welcome


Pay by credit card

Some portion of donations in excess of the ticket fee may be tax deductible

NEW LOCATION!!!
Due to increased attendance, we moved the location of the conference to the Red Lion Hotel in downtown Salt Lake City.

New Location:
          Red Lion Hotel
          Downtown Salt Lake City
          161 West 600 South
          Salt Lake City, UT 84101
          Map: http://www.saltlakecityredlion.com/salt-lake-city-hotel-location.aspx
         
          Free parking is plentiful around the building.

---
Sponsors:

The Better Care Conference & Summit would like to thank the following sponsors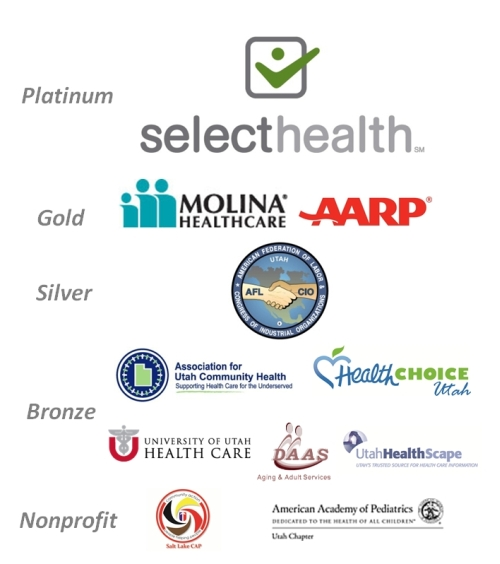 ---
Agenda: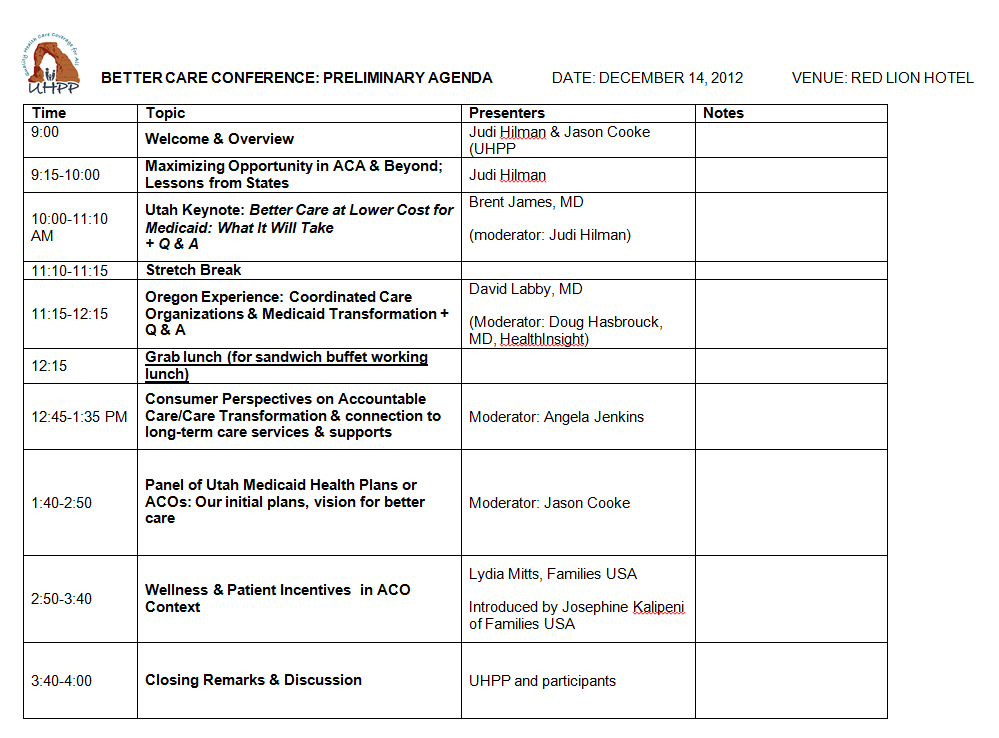 Speakers & Presenters Bios
Joseph Fleming serves as Director of PICO New Jersey, leading their expansion and policy change work with a focus on reducing healthcare disparities and improving conditions for immigrant communities.  Working with health care providers in Camden, Trenton and Newark, PICO NJ is engaging and organizing residents in "health hot spots" to identify barriers to care and develop customized interventions change the health-delivery system in ways that improve health outcomes and reduce medical costs.  Mr. Fleming also leads a team of talented organizers who provide training and technical support to eleven organizing federations in the Northeast that are affiliated with the PICO National Network.  He previously served as Director of Camden Churches Organized for People for 19 years.
Dennis Heaphy, Health Care Analyst & Organizer joined the Disability Policy Consortium in 2008, to edit and co-author Disabilities and Disparities: Another view of a Health Care Issue. His experience includes consulting with the Massachusetts Department of Public Health, working on HIV prevention through the Medical Foundation and as adjunct faculty member at Emmanuel College. Mr. Heaphy has a Master of Public Health in Health Law from Boston University, a Master of Education in Counseling Processes/Risk Prevention from Harvard University, a Master of Divinity-Pastoral Care from Boston University and a Bachelors Degree in Business Administration from Boston University.
Angela Jenkins serves as a state advocacy manager for the State Consumer Health Advocacy Program, supporting Community Catalyst partner states in their regional, state, and national health care initiatives. Angela offers technical assistance in policy analysis, campaign strategy, community organizing efforts, training, coalition building, fundraising, and communications to state and local consumer organizations. Prior to joining the Community Catalyst team, Angela served as an Organizer at Health Access California where she worked with stakeholders and coalitions to build support for national and state health reform and to protect the state's safety-net programs. During graduate school, Angela was a policy intern at the Kaiser Permanente Institute for Health Policy where she developed briefs on delivery system reform and quality and managed a story collection project for the Institute. Angela holds a bachelor's degree in sociology from Scripps College and a master's degree in public health with a focus on health policy and management from the University of California, Berkeley School of Public Health. Community Catalyst is a national non-profit advocacy organization working to build consumer participation in the health care system.
Josephine Kalipeni is a Senior Field Associate, Famiies USA. Originally born in Malawi, Africa, Josie spent most of her life in Champaign, Illinois.  She received a bachelor of arts in sociology with a concentration in political science and religious studies from the University of Illinois in Champaign.  She initially worked in direct services, serving low-income families with youth in crisis and spending time serving and advocating for hard-to-adopt children in the Illinois foster care system.  Frustrated with an arena inundated with services that families could not afford or access, she looked for a way to impact change systematically.  This pivot lead her to work in community advocacy, policy development, and political consumer engagement.  She has worked with many organizations, including the NAACP, Illinois Black Chamber of Commerce, Progressive Action for the Common Good, and IL Campaign for Better Health Care. Josie is excited to continue developing her expertise in grassroots organizing, health equity issues, and engaging faith communities in social justice movements.
David Labby MD PhD is Chief Medical Officer of Health Share of Oregon, one of the new Coordinated Care Organizations (CCOs) managing a regional global budget for the physical and behavioral health care needs for Oregon's Medicaid population. Health Share currently has over 160,000 enrollees in the tri county area that includes Portland and includes all of the major hospital and health systems, the Counties, and providers including those in safety net practices. Before coming to Health Share, Dr Labby was Medical Director for CareOregon, the state's largest Medicaid Managed Care Plan.  While at CareOregon, he was responsible for developing and overseeing the health plan's care management program for members with complex conditions.  Since 2007, he led CareOregon's Primary Care Renewal Initiative to support key network providers in moving to "medical home" model of care that includes integrated behavioral health. He has led a number of other plan clinical efforts, including initiatives on pediatric asthma, chronic pain, and depression.   He has been part of CareOregon's participation in the IHI Triple Aim Initiative and part of the Triple Aim Faculty. Dr Labby practiced in Primary Care and was Medical Director of both primary care and multi specialty settings before coming to CareOregon in 2000.  He received his PhD in Cultural Anthropology.
Brent James, MD, is known internationally for his work in clinical quality improvement, patient safety, and the infrastructure that underlies successful improvement efforts, such as culture change, data systems, payment methods, and management roles. He is a member of the National Academy of Science's Institute of Medicine; He is the Chief Quality Officer, and Executive Director, Institute for Health Care Delivery Research at Intermountain Healthcare, based in Salt Lake City, Utah.
Chad Westover is President of Molina Healthcare of Utah.  He is responsible for all operations, financial decisions, and growth of the plan. Before joining Molina, Chad was Vice President of Business Development for WellPoint's State Sponsored Business (SSB) where he oversaw all aspects of business development in SSB and the telemedicine operations. Prior to his tenure at WellPoint, Chad was the first director of the Utah Children's Health Insurance Program (CHIP).  Before that, he was a health policy consultant for Governor Leavitt's Health Policy Commission. Earlier, he held a senior staff position with the U.S. Senate Labor and Human Resources Committee and as a senior legislative assistant in the House of Representatives in Washington, D.C. Chad received a Master's degree in public administration, a Bachelors' degrees in political science, and an Associates' degree in Spanish from Brigham Young University.


Renée Markus-Hodin is Director of Community Catalyst's Integrated Care Advocacy Project, where she leads efforts to ensure that the voices of our most vulnerable populations are well represented in state and federal efforts to redesign the U.S. health care system. Renée also serves as the Director of Community Catalyst Legal Action, an effort to challenge unlawful practices of private health care entities which hurt health care consumers. Renée's expertise extends to other areas of health care including hospital free care and community benefits and health care conversions. Before joining Community Catalyst, Renée served as a Special Assistant Attorney General in the Civil Litigation Department of the Vermont Attorney General's Office. She holds degrees from the State University of New York at Binghamton and the University of Maryland School of Law. Community Catalyst is a national non-profit advocacy organization working to build consumer participation in the health care system.
Lydia Mitts is a Health Policy Analyst at Families USA, a national nonprofit, nonpartisan organization dedicated to the achievement of high-quality, affordable health care for all Americans. At Families USA, Ms. Mitts specializes in issues related to plan benefit design, including wellness programs and the essential health benefits, delivery system reform, and subsidized coverage. She is the author of multiple briefs on topics including protecting consumers in wellness programs, defining the essential health benefits and an upcoming series of briefs on developing Medicaid ACOs. Prior to joining Families USA in 2011, Ms. Mitts held positions in state and local health advocacy organizations. She received a BA in Community Health from Tufts University.
Russ Elbel is the Medicaid Program Director at SelectHealth and oversees the SelectHealth Community Care Medicaid plan. He has over twenty years of experience in health care in a variety of roles including quality improvement, case and disease management, fraud prevention and control, compliance, physician network management, and health promotion. Russ earned his Master of Science in Public Health / Health Services Administration and his Bachelor of Science in Health Education from the University of Utah. Russ' professional community activities include serving on the Utah Medicaid Medical Care Advisory Committee, and other community committees aimed at improving access, quality, and service for Medicaid enrollees.
Collette I. Heaps, FLMI is the executive director of Health Choice Utah, a health plan serving Medicaid members in Davis, Salt Lake, Utah and Weber counties.  Health Choice Utah is a provider-owned managed care organization, and is a subsidiary of IASIS Healthcare. Collette has spent the last 20 years engaged with passionate and purposeful people in the Utah Healthcare market.  After spending a decade as the director of payer relations for the largest hospital system in the state, she migrated to the health insurance market. Her current focus is improving access to quality health care for Utah's medically underserved population. Collette was born and raised in Utah.  When she is not working, she and her family can be found hiking and biking in the peaceful mountains of the Wasatch front. Collette can be reached at cheaps-at-iasishealthcare.com or 801-984-3398.
Vicky Wilson is the Executive Director University of Utah Health Plans She has led and developed University of Utah Health Plans (UUHP) since 1999, bringing with her over 20 years of Managed Care/TPA experience.  As theUUHP Executive Director, Vicky is responsible for the strategic and overall development of the department and the financial and operational success of the plans.  Vicky completed her bachelor's degree at Brigham Young University and received an executive master's of business administrationfrom the University of Utah.
Doug Hasbrouck, M.D., is a Medical Director at HealthInsight here in Utah.  He is on the Board of Directors of the Utah Comprehensive Health Insurance Pool and is also a Commissioner on Utah's Digital Health Services Commission.  He has served on the Board of Directors of the Utah Health Information Network and as a Utah State Health Data Committee member in the past.  Dr. Hasbrouck has over 20 years of clinical experience. Dr. Hasbrouck has served in executive leadership roles with The Hospital Company of America (HCA), UnitedHealthcare, Regence BlueCross BlueShield of Utah and The Regence Group. He is a Diplomat of the American Board of Internal Medicine. He is a graduate of the University of Minnesota Medical School and completed his residency at the University of Utah.
When & Where


NEW LOCATION: Red Lion Hotel
Downtown Salt Lake City
161 West 600 South


Salt Lake City

,

UT

84101

Friday, December 14, 2012 from 9:00 AM to 4:00 PM (MST)
Add to my calendar
Organizer
Utah Health Policy Project
The Utah Health Policy Project (UHPP) is a nonpartisan, nonprofit organization dedicated to finding lasting solutions to the crisis of the uninsured and rising health care costs.
Utah Health Policy Project
1832 Research Way, #60
Salt Lake City, Utah  84119
Office: 801-433-2299
Fax: 801-433-2298
healthpolicyproject.org
facebook.com/utahhealthpolicyproject
Follow us on Twitter: @uhpp
Questions about this event?
Email Matt Slonaker, at matt-at-healthpolicyproject.org