Be Well Boston: Strong to the Core Luncheon
Boston, MA
Bummer! Sales have ended.
Unfortunately, tickets for this event are no longer on sale.
Event Details
Join Boston.com's Senior Health & Wellness Producer, Elizabeth Comeau, RadioBDC's Henry Santoro, Michael J. Bauman, Plankaday Co-Founder and Dr. Sherry Pagoto, Associate Professor of Medicine at UMass Medical School to be strong to the core while enjoying a luncheon, catered by b.good, at boston.com.
Dr. Pagoto will present "The Trouble with Willpower," discussing new ways to maximize willpower by restructuring your physical and social environments in such a way that the healthy choices are the easier choices to make. The role of social media will be emphasized including fun Twitter hashtag challenges (e.g., #plankaday) that build community and social support around health behavior.  Mike Bauman, will talk about the impact of #plankaday and social media on his own weight loss journey.
The #PlankADay banter has gone on long enough, we're bringing them together and we want you to join!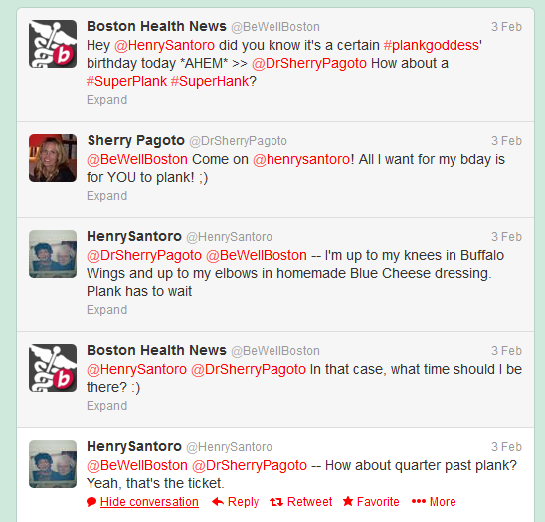 Special thanks to b.good for providing  healthy eats!