BDPA New York - Black Family Technology Awareness - Day #1
Brooklyn, NY
Bummer! Sales have ended.
Unfortunately, tickets for this event are no longer on sale.
Event Details
In the month of February as we celebrate Black History Month the BDPA New York Chapter annually recognizes Black Family Technology Awareness Week (BFTAW). This year our theme is "Technology is for Everyone in our Community."
 
Black Family Technology Awareness Week, or BFTAW, is a national public awareness campaign designed to encourage more African Americans to incorporate technology into their daily lives.  The purpose of the event is to help eliminate the science and technology gap among members of the minority community.  By showcasing science and technology in a fun and interactive way, we endeavor to motivate more minority students to pursue careers in these fields. It's also an exciting time for students and families as they spend a full day immersed in a variety of fun and interactive workshops.
On February 7th, we are sponsoring  the following workshops for students which will be interactive and fun.
Inspiring Digital Kids with Game Design
Presenter:   Sean Scott, Founder & Managing Director, GameDevMasters

Information Technology Careers
Presenter:  Bryan Tomlinson,Technology Specialist  
Owner,BTDesigns.net
BDPA NY - Student Programs High School Computer Camp & IT Showcase
Presenter: Denise Hamilton,
BDPA NY Director of Education and Community Outreach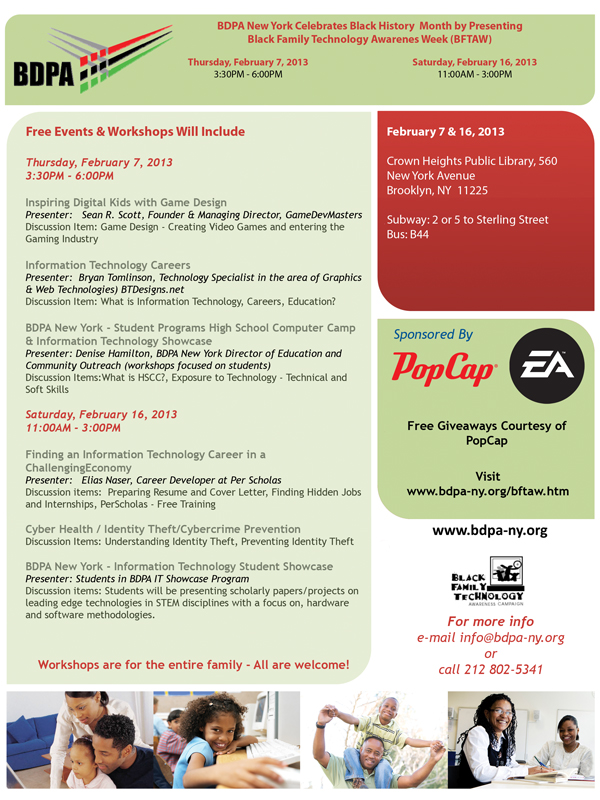 Flyer Link - http://www.bdpa-ny.org/BFTAW_2013Flyer.pdf
Giveaways and Light Refreshments will be provided
Sponsors
EA - Popcap
Career Communications Group
Crown Heights Public Library