BayPay Event - Jan 26, 2012 - Kickoff 2012 - NFC

Thursday, January 26, 2012 from 6:00 PM to 8:00 PM (PST)
Event Details
Dear BayPay Member,
We will have our first event of 2012 at the new offices of Inside Secure in Redwood Shores, California.
For this edition of The BayPay Forum, we are planning a reception with ample networking after an introduction from an analyst specialized in NFC.
Please note that this event will be 2 hours only instead of our regular 3 hours events.
Attendance is also limited for this event so respond quickly or you may be put in the wailing list.
This event is sponsored by :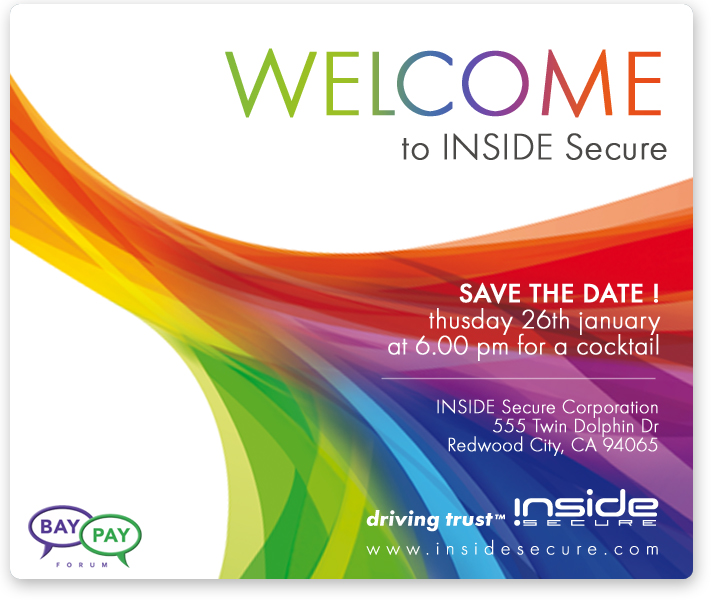 _________________________________________________
Agenda:
Introduction from Mark Hung, Research Director, Gartner
Networking & Champagne
Bios:
Mark Hung, Research Director, Gartner Group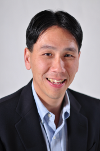 Mark Hung is the wireless research director at Gartner, where he focuses on wireless connectivity technologies in mobile, computing, consumer electronics, and other emerging platforms.  Prior to joining Gartner, Mark was the director of strategic marketing for Atheros Communications, where he was responsible for product marketing and diversification strategies for the company.  He has also served as a member of the board of directors for the Wi-Fi Alliance.  Mark has been a key participant in the development of a number of ground-breaking technologies, including Fast Ethernet, 10G Metro Ethernet and 802.11n. He has more than 20 years of experience in the communications industry, including positions at Atheros Communications, Infineon Technologies, ZettaCom, 3Com and Nortel Networks.
_________________________________________________
Other BayPay Sponsored Events
NFC Bootcamp Day 2, Jan 26, 2012, Santa Clara, CA
40% discount with code BayPayMem
Cartes in North America, March 5-7, 2012, Las Vegas, NV
20% discount with code BPAY20
4th Mobile Contactless Payment Innovations, April 3-4, 2012, San Francisco, CA
$300 discount with code MP52
Social Mobile Payments - Conference & Exhibition, April 11-12, 2012, Orlando, FL
$895 instead of $1,595 - 44% discount with code BAYPAY
Check other discounts we negotiated for you with Conference Organizers at http://www.baypayforum.com/events/baypay-sponsored-events
Attendee List
Sort by:

Date

|

First Name

|

Last Name
When & Where

Inside Secure
555 Twin Dolphin Drive
Redwood Shores, CA 94065


Thursday, January 26, 2012 from 6:00 PM to 8:00 PM (PST)
Add to my calendar
Organizer
The BayPay Forum
If you are a member of the payment industry, you are invited to join BayPay, a networking group of the Silicon Valley focused on payments and composed exclusively of members in the payment community or investors in this area. If you are not yet a member and would like to join, reply to this email to get your free membership with a quick description on how you fit in the payment industry. Even after all these years, the payments industry is still expanding in both mature and emerging markets worldwide as the industry adapts to new market opportunities. New technologies including contactless cards, cell phone integration, biometrics, RFID and strong authentication are emerging and potentially creating new challenges for both financial institutions and their customers. Prepaid cards, gift cards, new forms of payment like PayPal, are all vivid demonstrations of the vibrancy of new thinking in the payments industry. With wireless ubiquity now essentially a reality, transaction aggregation and micro payments become a necessity. As the financial industry and merchants provide more and more services online, phishing emerges as a problem that requires more education and communication with consumers.
Objective BayPay's primary goal is to provide a face-to-face professional networking forum for the regular exchange of views on these issues among active professionals within the payments industry who are located in the San Francisco Bay Area. An online BayPay group on Yahoo! provides opportunities for members to interact among themselves between regular face-to-face meetings.
BayPay Is a joint initiative of Glenbrook, Edgar Dunn & Company and Daniel Chatelain from QSecure, Inc. that is open to other companies or individuals contributions.
Membership To ensure an appropriate level of professional participation, membership in BayPay group is by invitation only. BayPay members invite others to join based upon their own judgment as to who could best contribute to the group. To subscribe please go here.
http://www.linkedin.com/groupInvitation?groupID=21250&sharedKey=63142B72B34B
Code of Conduct All information shared by BayPay members is considered their own personal opinion and does not represent the official position of any company. All member comments are not for attribution in any form whatsoever outside of the BayPay membership. While we would like any information exchanged in this forum or in our events remain private, members must understand that this is a semi-public group and there can be no assurance of confidentiality.
BayPay Event - Jan 26, 2012 - Kickoff 2012 - NFC