Bay Area Girl Geek Dinner #40: Sponsored by Hackbright Academy

Thursday, May 9, 2013 from 6:00 PM to 9:00 PM (PDT)
Event Details
Join Hackbright Academy and Bay Area Girl Geek Dinners on May 9 in downtown San Francisco for a Hackbright Girl Geek Dinner! Don't miss the night of talks by women engineers, good food, great people, games, networking, schwag and more!
Hackbright Academy students will be demoing their final projects, and there will be a geeky photo booth!
Agenda for the Hackbright Girl Geek Dinner:
6:00pm - 7:00pm : Registration, Networking & Dinner
7:00pm - 7:40pm : Introduction & Tech Talks
7:40pm - 8:00pm : Hackbright Student Panel & Spring 2013 Class Introductions
8:00pm - 9:00pm : More Networking & Student Demos
Twitter hash tag for the event: #hackbrightggd
Twitter handles for the hosts: @BayAreaGGD @Hackbright

  FREE RSVPs for Hackbright Girl Geek Dinner will start on Thursday, May 2 @ 10AM PST!  

*  *  *
Hackbright Girl Geek Speaker Bios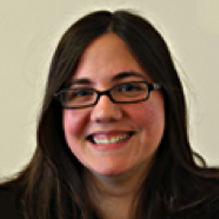 Speaker: Liz Howard (Director of Operations & Instructor, Hackbright Academy)
Liz learned to write databases before she learned to write essays. Her parents were both software engineers, and programming is in her blood. After leaving school to work on one of the first EMR programs in the country with her father, she did contract software development until she was old enough to leave home. She had a brief sojourn into Kindergarden teaching, but ultimately couldn't leave programming. After that, she tooled around building software and leading teams for a number of large corporations, and ended up rewriting most of the fraud prevention systems for 8 of the top 10 banks in the country. Currently, Liz leads and teaches for the San Francisco chapter of Girl Develop It!, a worldwide organization aimed at helping women get into programming. She's teaching, developing curriculum, working on community, operations and strategy at Hackbright Academy. Follow her on Twitter at @lizthedeveloper.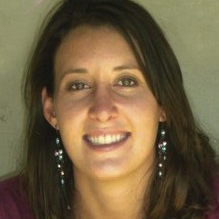 "Mentorship: Or why we should all be more like my brother."
This is a talk on being mentored, being a mentor, and how to find those people who are going to help you get to the next stage of your life/career.

Speaker: Kate Heddleston (Mentor, Hackbright Academy)
Kate is a web applications developer in the Bay Area. She's been using Python and Django since graduating college two years ago. Kate studied Human Computer Interaction (yes, the fuzzy CS degree) for her MS at Stanford but did her undergrad degree in Communication (even fuzzier). She enjoys using open-source tools to build web applications, and especially likes building product features that interface with the user. As Kate started building side projects, she has been learning more about the world of open-source infrastructure tools that exist to make everyone's lives easier. She believes that open-source technologies are the foundation of our modern tech-driven world and that automation is one of the core values that technology offers us. Thus, open-source automation tools are some of her favorite things in the world, just below puppies and just above shoe shopping. Follow her on Twitter at @heddle317.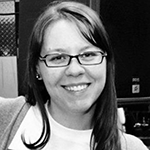 "Drinking from the firehose"
This is a talk on getting my start as a new engineer, and how I learned to love data.
Mercedes Coyle (Alum, Hackbright Academy)
Data wrangling was not initially something Mercedes set out to do, but there were some clear signs that it was a field that would be a good fit for her as a new engineer. Now a few months into a new career as a Software Engineer, she'll share some insight on starting out as a new engineer, tips for getting up to speed on a new language and codebase, and discovering what devops culture is really like. Mercedes is a Hackbright Alum from the 2.0 class, and now Software Engineer at Real Gravity. She discovered a love for code after a meandering and circuitous exploration through art and web design, and after diving deep into python and server side code, found an appreciation for back end development and data. Follow her on twitter at @benzobot.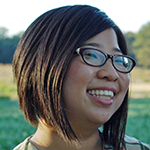 "A Day in the Life of a Hackbright Student"
This is a talk on being a student at Hackbright Academy, learning to code and building your personal project - and all the things in between.
Katherine Wu (Student, Hackbright Academy)
Katherine hails from New Jersey, land of the Jersey Shore and Bruce Springsteen both. She graduated summa cum laude from Boston College with a B.S. in Biology and then joined Google. Currently, she is a product specialist on the DoubleClick for Publishers enterprise product suite. Working closely with Sales, Services, Eng, and PM to improve the product in a scalable manner, she prioritizes feature development and manage feature releases. One feature she recently released was a tool that eliminated ~200 support tickets quarterly. Outside of work, she enjoys learning to create things from scratch (cooking, knitting, sewing) and it dawned on her that she wanted to have such capabilities at work as well, instead of only relying on persuading others to build features or tools. Katherine chose her Hackbright project based on using something totally new to her (working with hardware) that would have obvious practical applications. Follow her on Twitter at @kwugirl.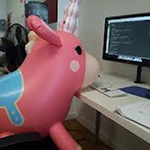 Q&A Panel with Hackbright Students!
Melanie Warrick (Student, Hackbright Academy)
Melanie is currently studying software engineering (Python focus) in Hackbright Academy's compact, full-time program. Her interests are in software engineering, data analytics and machine learning. She has comprehensive and international consulting experience at Accenture, Slalom and Alvarez & Marsal. Melanie's background includes experience improving efficiency and enhancing customer experience ranging from startups to Fortune 500 companies, spanning diverse industries (retail, pharmaceutical, finance, healthcare, non-profit, entertainment, high-tech, utility and transportation). Her expertise lies in project management, business analytics, social business software and e-commerce. Melanie holds an MBA from George Washington University. Follow her on Twitter at @nyghtowl.
Kelley Robinson (Student, Hackbright Academy)
Kelley moved to New York after graduating from the University of Michigan and began working in Derivative Operations for Goldman Sachs. She found herself drawn to the technical sides of the projects she managed, driving a desire to learn more about the tech industry where the fast-paced dynamics of the business had already piqued her interest. She realized that the engineering jobs appealed more to her than the operations jobs, and began to search for resources to teach herself to program. Fortunately, Hackbright Academy quickly came on her radar and the rest is history. When she is not coding, her interests include the media's obsession with Generation Y, bad puns and baking. Follow her on Twitter at @KelleyRobinson.
Christina Liu (Student, Hackbright Academy)
Christina is a web developer by day and a circus nerd by night. (Yes, she actually ran off and joined a circus once!) On the weekends, you can find her at the archery range or in a robotics lab baby-sitting 3d printers, laser cutters and writing code. She has even sometimes been known to help build giant industrial art. She chose this road of CS because she is passionate about puzzles and problem solving. As a former accountant, a career where building amazing things and solving new problems daily is exciting to Christina! Follow her on Twitter at @aerialdomo.
Kathryn King (Student, Hackbright Academy)
Kathryn is a currently student at Hackbright Academy. Follow her on Twitter at @coderkat01.
Gulnara Mirzakarimova (Student, Hackbright Academy)
Gulnara spent the last four years working in a bank on a commercial credit side. She was instrumental in growing the bank but soon realized that she didn't feel satisfaction on the job. They say that most people are either "right-side" brained or "left-side" brained, but Gulnara feels she utilizes both extensively (though her physical balance is out of whack). Since 2011, Gulnara has been actively involved in growing the Washington, DC tech ecosystem through the DCNightowls group, and facilitating the information flow by interviewing startups, investors and mentors. This is when she realized that she could be one of the creators, and knew that she would have enormous satisfaction in being able to create products people love. Gulnara started learning how to code on her own and after confirming her assumption that she did enjoy programming, she left her career and moved to San Francisco to join Hackbright Academy. Follow her on Twitter at @Gulnara.
Attendee List
Sort by:

Date

|

First Name

|

Last Name
When & Where

Google SF Office
345 Spear St
San Francisco, CA 94105


Thursday, May 9, 2013 from 6:00 PM to 9:00 PM (PDT)
Add to my calendar
Organizer
Bay Area Girl Geek Dinners
Google hosted the first Bay Area Girl Geek Dinner in January 2008, inviting 400 girl geeks to enjoy sushi, an open bar, Google schwag, great conversation and even better networking at Charlie's cafe on the Google Mountain View campus. Events sponsored by Facebook and Yahoo! soon followed. Startups like LOLapps and Polyvore followed suit.
Today, Bay Area Girl Geek Dinners have been hosted by a diverse set of companies including Genentech, Palantir, Microsoft, Citrix Online, Electronic Arts…
The ask is simple — buy dinner and drinks for girl geeks, and give away a piece of co-branded schwag (to extend the lifetime of the event). Invite female speakers in areas of their expertise, from well-known names to the up-and-coming. Encourage networking amongst the girl geeks and recruiting by the sponsoring company. Everyone wins.
Want to be Notified of Future Bay Area Girl Geek Dinners?
Join the BAGGD mailing list here.
Want to SPONSOR a Future Bay Area Girl Geek Dinner?
Contact us here.
Meet the BAGGD Team!
Sukrutha Raman Bhadouria (Managing Director of Bay Area Girl Geek Dinners)
After earning her M.S. in Electrical Engineering from USC, Sukrutha now works as a Sr SW Engineer at salesforce.com. Sukrutha is involved in Girl Geek Dinners because she wants to change the world for girls, one geek dinner at a time. Follow her on Twitter at @sukruthasays.
Angie Chang (Founder of Bay Area Girl Geek Dinners)
Angie is currently working as a Director of Growth at Hackbright Academy. She enjoys running the mentor program and finding partner companies for Hackbright. Previously, she was the editor-in-chief and co-founder of Women 2.0, a media company which promotes women in high-growth, high-tech entrepreneurship. She has held positions in product management and web/UI production at startups in the Silicon Valley. Angie started organizing Bay Area Girl Geek Dinners in January 2008 and was thrilled when Sukrutha joined the one-woman team at BAGGD in 2011. She holds a B.A. in English and Social Welfare from UC Berkeley. Follow her on Twitter at @thisgirlangie. 
Bay Area Girl Geek Dinner #40: Sponsored by Hackbright Academy