ART+TECH Festival 2015 - "Movement"

Friday, October 23, 2015 at 7:00 PM

-

Saturday, October 24, 2015 at 11:59 PM (PDT)
Event Details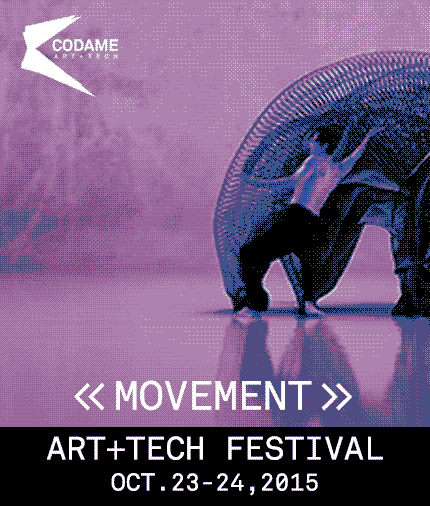 Join CODAME for our Annual ART+TECH Festival, a Two-day Event on October 23rd + 24th!
Presenting our annual ART+TECH Festival, exploring the immersive landscape of MOVEMENT, CODAME will be showcasing new works that demonstrate the fusion of art and technology from new and exciting angles within our festival's theme including innovative dance compositions, mind-bending performances, immersive and interactive installations, generative art, new media, and concept pieces by local, national, and international artists.
Local and Collaborating Artists include: Kinetech Arts, Paul Ackerman, Rachel Rose Ulgado, Saturn Rising, Marpi, Timo Dufner, Katherine Frazer and Xiaohan Zhang, Matthew Howell, Jeffrey Yip, Chris McCarthy, Jeffrey Bryant, Leon Eckert, Jasper Patterson, Anticlockwise Arts and more!
National Artists include: Kate Sicchio (NYC)
International Artists include: Natasha Singh (India) and Stéphane Bissières (France)
Date: RSVP for any of the two days, Friday 23th or Saturday 24th October, 7pm – midnight
Venue: Monument - 140 9th Street, San Francisco
Dress code: It's close to Halloween! It's your opportunity to wear that art+tech outfit tonight! Costume or not, do come and enjoy!
Call for Artist: Submit your work to be included in the festival.
Festival Page: http://codame.com/events/art-tech-festival-2015
Featured Artists posts to come, so keep checking back every week before the festival!
Save This Event
When & Where

Monument
140 9TH STEET
San Francisco, CA 94103


Friday, October 23, 2015 at 7:00 PM

-

Saturday, October 24, 2015 at 11:59 PM (PDT)
Add to my calendar
Organizer
CODAME ART+TECH
Nonprofit events to Play, Celebrate & Inspire through experience.
/// MISSION
Embracing innovation through creativity, play, and collaboration between artists and technologists.
/// HOW
Less talks, create more and get more impact. We build immersive, engaging, out of the ordinary experiences by:
Playing

 together with artists, coders, designers, game developers, creators, performers and musicians.

Celebrating creativity by building magic-inspiring experiences that combine art with technology.
Inspiring individuals, entrepreneurs, innovators, startups and companies by injecting creativity into their lives and organizations.
/// TEAM

A bunch of peeps with a thing for Art and Technology. In chronological order as joined…
Commodore (in-Chief) @BrunoFonzi
Amiga (Guru Meditation Handler): @staRpauSe
Atari (Artist Canvas) @Mexist
Spectrum (Ultimate Disco) @Irene86g 
Cray1 (TechArt Ninja) @KKoechley
Gravis Ultrasound (Media Munger) @AniMusicSF
JUNO-60 (Markup Master) @Gridwalk
300 DPI (Art Handler) @lovemodernart
DAT (Master Boffin) @DatPhan 
… and more than 100 amazing artists and volunteers…
/// ADOPT US  
The CODAME Adopt Program is designed to catalyze collaboration between innovative new media artists and visionary technology companies. There are many ways to support ART+TECH. You could adopt an artist by offering a residency or hosting a talk/performance, you could adopt a project on a temporary or permanent basis.  For more information check our codame.com/adopt  
With the support of like-minded partners we plan to triple our numbers and bring the San Francisco innovative, independent, and creative spirit of CODAME around the world.  Support us, get in touch.
ART+TECH Festival 2015 - "Movement"