Art Exhibit & Book Signing Benefit...

Saturday, January 12, 2013 from 11:00 AM to 2:00 PM (PST)
Event Details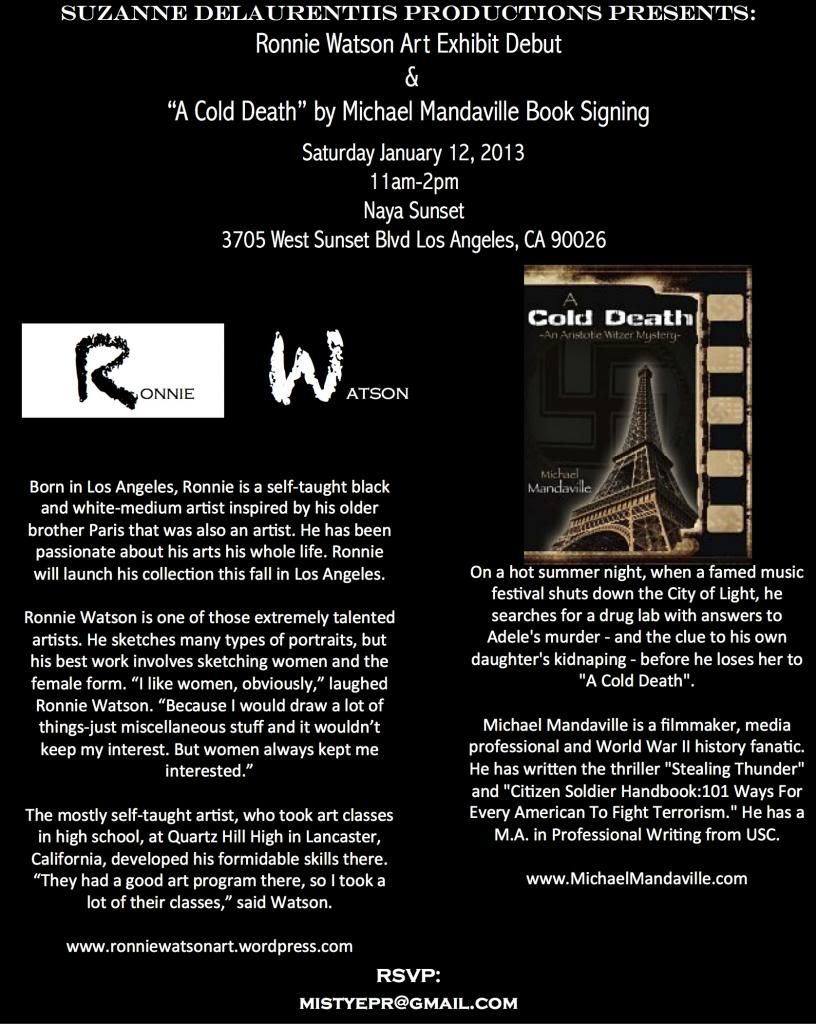 VIP INVITE
 Ronnie Watson Debuts Art And "A Cold Death" by Michael Mandaville Book Signing To Benefit Suzanne DeLaurentiis Veterans Charities …
Date:
Saturday January 12  
Location:
Naya Sunset 
3705 West Sunset Blvd Los Angeles, CA 90026
Time:
11am-2pm
Attire: 
Upscale/Business
Details:
Los Angeles based artist Ronnie Watson and author/film-maker Michael Mandaville are hosting a benefit for US Marine Corps at Naya Sunset (3705 West Sunset Blvd Los Angeles, CA 90026). Ronnie Watson will debut his recent artwork while Michael Mandaville signs his new book "A Cold Death". Proceeds from this event will benefit Suzanne DeLauretiis Veterans Charities. Guests will enjoy exotic food from Executive Chef Imran Ali Mookhi.
Born in Los Angeles, Ronnie Watson is a self-taught black and white-medium artist inspired by his older brother Parris that was also an artist. He has been passionate about his arts his whole life. Ronnie will launch his collection this fall in Los Angeles. Ronnie Watson is one of those extremely talented artists. He sketches many types of portraits, but his best work involves sketching women and the female form.  
Ronnie is dedicated to creativity and interested in supporting the artistic community by actively participating in charities to benefit cancer as well as all types of charities around the world. We are showcasing his work globally. Ronnie hopes to empower artists, creativity and innovation.  For more information please visit: www.ronniewatsonart.wordpress.com.
Michael Mandaville is a professional filmmaker, media professional and World War II history fanatic. He has written the thriller "Stealing Thunder" and "Citizen Soldier Handbook: 101 Ways For Every American To Fight Terrorism." He also has a M.A. in Professional Writing from USC. "A Cold Death" is about a Paris, American film student Adele Longet that is murdered. On a hot summer night, when a famed music festival shuts down the City of Light, he searches for a drug lab with answers to Adele's murder - and the clue to his own daughter's kidnaping - before he loses her to "A Cold Death". www.MichaelMandaville.com
About Naya:
The brainchild of entrepreneur and investor Dr. Michael Everest and Executive Chef Imran Ali Mookhi, NAYA truly incorporates its definition -New in Hindi into every aspect. Naya is a destination place that is geared towards upper scale events and fine culinary experience. The menu serves culinary Indian art at its finest. Naya is located on Sunset Blvd. and boasts a beautiful Hookah Outdoor Patio/Lounge with an exotic lounge that serves specially crafted fresh drinks by renowned Mixologist Joel Black of Black Lab Ventures. This beautiful and breathtaking venue was custom designed by Spacecraft, a full service hospitality design and construction firm. www.nayasunset.com
RSVP:
Email: mistyepr@gmail.com
When & Where

Naya Sunset
3705 W. Sunset Blvd.
Los Angeles, CA


Saturday, January 12, 2013 from 11:00 AM to 2:00 PM (PST)
Add to my calendar
Organizer
MS|PR (Misty Schwartz PR)
About…
Some of the services we offer include but aren't limited to:
> Media Relations
> Eco-Friendly/Green Events
> Blogging (Facebook/Twitter/Wordpress)
> Press Kit Designs & Look Books
> One Sheet
> Event Flyers
> Media wall design and printing
> Red Carpet Events (provide red carpet, media wall, etc…)
> Athlete management/appearances/event
> Product Launches (Fragrance, Clothing, Books, Services, etc…)
> Film, DVD, and Book Tour Launches
> Branding/Development
> Placement in News, Media , Television and Film
> Special Events – Celebrity Events/Fundraising Events
> Beauty/Fashion Events & Sponsorships
> Image/Brand Management
> Volunteering – Extreme PR Volunteers With Various Charities
> Corporate Communications
> Gifting Suites (Celebrity gifting events, Eco-Friendly Awareness)
> MSPR also offers exclusive event packages (Weddings, Birthdays, Showers, Spa Parties, Gifting events, Special Parties, etc…)
Extreme PR also offers exclusive event packages (Weddings, Birthdays, Showers, Spa Parties, Gifting events, Special Parties, etc…)
Samples of work & events can be found at: www.MistySchwartzEPR.com