"Alzheimer's:Current/Future Prospects-Diagnosis/Treatment" Dr. Kelvin Lee
Dover, DE
Bummer! Sales have ended.
Unfortunately, tickets for this event are no longer on sale.
Event Details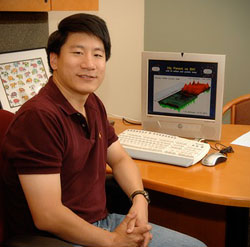 The Spring 2013 CMNST Dean's Distinguished Lecturer Series continues with guest speaker, Dr. Kelvin H. Lee, Nanobiotechnology researcher, Director, Delaware Biotechnology Institute.
Dr. Lee presents a 6 p.m. public lecture entitled, "Alzheimer's Disease: Current and Future Prospects for Diagnosis and Treatment" (Martin Luther King Jr. Student Center, Multipurpose Rm A).
This event is free and open to the public. Refreshments will be served.
For more information about the College of Mathematics, Natural Sciences & Technology Dean's Distinguished Lecturer Series, please contact Ms. Vanessa Nesbit, vnesbit@desu.edu, or call ext. 6502.
Page link: http://www.desu.edu/event/cmnst-deans-distinguished-lecturer-series-1