A Joining of Rivers

Thursday, March 29, 2012 from 6:00 PM to 7:30 PM (PDT)

San Francisco, CA
Event Details


AAWAA presents an innovative series of literary and performing arts events hosted by guest curators. The LP series features Asian American women artists performing in a variety of media including film/ video, music, spoken word, and multimedia collaboration.


A Joining of Rivers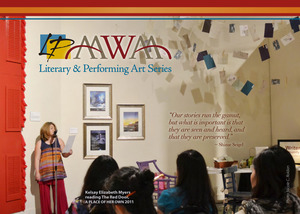 Thursday, March 29th
6PM- 7:30PM
                     
International Museum of Women
235 Montgomery Street, 12th Floor
San Francisco, CA 94104
$10-$15 Suggested donation.  Space is limited.
A Joining of Rivers A project inspired by the song - Yemaya Assesu, who is regarded in Cuban and African cultures as the Mother of Oceans and protector of children. The project involves a group of women writers/performers whose work envoke spiritualsim and resonate the image of Mother, Ocean, and Protector of Children .The song celebrates the moment where the rivers meet the ocean. Each artist is a separate river, joining together to meet the sea - the great ocean, the source - and rejoicing in the common spirit of strength and protection of the earth and the children. 
Curated by Nancy Hom

Presenting Artists...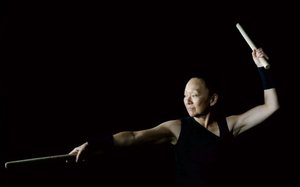 Ellen Reiko Bepp is a visual artist, taiko musician and educator. For over 30 years she has endeavored to give voice to her Japanese cultural roots, honoring nature and addressing political concerns through visual expression and the language of the drum. She has exhibited her art nationally since 1980, spanning various media ranging from textiles and mixed media to theatrical costume and set design. She began taiko training in 1974 under Grand Master Seiichi Tanaka, founder of the San Francisco Taiko Dojo, and went on to become an original performing member of San Jose Taiko and founding member of Somei Yoshino Taiko Ensemble. Her interest in the folk arts of Asia and Latin America led to her involvement in humanitarian projects and folk art research in indigenous communities of Guatemala, Nicaragua, Peru, Mexico and a cultural exchange to Cuba. She continually strives to integrate her visual and musical artistic visions into one.
Photo by Jason Jew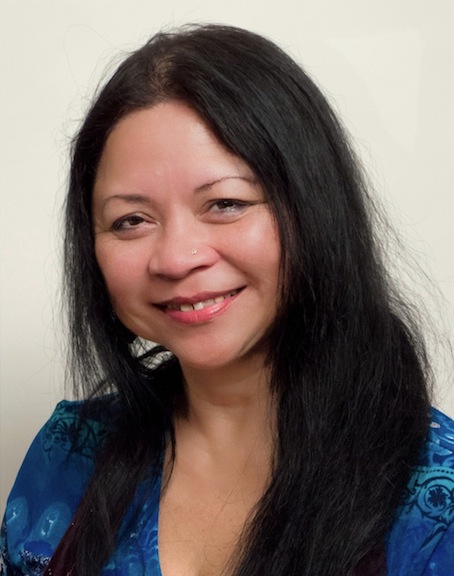 Evelie Delfino Såles Posch is a sacred song singer/writer; recording artist; drummer; dancer; Pranic and Sound healer and therapist; choral director; storyteller; actress; music educator; independent scholar; and magical activist whose talents have for over forty years spanned the traditions of her ancestors and the progressive edge of ceremony, world music and dance.  
Evelie sings in 30 languages and writes many original songs. She performs regularly in the SF Bay Area with the groups she founded – Mahal and Kismat-Mahal Kirtan Ensemble (KSME), plus Robert Gass (chantmaster), Jennifer Berezan, and Dharma Band. 
Photo Bob Hsiang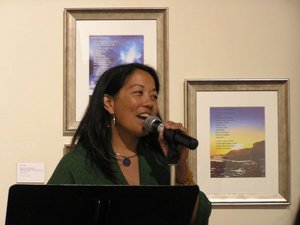 Arlene Biala is a Filipina poet and performance artist, born in San Francisco, CA. She is the author of bone, her first chapbook of poetry published in 1993, and continental drift, published by West End Press (through University of New Mexico Press distribution) in 1999. She received her MFA in Poetics & Writing from New College of CA, and was the recipient of an artist residency at Montalvo. Arlene has taught and performed as guest artist in the Manikrudo poetry and performance workshops led by Juan Felipe Herrera of the CSU Summer Arts Programs in Long Beach and Humboldt, CA.   
Photo by Lenore Chinn                                                                                      


Performances include University of Texas at El Paso, Writers' Week at UC Riverside, DiVERSEcity in NYC, San Francisco Asian American Jazz Festival, Yerba Buena Center for the Arts, Manilatown Center at the I-Hotel, La Pena Cultural Center, APAture at Intersection for the Arts, Santa Clara University, and SOMArts in San Francisco. She has also performed for and taught creative writing workshops with elementary and high school youth. She lives in Sunnyvale, CA with husband Carl and their three children: Kai, 11; Josh, 8; and Kiana, 6.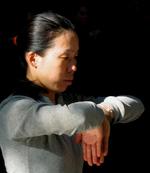 Yuko Tamura Biala
Yuko has been involved in traditional and contemporary Brazilian dance      for more than 8 years with her teachers in Japan and in Brazil. She has been practicing Capoeira Angola (a style of Brazilian martial arts) for 10 years and studies Brazilian and Cuban percussion.She has focused her dance study on the Orixa dances of the Yoruba people of West Africa and Brazil. Another area of her focused dance study is Silvestre Technique, an integrative dance technique developed by Rosangela Silvestre of Salvador, Brazil.
Photo by Brooks Anderson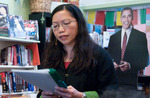 Nancy Hom
is an artist, writer, curator and arts consultant whose contributions to the Bay Area art scene span almost four decades. As a poet she has read with many community writers since 1977. She was part of the Kearny Street Writers Workshop founded by George Leong and Al Robles, and a member of Unbound Feet, with Genny Lim, Nellie Wong, Merle Woo, Kitty Tsui, Canyon Sam. The group performed their writings at La Pena Cultural Center, Wheeler Auditorium at UC Berkeley, and various venues throughout California.
Photo by Bob Hsiang
---------------------------------------------------------------------
Pop up Shop
Artist and writers publications, CD's and more available at event
---------------------------------------------------------------------
Upcoming LP Series events...

April 28: The Enchanted Loom: Wrtiers, Artists, and the Brain. Curated by Pireeni Sundaralingam. At Thoreau Center For Sustainability, 2PM- 3:30PM

May 10: Asian American Women and Her Digital/Real Body: A Visual Poetics. Curated by Margaret Rhee. At La Pena Cultural Center, 7PM- 8:30PM

May 19: Red Altar. Curated by Nancy Wang. At Chinese Historical Society,
7PM- 8:30PM
---------------------------------------------------------------------
Partnering Organizations



IMOW is an innovative online museum that inspires creativity, awareness and action on vital global issues for women. As a museum without walls, IMOW curates innovative multimedia online exhibitions that reach, inspire and activate audiences around the world on issues of women's human rights. The Museum also produces temporary physical events and installations in the US and worldwide. Its award-winning work currently attracts 600,000 unique visitors per year. IMOW is governed by a local Board of Directors of business and community leaders and receives strategic guidance from a Global Council that includes Mary Robinson, Zainab Salbi and Eve Ensler.
For more information visit www.imow.org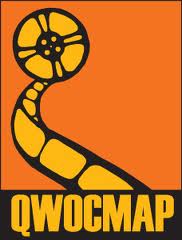 Queer  Women of Color Media Arts Projects, QWOCMAP
Promotes the creation, exhibition and distribution of new films/videos that address the vital social justice issues that concern queer women of color and our communities, authentically reflect our life stories, and build community through art and activism.
---------------------------------------------------------------------
This Program is Supported by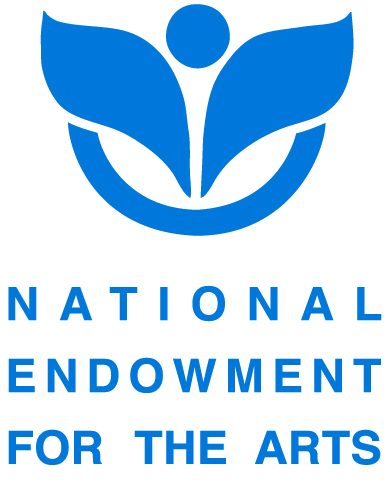 This event is supported by Poets & Writers, Inc. through a grant it has recieved from The James Irvine Foundation
When & Where


International Museum of Women
235 Montgomery Street
12th Floor


San Francisco

,

CA

94104


Thursday, March 29, 2012 from 6:00 PM to 7:30 PM (PDT)
Add to my calendar
Organizer
AAWAA
(AAWAA) is a nonprofit arts organization dedicated to ensuring the visibility and documentation of Asian American women in the arts. Through exhibitions, publications, and educational programs, we offer thought-provoking perspectives that challenge societal assumptions and promote dialogue.