A Discussion with The Unwitting Pioneer
Richmond, VA
Bummer! Sales have ended.
Unfortunately, tickets for this event are no longer on sale.
Event Details
 A Discussion with "The Unwitting Pioneer"
COME JOIN THE DISCUSSION 
This event is free and open to the public
Take a journey of evolution with Howard University alum, Marshall A. Isler III, as he discusses his quest from Jim Crow, thru Worldly Success, to Spiritual Peace. Among his many accomplishments as a businessman, consultant and real estate developer, Marshall A. Isler III was president of the country's largest minority owned construction management firm. 
THE UNWITTING PIONEER
The author copes with political and ideological struggles and betrayal. Ultimately this book is about reconciling dual personalities, and coming to grips with self identity and place—becoming whole, integrating family, job, and other outside interests into one personality, body, soul, and spirit; and finally finding peace through accepting God's purpose and servant-hood. This book is the story of one of the many unwitting black pioneers of this generation.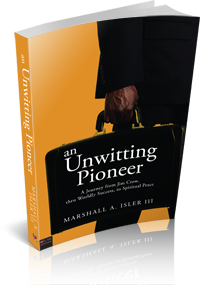 Bring a friend and let's talk!
To learn more about Marshall A. Isler or to purchase An Unwitting Pioneer visit: http://marshallisler.tateauthor.com