9/22/13 4-7pm, Free - Tigers Painting & Silent Photo Auction at Open House
Rockwell, NC
Bummer! Sales have ended.
Unfortunately, tickets for this event are no longer on sale.
Event Details
Tigers Doing Painting, Silent Photo Auction and Open House!!
Two of our resident tigers will be painting, and the resulting art work will be auctioned off!! Painting starts at 5pm. Maggie and Laney will be making their world debut as artistic painters at 5pm!!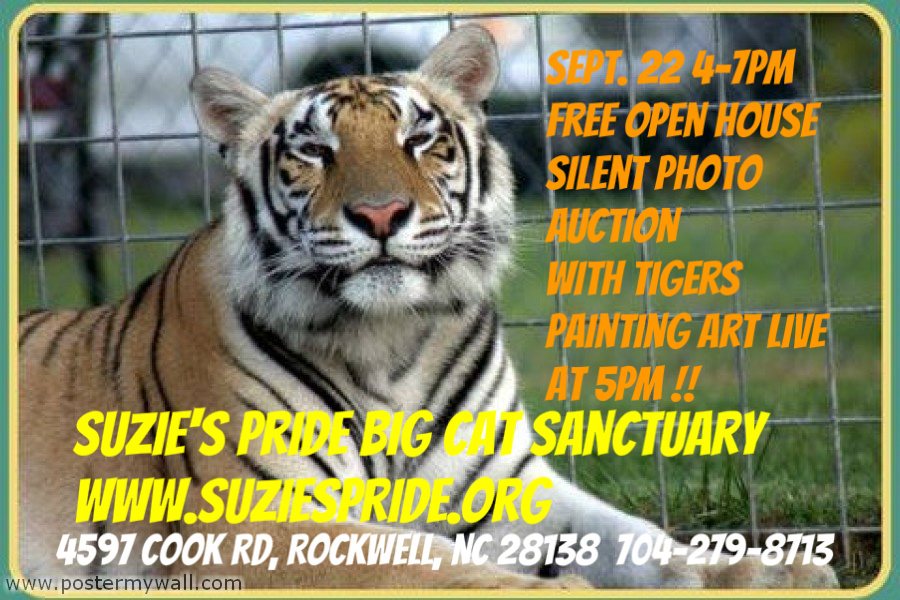 A silent auction of big cat photos and art work to raise money for Suzie's Pride Big Cat Sanctuary will take place at the same time as the Open House! Photographers who have attend our "Behind the Scenes" events have generously donated images they have captured of our resident big cats. Fill up that empty spot on your wall with one of a kind images at a special event!

In addition, come out and meet the resident big cats at Suzie's Pride Big Cat Sanctuary!! Education talks will be given, and this is a great opportunity to get answers to all your big cat questions!! Feel free to invite your family and friends!! There is no admission charge for this event.

We will be collecting the following items to recycle as part of our ongoing fundraiser:

Used Ink Jet Cartridges
Used Laser Cartridges
Laptop Computers (no desktops)
Old Cell Phones
Digital Cameras
MP3 Players
GPS Units