4/2013 Components in Quality Child Care
Kissimmee, FL
Bummer! Sales have ended.
Unfortunately, tickets for this event are no longer on sale.
Event Details
The First Componeents in Quality Child Care
April 10, 2013
6:30 PM - 8:30 PM
KUA Board Room
1701 W Carroll St
Kissimmee, FL 34741
2 in-service hours
Research defines 10 essential components that produce meaningful outcomes for young children. Child care programs that strive to improve often begin with tangible changes in health and safety in the environment. This training will provide an overview of the components of quality child care and what changes you can make to produce meaningful outcomes.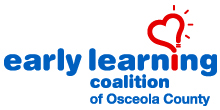 *SPONSORED BY THE EARLY LEARNING COALITION OF OSCEOLA COUNTY*
*FLORIDA'S OFFICE OF EARLY LEARNING*
Contracted services provided by Community Coordinated Care for Children, Inc.