2013 NOCCA President Honors
New Orleans, LA
Bummer! Sales have ended.
Unfortunately, tickets for this event are no longer on sale.
Event Details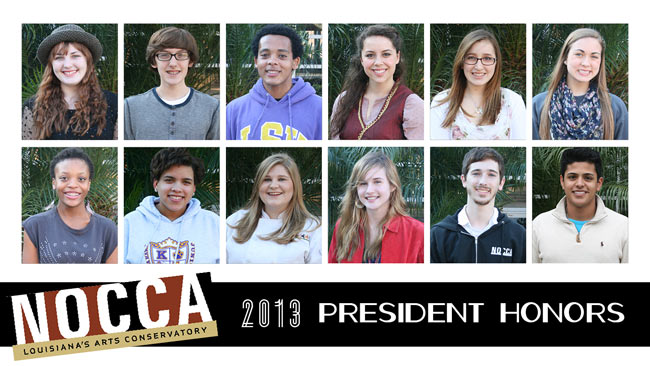 Student-Artists of New Orleans Center for Creative Arts (NOCCA) will be honored and recognized for their best examples of achievement, exceptional artistic growth, perseverance and accomplishment at the annual President Honors Awards Ceremony, Wednesday-March 27, 7 PM, Freda Lupin Memorial Hall.
The following students were nominated by NOCCA faculty and selected by President/CEO Kyle Wedberg for this prestigious honor:
Emmanuel Chastain, Media Arts, Mandeville High School
Brianna Despenza, Visual Arts, Edna Karr High School
Lila Dunlap, Creative Writing, Homeschool (Orleans Parish)
Jessica Hebert, Theatre Design, Mandeville High School
Brian King, Classical Instrumental Music, Haynes Academy of Advanced Studies
David Murray, Vocal Music, NOCCA Academic Studio
Meredith Pennison, Dance, Grace King High School
Xavier Reed-Molina, Jazz Instrumental, Benjamin Franklin High School
Melaina Ricks, Drama, Archbishop Chapelle High School
Samantha Rohr, Musical Theatre, Haynes Academy of Advanced Studies
Alexandra Stadler, Culinary Arts, Haynes Academy of Advanced Studies
Cierra Varnado, Academic Studio, NOCCA Academic Studio
"These students are being recognized not just for their extraordinary talent, because all NOCCA students are talented.  These students are being recognized for going the extra step as is manifested in the growth, consistency, desire, and leadership they have demonstrated during their time at NOCCA," states President/CEO Kyle Wedberg. "We are proud of every NOCCA student, but these 12 students have each shown something of note that makes them deserving of this high level of recognition. We welcome the opportunity to join with the families and friends of the honorees, NOCCA's supporters and our entire campus community to celebrate these incredible students."