| | |
| --- | --- |
| 2012 THUNDERBIRD RUN - Sand Harbor State Park - Incline Village Nevada | |
Event Details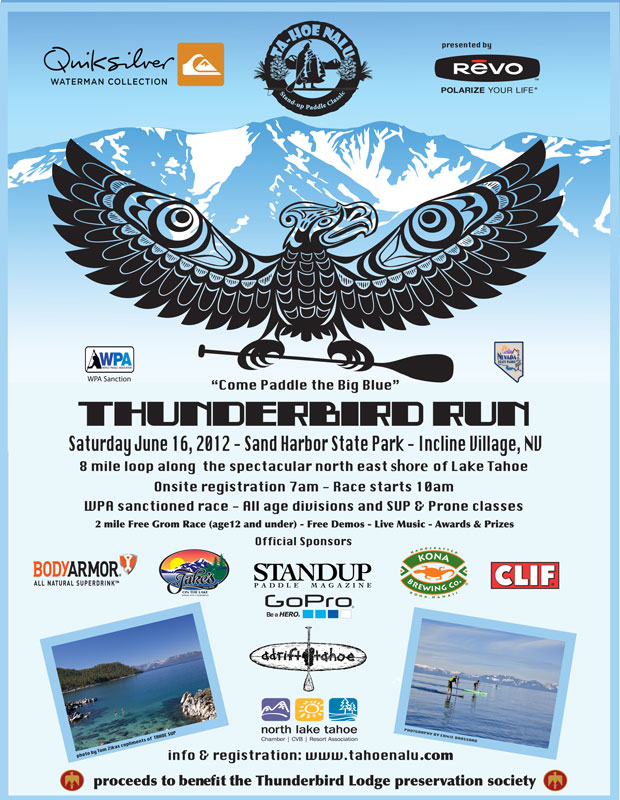 Attendee List
Sort by:

Date

|

First Name

|

Last Name
Organizer
North Tahoe Paddle Events, inc
2012-03-18 10:26:43
Don't miss one of the most beautiful paddles on the planet. June 16, 2012 at Sand Harbor State Park Incline Village Nevada.  The TUNDERBIRD RUN on the North east shore of Lake Tahoe is a WPA division 2 sanctioned race.  All divisions,ages, gender and board classes.  This 8 mile loop takes you along some of Tahoe's most scenic shoreline past the historic Thunderbird Lodge, passing beautifull uninhabeted hidden beaches amazing vistas of Lake Tahoe that can only be appredicated on a paddle board..  Sign up early.  A free Grom race for 12 and under will take place right after the 8 miler.  Fun, Family, Friends on the Big Blue....
All participants must carry a Coast Guard approved PFD and wear a leash for this race.
Race fee includes event T, food voucher, raffle ticket.  Awards,Live music & beach party after race.
Aloha
2012-05-10 10:29:30
Spring fever has caught everyone and the paddle season is hear.  There are alot of new races popping up everywhere around the country.  The THUNDERBIRD RUN one of the most picturesque paddles on the planet.  The north east shore of Lake Tahoe with it emeral green water make this race not only challenging but takes you along one of the most beautifull shorelines and vista's the world.
Come and join the fun, beauty, friends, family, & fun June 16, 2012 at Sand Harbor State Park, Incline Village, NV.  This is a race for all ages, gender, skill levels and all classes of both prone and SUP.  This is also a sanctioned WPA event that will gain points for members of the WPA (World Paddle Association)  For those not members,  you cand sign up at this event and become a member at registration.
Sign up online and save $10 off race day prices.  Race starts at 9am.  Grom (Kids 12 and under) race is free.  Awards,  drawings & prizes,  Live MUsic and a fund day at the beach.
All Cometitors must have a PFD (personal flotation device) and wear a leash to compete.  The US Coast Guard has made it mandatory to carry a PFD and will enforce the law this year.  Please comply and be safe and promote the use of PFD's and the use of leashes when paddling off shore.  We need to park our ego's and embrace the law and promote safe paddling habits.  We have all got caught offshore after a calm glassy start and the wind kicks up and it starts to get rough.  Don't fight it be good stuarts of the sport keep the vibe and spread the Aloha.
2012-06-09 18:18:47
Sign up today,  only 1 week before this years THUNDERBIRD RUN August 16th at Sand Harbor State Park. Don't waste your money and save by signing up online.  Only $40 online and $50 day of race.  Plus you get Express check in. Don't forget your PDF's that are required for all races on Tahoe this year.  
See you on the Big Blue for this WPA sanctoned event,
Aloha,
2012-06-15 09:09:18
Sorry for the confusion and misprint on the Poster. Race starts at 9:00 am.  Aloha