| | |
| --- | --- |
| 2012 Taoist Master Wang Liping Teaching Inner Alchemy (Nei-Dan) Class | |
Event Details
In order to promote the Chinese and Western cultural communication and understanding of the ancient Chinese Taoist culture, to help more genuine Dao seekers further experience and explore the Taoists health cultivation practicing methods, we are willing to help friends around the world to learn from Taoist Master Wang Liping. 
Lao Zi Academy is an IRS registered 501c(3) non-profit organization in USA. All events of Lao Zi Academy will be focused on Taoists cultivation training, phenomena appeared during Taoists practice and Taoism culture, but not cover any political issues and disputes. 
Price:    USD1000 /person (During the activity, food and accommodation will be provided by Jinhua Taoist Temple) .
Time: Oct. 20th -30th, 2012.

Location: This  retreat will be held on Taoist JINHUA (Golden Flower) mountain  in China.
The Taoist temple is located at beautiful southern China (Jinhua city, Zhejiang province).   During the past 20 years, Master Wang taught many times to more than thousands students in this temple. 
FLIGHT & TRANSPORTATION:

If you want to book tickets, please choose following airports:

a). Shanghai pudong  airport (code: PVG) or Hongqiao airport  (code: SHA) .
b). Hangzhou airport(code: HGH). 
c). yiwu airport (code: YIW).
Then take airport shuttle or train (1-3Hr.) to the destination.
d). You can use http://www.kayak.com/flights   ,   www.flychina.com  or any other website to find international flight ticket deals.

e). Airport shuttle information in Chinese:
http://www.hzairport.com/bus.aspx
.

 f). Train information in Chinese: http://www.huochepiao.com
 If you need help, please let us know (email: mail@laoziacademy.us), you can post your questions at following forums.
http://thetaobums.com/topic/22672-confirmed-taoist-master-wang-liping-guiding-retreat/#entry358019

********************************************************

Please apply here, we will notify you the detail as soon as possible. Please send email to mail@laoziacademy.us.  
True stories told by people who met Taoist Master Wang Liping.
News and update for the class:
During the past years, many  inner alchemy  training class hosted by Taoist Master Wang Liping's Lao Zi Academy is  succesfully finished.  Most of students have extremely amazing experience.     

 The golden flower seen by students during the painful sitting session or blissful sleeping practice (SHUI GONG).  Some students have strong feeling or vision of the true inner elixir (inner goldern pill) inside therir human body.  Followings are drawings of students' question and part of Master Wang's indications.

Please see more picrues and informations here .....
http://www.eventbrite.com/rss/event_list_news/1159661579
We also have online Meet-Up answering questions sessions, we will be happy to update information of Master Wang's Pravite traning.  

The Taoist health practicing art is the foundation of Traditional Chinese Medicine, Martial Arts, Life Longevity, Fortune telling (I-Ching), Feng-Shui, Chi-Gong, etc.   The Taoists Arts had been secretly taught in Taoist temples for thousands years. This mystery health practicing art was recorded in secret words and pictures in the classical Taoist books, which are difficult to be understood by ordinary people. It's impossible to get the points of this mystery practicing without teacher's guide. If you could learn some of the system, you will have excellent health, strong body, wisdom and enlightenment.
See you soon !
(Non-profit)  Lao Zi Academy (http://laoziacademy.us) 
(Non-profit) Dragongate Dao-De Website (http://retreat.dao-de.org) 

       
Have questions about 2012 Taoist Master Wang Liping Teaching Inner Alchemy (Nei-Dan) Class?
Contact LAO ZI ACADEMY
Organizer
LAO ZI ACADEMY
Website:http://laoziacademy.us

LaoZi Academy is a 501c(3b) non-profit charitable and educational organization. It will help people by bringing the traditions, practices and secrets of Taoism to the west.

Mission:

We believe that Taoist culture is a treasure of humanity that is irreplaceable and critical to the preservation of wellness and balance in the world. Between the rapid modernization of China and lack of awareness in the West, the traditional seats of Taoism, its preservation and its continuity are being threatened.
2011-01-01 19:51:38
Lao Zi Academy Announces the Successful Completion of Year-end On-line Meet-up with Master Wang Liping.
 As part of its ongoing efforts to introduce the traditional Chinese Taoism culture and health cultivation practice to the western world, Lao Zi Academy successfully organized a year-end on-line meet-up session with Master Wang Liping on December 25, 2010.  This  online meet-up is overlapping with  Master Wang Liping's onsite 10 days private  training retreat (organized by Lao Zi Academy). This completes our 2010 series of events including Master Wang's public or private teaching classes, Dragon Gate retreat in USA and on-line meet-up sessions.
We received lots of interest and active participation in the on-line meet-up session.  A number of participants scattered across Canada and USA joined this session.  Master Wang Liping and Kathy Li (Master Wang's authorized disciple and teacher) hosted the event in Dalian, China.  The students and Master Wang greeted Merry Christmas and New Year wishes to each other, after which Master Wang took time to answer questions from every single participant.   Some of the questions raised at the session include:

Is Dragon Gate Taoist practice compatible with Buddhist practice?
Is it necessary to achieve full lotus sitting in order to advance in your system?
What can a middle-aged person expect to achieve from practicing the Ling Bao Tong Intelligent Internal Alchemy Arts taught by Master Wang?
Does the blood drive and Qi, or the Qi drive the blood ?
What is Master Wang's opinion on standing practice ?

I found myself having almost no breathing in deep meditation practice, is this strange or normal?
Who are Master Wang's authorized disciples to teach ?
While we had participants ranging from new comers to veterans who have followed Master Wang for a number of years, all of them were very excited to have the opportunity to speak with Master Wang directly and seek his guidance on Taoism theories or practice.  At the end of the session, Master Wang thanked everyone for joining the session and invited them to meet him in person and participate in the events authorized by him.  Dr. Sun and Mr. Liao on behalf of Lao Zi Academy, thanked everyone for their participation, reiterated the Academy's commitment to promote the global awareness of Chinese Taoism culture and wisdom, and invited everybody to continue to support the Lao Zi Academy.
2011-02-02 14:14:16
Many friends are willing to know the answers for Master Wang Liping's online meet-up sessions. Because these online meet-up sessions were only opened to the paid questioner, we feel little bit hesitate to release the answers for all. We just don't want to offend any registered /paid questioner. We do ask Master Wang Liping's permission of publicly release these answers, he said if the paid questioner didn't have concerns, it'll be fine to publicly release these answers.

Here, we choose several typical answers to share with all friends, hope these will help you. We apologize very much for unable release the answers for all questions. We're doing the documentation for Master Wang Liping's teaching (book translation, answering questions, etc. ). Please to be patient, it'll be available to all friends sooner or later.


Question 1. Is it necessary to achieve full lotus sitting in order to advance in your system for beginners ?

Answer 1. For the sitting meditation beginners, we didn't suggest full lotus. In any case the other people saying something to you or teasing you, please don't force yourself go to full lotus, you should sit as nature cross leg. By naturally cross leg sitting meditation, you have to get hold of the methods at first. After you practice for some certain periods of time, your leg bones and hipbone will be opened spontaneously, and then you'll go to the next step to improve half lotus and full lotus.


Question 2. What are the first signs of success for an average normal practitioner on this path?

Answer 2.The first thing following this practice is health improvement. Your energy level increases steadily. The practice will change your body internals, your organs and internal functions so that your immunity will increase. You'll never get the flu again. This sign is important but is not the most important.

The most important thing is when you transform your XIN LING (心灵), when you change your soul, so that you have more wisdom and more faith. XIN LING is very important, the most important because he controls, monitors and adjusts our system in its entirety. A well-functioning XIN LING will bring more handsomeness to the men and more beauty to the women, a very good health on top of which your wisdom will awaken.

This is like a complex system that every each and one of us have it. The people get into all kinds of problems because their system is not ruled accordingly. XIN LING controls this system.

As a purpose of the practice, we as humans, have to find out where we are from as well as where are we going to after we die. These are 2 of the most important questions for us. 


Question 3. Here in North America, we heard some people teach Master Wang's "Ling-Bao-Tong Internal Alchemy Arts" , dose Master Wang's authorized disciples to teach in North America?

Answer 3. Master Wang said: Since 1980's, I started to teach Taoists "Ling-Bao-Tong Internal Alchemy Arts", I have taught lots of students all over the world. Some of my students go out and start to teach others in everywhere. Because I'm not a rigorous person, I just let them go. If they persist in teaching others, it doesn't matter to me.

But, regarding the authorized disciples and those authorized to teach in North America, there are very less people to be qualified getting my authorization. They have to learn some very special abilities to be qualified getting authorization. These special abilities are to make sure the authorized teachers handling problems during their teaching. In North America, Dr. Kathy Li & her husband (Dr. Sun), Mr. Richard Liao and Mr. Kai He had been transmitted those special abilities, and authorized to teach others.
2011-04-23 15:40:18

One 60-year old student say "The dan or mystic pearl was hanging in space, a perfect glistening white sphere, like no other thing."
Share some pictures taken during the training sessions.
2011-07-02 17:17:22
Dalian, China, December 2010
We were seven students on a ten day retreat to study the ancient healing arts of internal medicine and enlightenment from the 18th generation Dragon Gate sect of Daoism, now lead by Master Wang Liping. I am an assistant to Master Wang. On the fourth day of the practice, I experienced the space and the room where we were practicing united in my person and suddenly there was a flash of white light as bright as lightning flowing in through my forehead. And I asked Master Wang, "Does this light come from me?" Master Wang answered, "It flows (due to) from the field, and all the student's internal lights are bright in this moment." I observed that the brightest light came from Master Wang himself, and the people who walked through the hall way were dim blue light. After fourth days until the end, the bright white flash light become often and stable. Later, another student was holding my forearm and pointed at the snow on the ground, excited to tell me, "Richard, my body inside and out is full of white light as white and bright as the snow on the ground." What a priceless experience! And another student's Xiao Zhu Tian flowed as liquid; an equally priceless experience. The students all concentrated hard and rose to a higher level than they had attained before they arrived, and we are all looking forward to a session in December 2011. Life moves in cycles from inside to outside and within and without.
Email us if you are interested in studying in China with Master Wang Liping for his April and December of each year's classes . Please freely sign up at here. To understand Master Wang Liping's own history, please read his biography "Opening the Dragon Gate: The Making of a Modern Taoist " translated by Thomas Cleary at here.
Past Activities of Lao Zi Academy:
2009 Retreat in China.
2010 online meetup & onsite training.
2009 & 2010 retreat in USA.
2011 retreat in USA.
Reports from friends of Lao Zi Academy:
Report from Russia.
Report from Romania.
Taoist Master's Eurpoe trip.
2012-02-16 02:50:35
There is coming a confirmed Taoist Master Wang Liping guiding SMALL SIZE ADVANCED RETREAT in Taoist JINHUA (Golden Flower) mountain.

DATE:  April 5th -14th, 2012. This is the 1st time small size retreat inside Taoist temple and caves. The cost is very reasonable and affordable.


LOCATION:


The Taoist temple is located at beautiful southern China (Jinhua city, Zhejiang province). During the past 20 years, Taoist Master Wang Liping taught many times to more than thousands students in this temple. This is the 1st time small size class inside Taoist temple and caves.

Students will live in new building -- the "Alchemy House", where is in walking distance to both Chao-Zhen and Shuanglong Taoists ancestor's practicing caves. The "Alchemy house" is very clean and well equipped with bathroom,internet, new furniture... Taoist foods will be supplied. The foods are very very good.
2012-03-24 02:05:48
about "Inner Alchemy"

Spring in the Princess Garden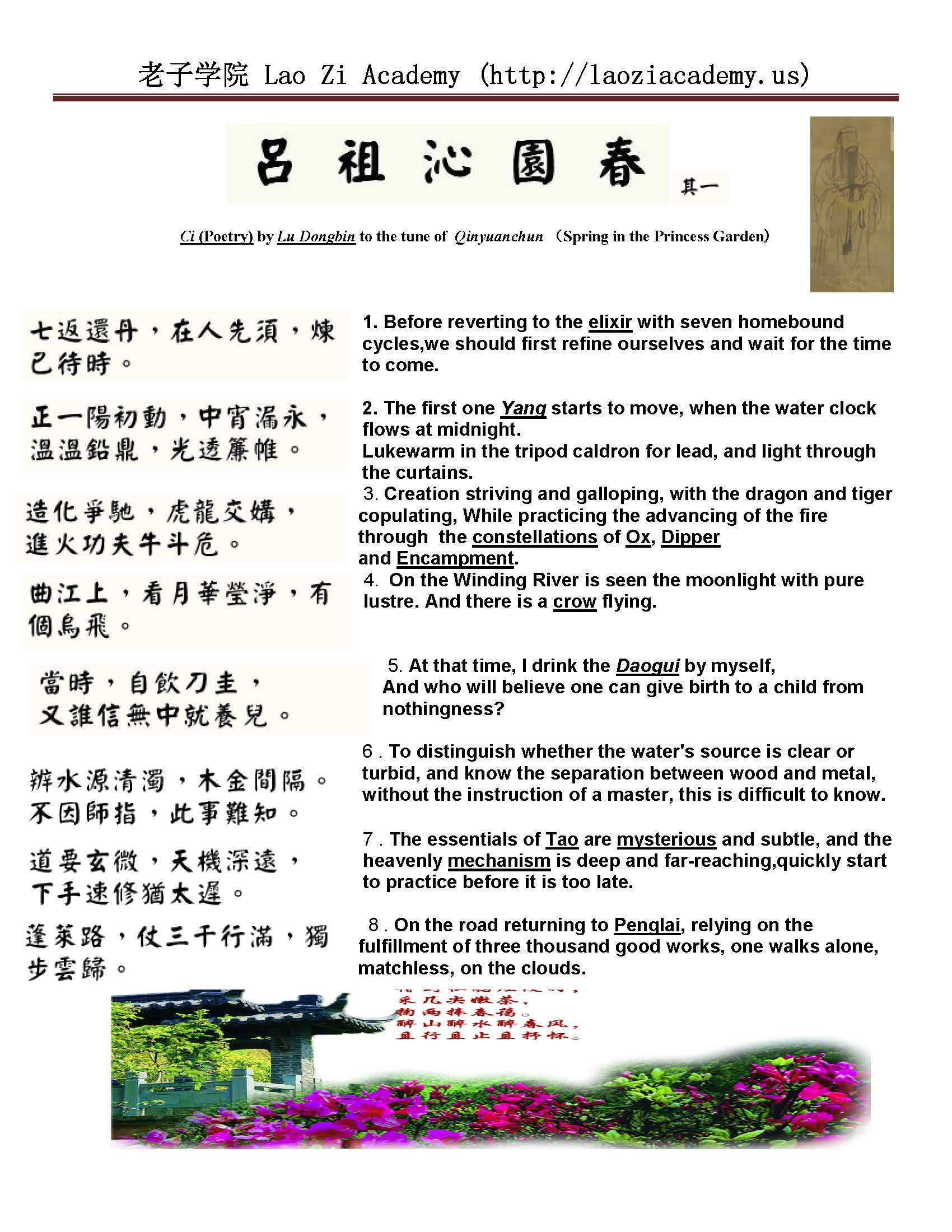 1. Before reverting to the elixir with seven homebound cycles,we should first refine ourselves and wait for the time to come.
2. The first one Yang starts to move, when the water clock flows at midnight.
Lukewarm in the tripod caldron for lead, and light through the curtains.
3. Creation striving and galloping, with the dragon and tiger copulating, While practicing the advancing of the fire through  the constellations of Ox, Dipperand Encampment.
4.  On the Winding River is seen the moonlight with pure lustre. And there is a crow flying.
5. At that time, I drink the Daogui by myself, and who will believe one can give birth to a child from nothingness?
6 . To distinguish whether the water's source is clear or turbid, and know the separation between wood and metal, without the instruction of a master, this is difficult to know.
 7 . The essentials of Tao are mysterious and subtle, and the heavenly mechanism is deep and far-reaching,quickly start to practice before it is too late. 
 8 . On the road returning to Penglai, relying on the fulfillment of three thousand good works, one walks alone, matchless, on the clouds.